Designing Racecar Gives Students An Edge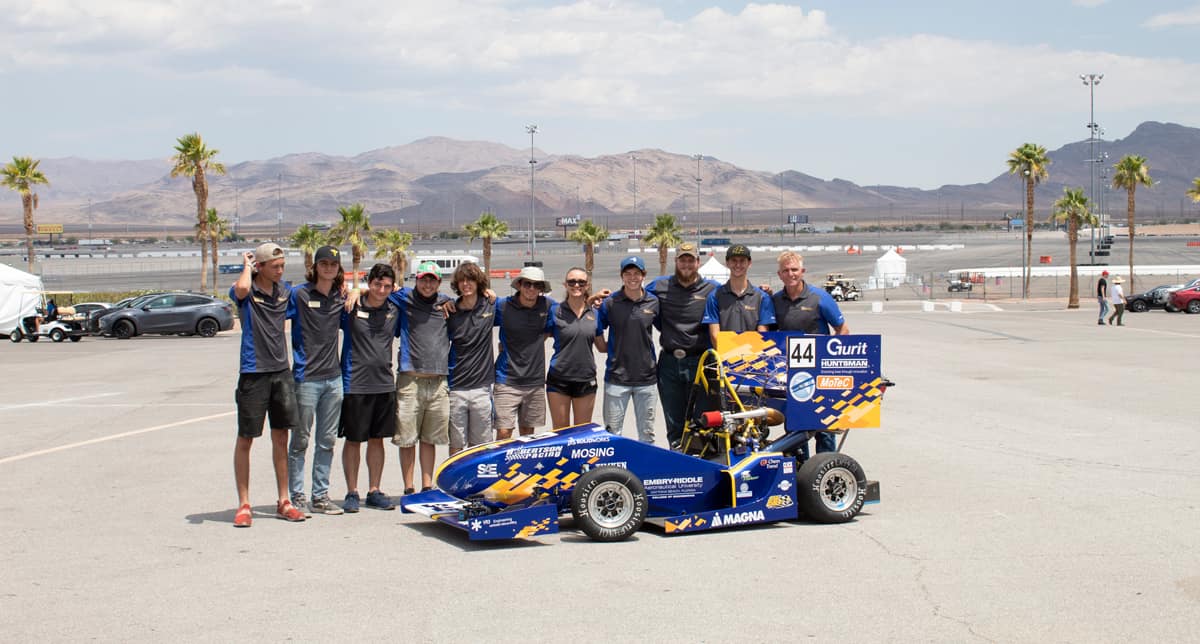 Mechanical engineering students recently put their racecar to the test against 37 teams in a national Formula SAE competition.
After months of iterative design, manufacturing, and testing, the team returned from the mid-June competition in Las Vegas boasting 17th place – the best ranking an Embry-Riddle team has ever placed in the Formula SAE Internal Combustion Class.
Working in a business-type environment, mechanical engineering students designed and manufactured the entire open-wheel style high performance vehicle, with the exception of the Honda 600 cc, four-cylinder engine. The competition then gives the 40-person team the chance to demonstrate their creativity and engineering skills against universities from around the nation.
Supported by their advisor, 10 Embry-Riddle students attended the competition, which featured a series of events that evaluated features such as performance endurance, inclination, gas consumption, aerodynamics, noise output, and cost.
"This car is special because it gives students the opportunity to test a lot of concepts that go into the mechanical design," said advisor and Visiting Assistant Professor Gaetano Sterlacci, Ph.D. "They gain experience working on a team and alone. Some of them – of course – also enjoy driving a very fast car, which can go up to 85 mph."
One of the vehicle's most unique features is its 3D-printed intake, which optimizes airflow to every cylinder. It was produced with a polyamide (nylon) material that is resistant to high temperatures.
Senior mechanical engineering students enrolled in the high performance vehicle track, similar to an area of concentration, use the vehicle for their capstone project during their senior design course. Competitions like this also enable students to engage with industry professionals to enhance what they learn in the classroom and prepare them for the workforce.
"Almost all of the seniors involved in this project have propositions for work," said Sterlacci, who advises the team with Associate Professor Rafael Rodriguez, Ph.D.
Students of varying experience levels and majors are also involved in the project, which is the main highlight of the ERAU Motorsports Club.
First-year mechanical engineering student Jennea Katic did not initially expect to be assigned major responsibilities when she joined the club, but soon found herself in a noteworthy role as the team's first-ever female driver.
"It's surreal," she said. "As a freshman I thought I was just going to sit back and learn the ropes. I'm glad that I can have my name on that accomplishment, but now it's all about just working onwards and upwards from here."
A native of South Africa, Katic grew up around racetracks with both parents heavily involved in the automotive industry.
"I want to follow in my father's footsteps and his legacy in the automotive industry so that's why I decided to study mechanical engineering," said Katic, who envisions a career as a race engineer, driving in endurance racing, or starting her own automotive manufacturing firm. "He originally worked in engine tuning and then built race cars and custom one-off cars."
Piloting the vehicle as a mechanical engineering student gives her a unique understanding of the car's performance, she said. "I'm able to feel out the car and understand how the design concepts in each of the areas work."
While Katic is among one of the newer students, J.T. McGill has been on the team since 2018 and is now a master's student and graduate teaching assistant for the High Performance Vehicle Lab, where the racecar is developed.
Watching the car come to life and improve over the years has been very rewarding, he said.
"I got really into it during my senior design project and was on the powertrain team designing the exhaust for the car," he said. "I had a boatload of fun just figuring out how exhaust systems worked and bringing one to life. Seeing it test and do exactly what I designed it to do was very exciting."
The Formula SAE car is a useful test bed for students learn how to make data-driven decisions, he said.
"Everything is based on numbers. We look at the simulation, get the actual test data, do the math and prove that what we're doing isn't just a solution, it's the solution."