Delta Secures Top Spot in 29th Annual Airline Quality Rating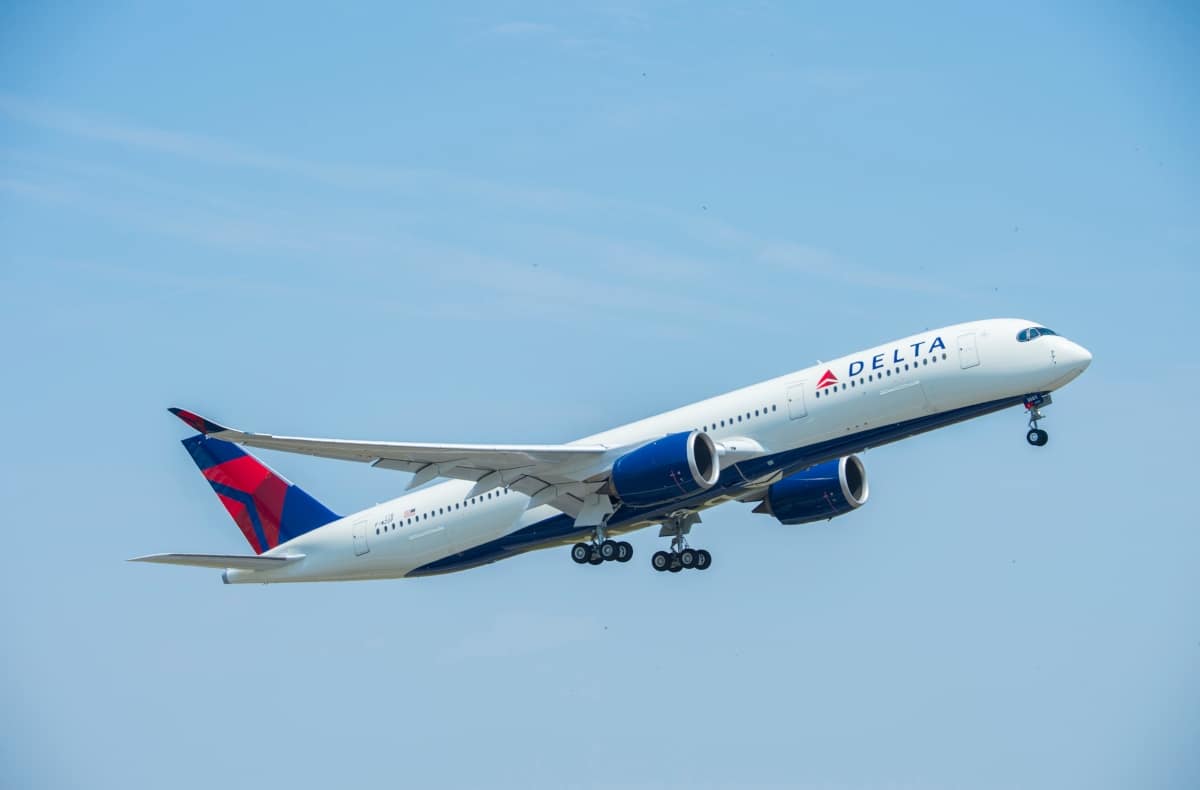 Prescott, Ariz. and Wichita, Kan. – Delta Air Lines is No. 1, and JetBlue is No. 2, according to the 29th annual Airline Quality Rating (AQR), released today, Monday, April 8. The AQR is the most comprehensive study of performance and quality of the largest airlines in the United States. The rating is a multifactor examination of the airlines based on mishandled baggage, consumer complaints, on-time performance and involuntary denied boardings.
The AQR is a joint research project funded as part of faculty research activities at the W. Frank Barton School of Business at Wichita State University and Embry-Riddle Aeronautical University. The 2019 AQR reflects data collected during the 2018 calendar year.
Key findings show that three of the four AQR factors tracked -- involuntary denied boardings, mishandled bags and customer complaints -- improved for the airline industry in 2018. On-time performance, the most heavily weighted element in the AQR, slipped in 2018.
This year's report also reveals the lowest rate of bumped passengers, the lowest rate of mishandled baggage and the lowest rate of customer complaints for the industry since the AQR started in 1991.
Delta was the only airline to improve in all four categories. Six of the airlines rated performed better in 2018 versus their 2017 AQR scores. Those carriers were Delta, Hawaiian, JetBlue, Southwest, Spirit and United. Airlines whose scores declined in 2018 were Alaska, American and Frontier.
"These results are very needed by the traveling public, given all the recent reports of airlines losing the confidence of key consumers," said Dr. Brent Bowen, AQR co-author and professor of aeronautical science at Embry-Riddle. "As the most respected and unbiased report on airline performance, travelers can be confident that our airlines are improving."
"Overall, another good year of industry performance," said Dr. Dean Headley, AQR co-author and emeritus professor of marketing at the W. Frank Barton School of Business at Wichita State University. "The best-ever industry AQR score for 2018 is largely due to improvements in the rate of involuntary denied boardings and the rate of customer complaints. Consumers have demanded better and the industry listened and improved."
Inside this year's rating
Below is the 2019 ranking of the nation's largest nine airlines, according to the Airline Quality Rating, with the 2018 ranking in parentheses:
1. Delta (2)
2. JetBlue (3)
3. Southwest (5)
4. Alaska (1)
5. Hawaiian (4)
6. United (8)
7. Spirit (12)
8. American (9)
9. Frontier (11)
The merger of Alaska and Virgin America was completed in April of 2018. The results for Alaska reflect the performance of the merged airlines for the entire year.
An electronic version of the full report, with details on each airline, is available at http://airlinequalityrating.com.
On-time performance
Hawaiian Airlines had the best on-time performance (89.3 percent) for 2018, and Frontier had the worst (69.4 percent).
Four airlines improved their on-time arrival performance in 2018. Four of the nine airlines rated had an on-time arrival percentage of more than 80 percent. On-time performance for the industry in 2018 was 79.6 percent, compared to 80.2 percent in 2017.
Involuntary denied boardings
Delta was the industry leader in avoiding involuntary denied boarding incidents in 2018 with a rate of 0.00 per 10,000 passengers. Hawaiian, JetBlue and United followed closely each with rates of 0.01 involuntary denied boardings per 10,000 passengers. Frontier had the highest involuntary denied boarding rate with 0.63 per 10,000 passengers.
Eight airlines improved their denied boardings rate in 2018. JetBlue recorded the largest improvement and Frontier had the largest increase in the rate of denied boardings. Delta (0.00), Hawaiian (0.01), JetBlue and United are clearly the industry leaders in avoiding denied boarding incidents. Industry performance was better in 2018 (0.14 per 10,000 passengers) than it was in 2017 (0.34).
The industry performance is the lowest rate of involuntary denied boardings since the AQR started in 1991.
Baggage handling
Spirit had the best baggage handling rate (1.76 mishandled bags per 1,000 passengers) of all airlines, and American had the worst baggage handling rate (3.83) mishandled bags per 1,000 passengers.
Three airlines had improved mishandled baggage rates in 2018. The industry rate decreased from 2.46 per 1,000 passengers in 2017 to 2.43 in 2018.
The industry performance is the lowest rate of mishandled baggage since the AQR started in 1991.
Consumer complaints
Southwest had the lowest consumer complaint rate (0.36 per 100,000 passengers) of all airlines. Frontier had the highest consumer complaint rate (4.02 per 100,000 passengers).
Customer complaints per 100,000 passengers decreased from 1.35 in 2017 to 1.04 in 2018. The majority of complaints (72 percent) to the Department of Transportation were for flight problems (36.9 percent), baggage (13.0 percent), customer service (12.1 percent), and reservations, ticketing and boarding (10.1 percent).
The volume of complaints received by the DOT was down by 23% in 2018 compared to 2017 volumes.
More about the Airline Quality Rating
As the nation's longest running study of airline performance quality, the Airline Quality Rating (http://airlinequalityrating.com) sets the industry standard, providing consumers and industry watchers a means to compare performance quality among airlines using objective performance-based data.
No other study in the country is based on performance measures like the AQR. Criteria included in the report are screened to meet two basic elements: They must be readily obtainable from published data sources for each airline, and they must be important to consumers regarding airline quality. The resulting criteria include areas such as baggage handling, customer complaints, involuntary denied boardings and on-time arrivals.
The co-authors invite the flying public to participate in the Annual Passenger Survey at https://erau.libsurveys.com/airline-passenger-survey-2019
MEDIA CONTACTS AND NOTES:
Bowen and Headley will be available to media to discuss AQR or any airline industry-related topic by contacting:
For Bowen: Jason Kadah, Communications Director, Embry-Riddle Aeronautical University; O: (928) 777-6731; C: (602) 826-4790; jason.kadah@erau.edu
For Headley: Joe Kleinsasser, Co-Director of News and Media Relations, Wichita State University; O: (316) 978-3013; C: (316) 204-8266; joe.kleinsasser@wichita.edu
Posted In: Aviation | Institutional News
---
About Embry-Riddle Aeronautical University
Embry-Riddle Aeronautical University is the world's largest, oldest and most comprehensive institution specializing in aviation, aerospace, engineering and related degree programs. A fully accredited university, Embry-Riddle is also a major research center, seeking solutions to real-world problems in partnership with the aerospace industry, other universities and government agencies. A nonprofit, independent institution, Embry-Riddle offers more than 100 associate's, baccalaureate, master's and Ph.D. degree programs in its colleges of Arts & Sciences, Aviation, Business, Engineering and Security & Intelligence. The university educates students at residential campuses in Daytona Beach, Fla., and Prescott, Ariz., through its Worldwide Campus with more than 135 locations in the United States, Europe and Asia, and through online programs. For more information, visit www.embryriddle.edu, follow us on Twitter (@EmbryRiddle) and facebook.com/EmbryRiddleUniversity, and find expert videos at YouTube.com/EmbryRiddleUniv.
About Wichita State University
The mission of Wichita State University (www.wichita.edu) is to be an essential educational, cultural and economic driver for Kansas and the greater public good. Wichita State is a doctoral research university enrolling about 15,000 students and offering 59 undergraduate degree programs in more than 150 areas of study in seven undergraduate colleges. The Graduate School offers 45 master's and 12 doctoral degrees that offer study in more than 100 areas. Wichita State's Innovation Campus (www.wsuinnovationcampus.org) is an interconnected community of partnership buildings, laboratories and mixed-use areas where students, faculty, staff, entrepreneurs and businesses have access to the university's vast resources and technology. For more information, follow us on Twitter (www.twitter.com/wichitastate) and Facebook (www.facebook.com/wichita.state).