Degree in Aviation Business Administration Puts New Mom on the Path to Success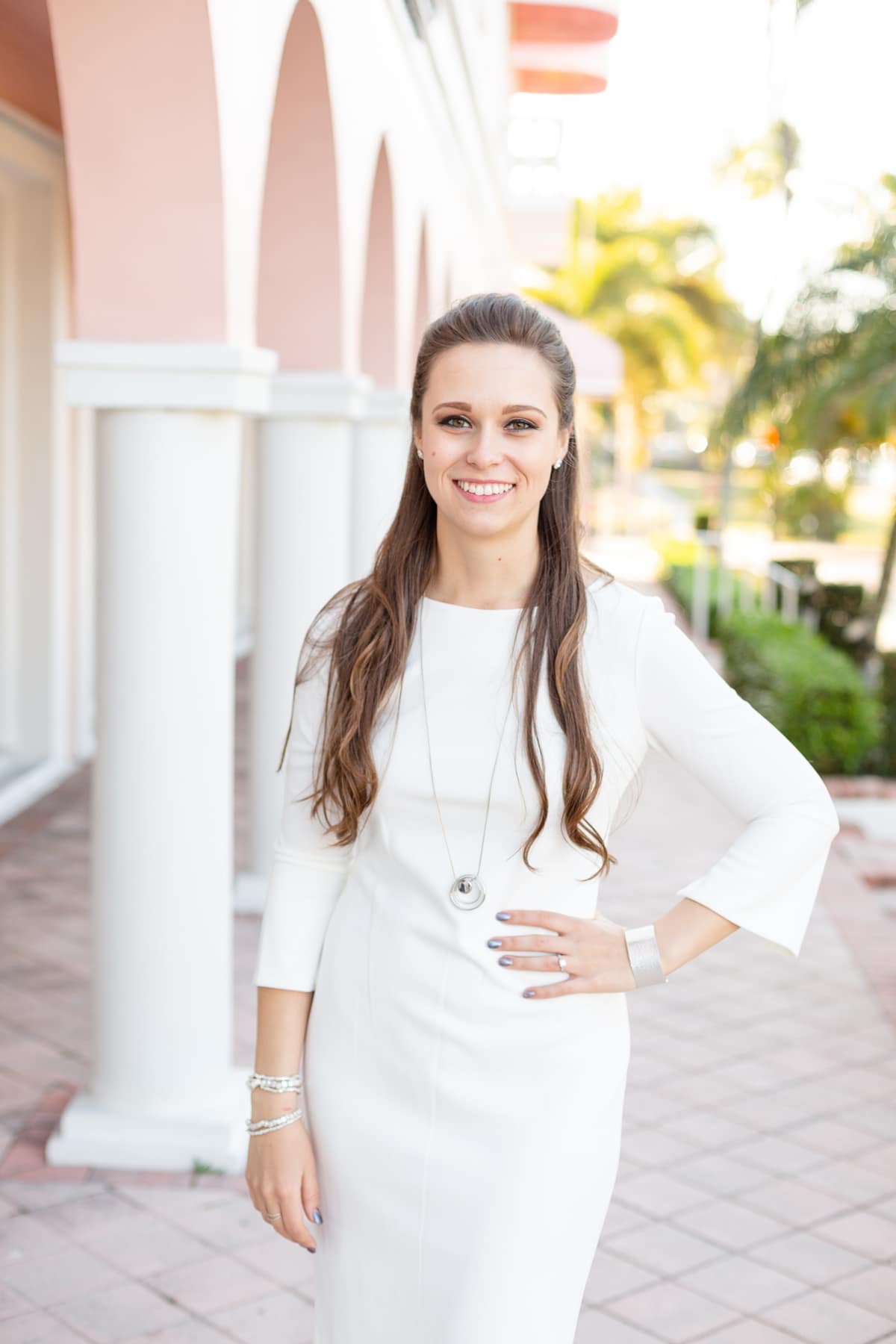 Amy Paglialunga ('23) fell in love with aviation when she was a little girl gazing up at paragliders flying over her house. Although she initially started working in property management, her passion for flight ultimately led her to become a flight attendant at GoJet Airlines and then to the Charlotte County Airport Authority, which manages the Punta Gorda Airport.
Her passion also led her to the B.S. in Aviation Business Administration program at Embry-Riddle Aeronautical University's Worldwide Campus to help set the foundation for her aviation future. Amy graduated summa cum laude in March and is now taking a break from the workforce as she and her husband Keyan Paglialunga ('11) prepare to welcome their first child.
Amy recently took some time out to discuss her Embry-Riddle experience:
Why Did You Choose Embry-Riddle for Your Aviation Business Administration Degree?
Embry-Riddle is THE school for aviation. I always thought it would be difficult to get accepted but dreamed of putting Embry-Riddle on my resume someday. When I first started looking at colleges that offered an aviation business degree in 2019, I found Embry-Riddle was consistently at the top of my list in every area.
Additionally, my husband is an alumnus of the Daytona Beach Campus and he expressed repeatedly how much he loved the school, the teachers and his experience while getting the degree and flight ratings that led to his current job as a pilot for Allegiant Air. It was a combination of his praise for his alma mater as well as my own research on the numerous options that made me feel Embry-Riddle was the choice I needed to make.
What Were Some Highlights of Your Embry-Riddle Experience?
When you're in the moment, everything seems stressful when going back to school. However, looking back, there are numerous highlights that I can't believe I overlooked. For example, during the pandemic, everything was so uncertain and terrifying. During this time, Embry-Riddle hosted webinars with aviation professionals that focused on the future and encouraged me to relax.
At the close of my Embry-Riddle journey, I was able to participate in the Boeing Business Fundamentals Program, which furthered my knowledge in parts of the aviation sector I knew little about. This knowledge led me to really understand where I would like to be in my career.
Additionally, Embry-Riddle Worldwide allowed me the flexibility to have numerous personal highlights over the years. While attending school I worked full-time for three years, planned my wedding, had two surgeries, moved across state lines and became pregnant. If it weren't for Worldwide, I likely wouldn't have been able to achieve some of the happiest and most important times in my life so far.
What is the Boeing Business Fundamentals Program?
I grew up near a Boeing factory and with a lifelong love for aviation, Boeing has always interested me even though I knew very little of their internal operations. The program itself was phenomenal and allowed me to further my knowledge into their operations, as well as aerospace manufacturing operators in general, which piqued my interest further.
I had the opportunity to learn about positions that I could enter after school, including those in supply chain, estimating and pricing, contracts, financial operations and program management. This allowed me to investigate the positions that I wasn't even aware existed to decide which ones I would be best suited for. It also allowed the opportunity to apply things learned during class to real life situations and network with other like-minded individuals.
What is Your Ultimate Career Goal and How is Embry-Riddle Helping You Reach It?
My ultimate career goal is to find myself in a leadership position within the aviation business sector. Embry-Riddle is helping me reach that by not only providing me the necessary knowledge, but also the opportunity to connect with reputable organizations that can offer me the opportunity to climb their ranks.
What Would You Say to Someone Considering Embry-Riddle for Their Degree?
Stop considering and do it. Embry-Riddle has such a reputable history and is close to celebrating 100 years. There's a reason the university has been around so long and continues to attract students from all over. The teachers are fantastic, the course work is useful, the available resources are top-notch, and your classmates may just become your best friends.
What Was it Like to Juggle the Demands of Home, School, and Work?
I gave birth to our son, Benjamin Francis, on April 30, and I am confident he will have a strong love for aviation thanks to me and his father. The Worldwide Campus made it possible for me to take classes and complete weekly assignments at my own pace, which was extremely helpful during the first trimester when I had extreme morning sickness as well as at the start of my third trimester when the fatigue caught up with me.
We are so excited about our little guy, who will likely be an Embry-Riddle student in fall of 2041!
Anything Else You Would Like to Add?
I am forever thankful to those I have interacted with at Embry-Riddle as they encouraged me to continue my path. I am also forever thankful for my husband as he pushed me to push myself, which allowed me to soar beyond what I thought I was capable of.
It was his support, and the encouragement from faculty, that encouraged me to keep going and to achieve my 4.0 CGPA at graduation, which I am extremely proud of!