Deans Fund Helps Aviation Students Attend Safety Conference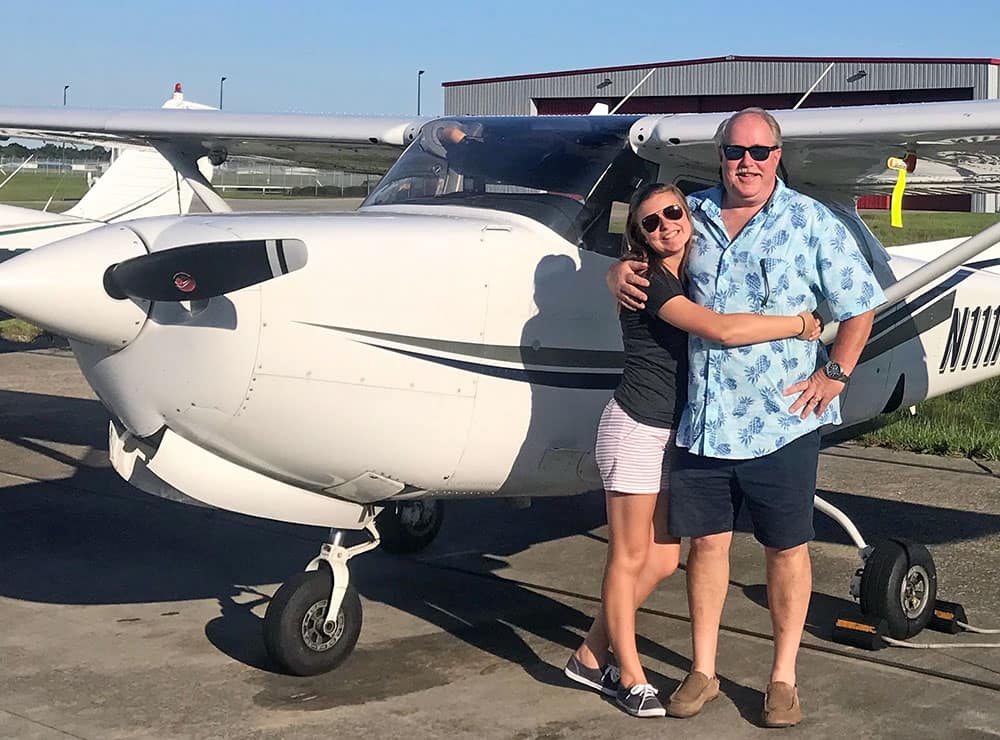 Embry-Riddle students Kiristan Waters ('19) and Tristan Anderson have separate career goals. Waters plans to become a corporate pilot and Anderson wants to work in commercial aviation.
Despite their different flight paths, both students benefitted from attending the 23rd annual Bombardier Safety Standdown conference, held Nov. 12-14, 2019, in Fort Worth, Texas. The students were able to attend the event, thanks to funding assistance from the College of Aviation Dean's Fund for Excellence.
"It was applicable to what I was doing in class," said Anderson, who is double majoring in aeronautical science and aviation maintenance science (AMS).
An aeronautical science major, Waters learned a lot about aviation safety the past two summers as an intern at Gulfstream Aerospace Corporation in Savannah, Georgia. The conference augmented her knowledge of pilot safety, plus allowed her to meet and talk to professionals working in corporate aviation.
"Many attendees were chief pilots of flight departments," she said. "They were happy to share their experiences and encourage me in my future endeavors."
The Mechanics of Aviation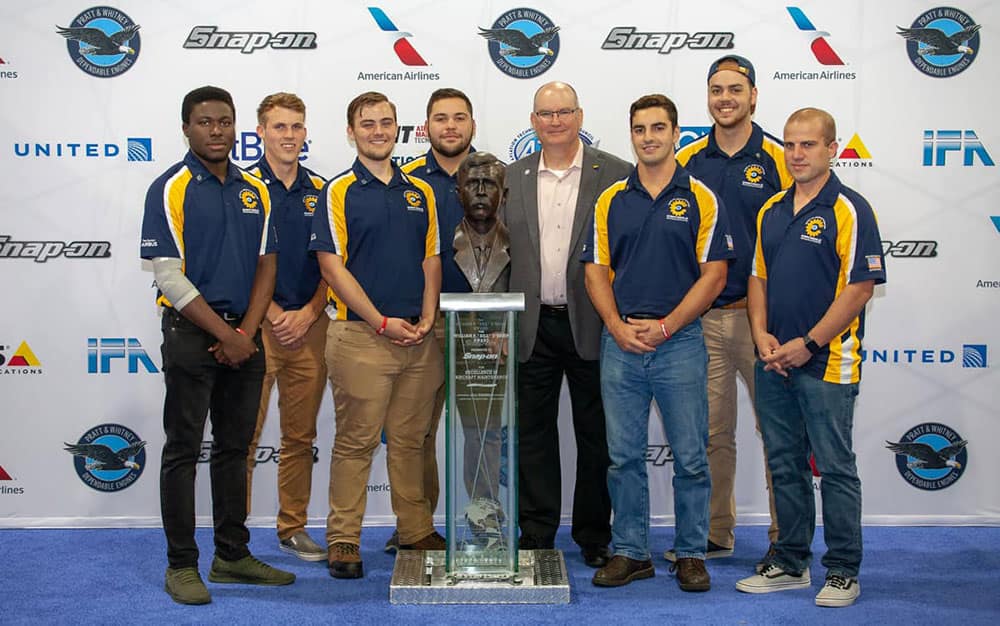 Tristan Anderson (third from left) is an Aviation Maintenance Science student and competes on the AMS team. He is also training to become a pilot.
"I think the biggest takeaway was learning the concerns of business aviation professionals," Anderson said. "From the safety standpoint, we talked a lot about fatigue and it kind of shined a light on how important proper sleep is to both jobs."
Originally from Oviedo, Florida, Anderson said he learned about mechanics as a teenager, fixing a 1971 Jeep that he drove. As an AMS student, he was able to build on the mechanical skills he already had, and he has thrived in the tightknit, supportive community of Embry-Riddle's AMS program.
"When I walk into the AMS building, I know all the people and the professors," he said.
Anderson said he also wants to learn how to fly, and his goal is ultimately to become a commercial pilot.
"I'd like to do both — be a pilot and do maintenance on the side," he said.
A New Perspective
After her first private flight as a teenager at a small North Carolina airport, Waters said she was hooked on flying.
As she soared over the mountains, she recalled Amelia Earhart's quote, "You haven't seen a tree until you've seen its shadow from the sky."
Suddenly, she saw everything from a new perspective. "That was it — it was awesome," she said.
Waters got the aviation bug early. As a child, she recalls going to work with her dad Scott Waters ('89), an aircraft mechanic who earned his aviation maintenance technology degree from Embry-Riddle.
"He would take us to work with him and his company had a Gulfstream aircraft, so that's probably where I got my love for Gulfstream [aircraft]," Waters said. "We would sit in the seats as kids and pretend we were flying."
In ninth grade, she was invited to an aviation career program at a local airport, offering a free pilot ground school course on Friday nights. The only girl in the course, she was inspired by one of the speakers, Zahra C. Khan ('17), a young female pilot from Embry-Riddle.
"I was sold," said Waters, who went on to earn her private pilot's certificate in high school. "I did the ground class twice with my dad and I did my first flight there at that airport."
Waters, who is president of the Embry-Riddle Dancing Eagles and vice-president of the Business Aviation Student Association, graduated in December 2019.
"I would choose Embry-Riddle again a million times over," she said. "The biggest thing I saw was the wide area of knowledge we [as graduates] have going into the industry."
With plans to work as a flight instructor this spring in North Carolina, Waters is currently teaching her father how to fly. He was her first passenger when she got her pilot's certificate at age 17, and he wanted to learn to fly, too. At the time, it was too costly to pay for flight training for the both of them.
"Now that I'm a certified flight instructor, I'm giving him lessons," she said.
Waters will return this summer to flight instruct at Embry-Riddle and earn a master's degree in aviation management. "The ultimate goal is to be a chief pilot in the field of corporate aviation someday."
Posted In: Aviation