Daytona Beach Police Department, Embry-Riddle Announce New Aviation Program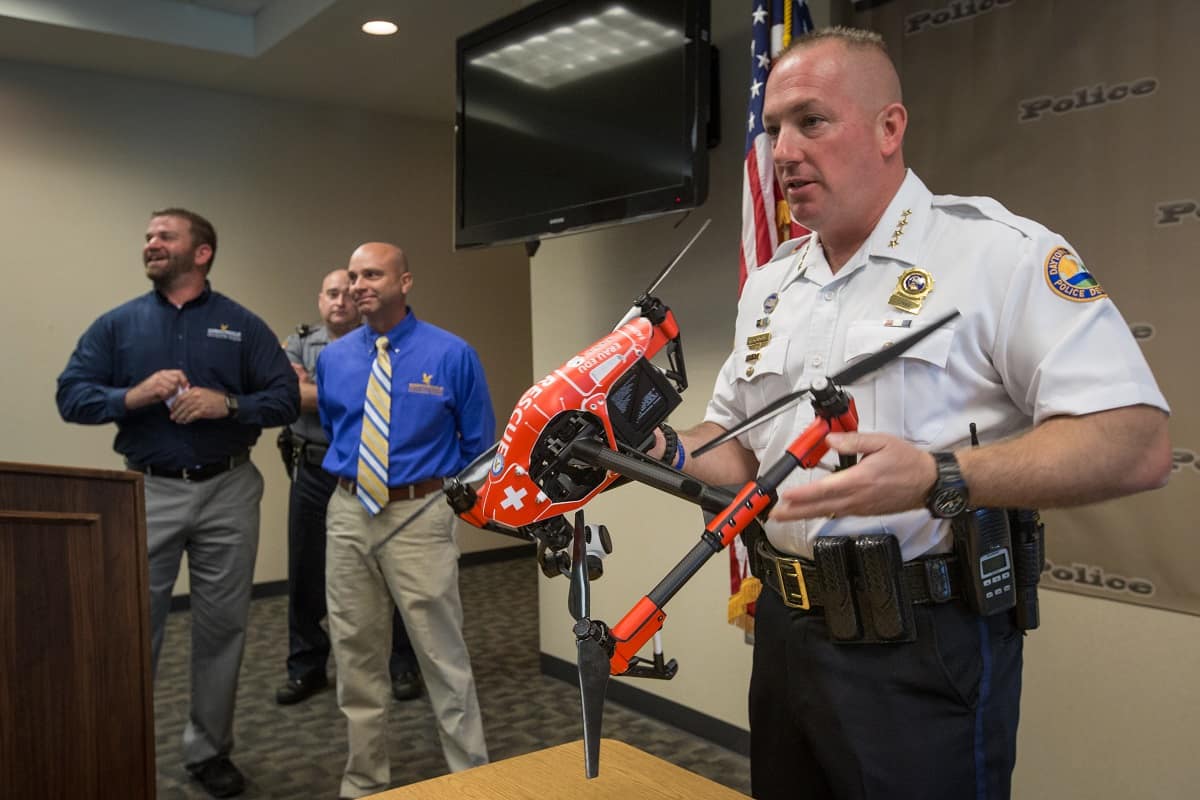 Small unmanned aircraft systems (sUAS), or "drones" will soon help Daytona Beach police officers and firefighters find lost nursing-home residents and assess hazardous areas following hurricanes or other disasters.
A new aviation program has been launched by the Daytona Beach Police Department (DBPD), in collaboration with Embry-Riddle Aeronautical University's Worldwide and Daytona Beach campuses. The program – including a five-officer unit and a plan for two drones – is expected to launch by the end of 2017 or early 2018.
"Anything we can get to protect our citizens and our visitors, to keep them safe, we're going to do," Daytona Beach Police Chief Craig Capri said during a news conference on Aug. 10, 2017. "I'm very excited about this new technology, and it's going to save lives."
The five aviation program officers are going through training with Embry-Riddle so they can become certified by the Federal Aviation Administration to fly drones, Capri said.
Embry-Riddle launched the first Unmanned and Autonomous Systems Operations program in the nation, in 2011. "All three of our campuses – the Daytona Beach, Prescott, Ariz., and Worldwide campuses have UAS programs, either at the baccalaureate level or at the graduate level," said Joe Cerreta, an associate professor in the university's College of Aviation, Daytona Beach.
"We are so blessed to have the worldwide leader in aviation right here in our back yard," Capri said of the DBPD's collaboration with Embry-Riddle. "To partner with them, you can't get any better."
The DBPD aviation program will build upon what Cerreta and other Daytona Beach and Worldwide faculty members learned through a recent study away program in Oklahoma, where students leveraged UAS to survey damage following an EF2 tornado in Elk City and to locate a lost herd of cattle from massive flooding in another part of the state. That effort, to be featured in the September 1 edition of Embry-Riddle's ResearchER magazine, was believed to be the nation's first-ever test of an emerging UAS technology ("augmented reality" software) to benefit first responders at disaster scenes.
"We wanted to bring that knowledge home," Cerreta explained at the news conference. He credited David Thirtyacre, flight department chair on Embry-Riddle's Worldwide Campus, with contacting Chief Capri to discuss a collaborative UAS effort by Embry-Riddle and the DBPD.
Anthony Galante, assistant professor of aeronautical science, emphasized at the news event that the DBPD aviation program would not infringe on anyone's privacy. The program will strictly adhere to Department of Justice guidelines concerning respect for civil liberties, Galante said, and it will be "completely reactive," encompassing search and rescue operations and the assessment of crime scenes.
Embry-Riddle will assist the DBPD with a requirements analysis process to recommend a "best-fit" UAS for the department, Cerreta said. As a start, five officers will begin to learn how to operate UAS using Embry-Riddle's existing drones, which are equipped with wide field-of-view cameras that are not capable of capturing extreme close-ups of a scene. Cerreta and Galante noted further that Embry-Riddle will assist the police department in developing and implementing transparent safety and management policies and procedures.
In establishing the new DBPD aviation program, the university drew on its strengths in several areas, said Kenneth Witcher, dean of the College of Aeronautics for Embry-Riddle's Worldwide Campus.
"We had to ask ourselves, `What's the best approach for Embry-Riddle to help the police department?' We decided to leverage our online learning capability for the academic piece of the program – and we were able to do that through the Worldwide Campus – but we needed to help the officers gain hands-on experience with flying UAS, too, so we brought in faculty from the Daytona Beach Campus."
As DBPD aviation officers await FAA approval to pursue hands-on UAS flight experience, they are taking online courses, offered through Embry-Riddle's Office of Professional Education and Embry-Riddle Worldwide. "It's a great collaboration," Thirtyacre said. "I'll be excited to see how the DBPD uses this technology to improve public safety."
Watch video from the live feed of the Aug. 10 press conference
.