For Chiusano, author of Mediocrity is Not an Option, that passion is making an impact in other people's lives.
"I get tremendous energy and passion from doing something for others," said Chiusano, guest speaker at Embry-Riddle's Daytona Beach Campus 2017 Fall Commencement Ceremony Monday at the Ocean Center. Chiusano at the ceremony received the Eagle of Aviation Award as a result of his outstanding and invaluable service to others and support of the aviation and aerospace community.
See photos from the ceremony and behind the scenes.
"There are countless ways to do something for others," said Chiusano, who served in a variety of leadership positions at Rockwell Collins, including Executive Vice President and Chief Operating Officer of Commercial Systems during his 29-year tenure. "And when I do something for others, it puts me in the right frame of mind to go out and tackle the challenges ahead in the day."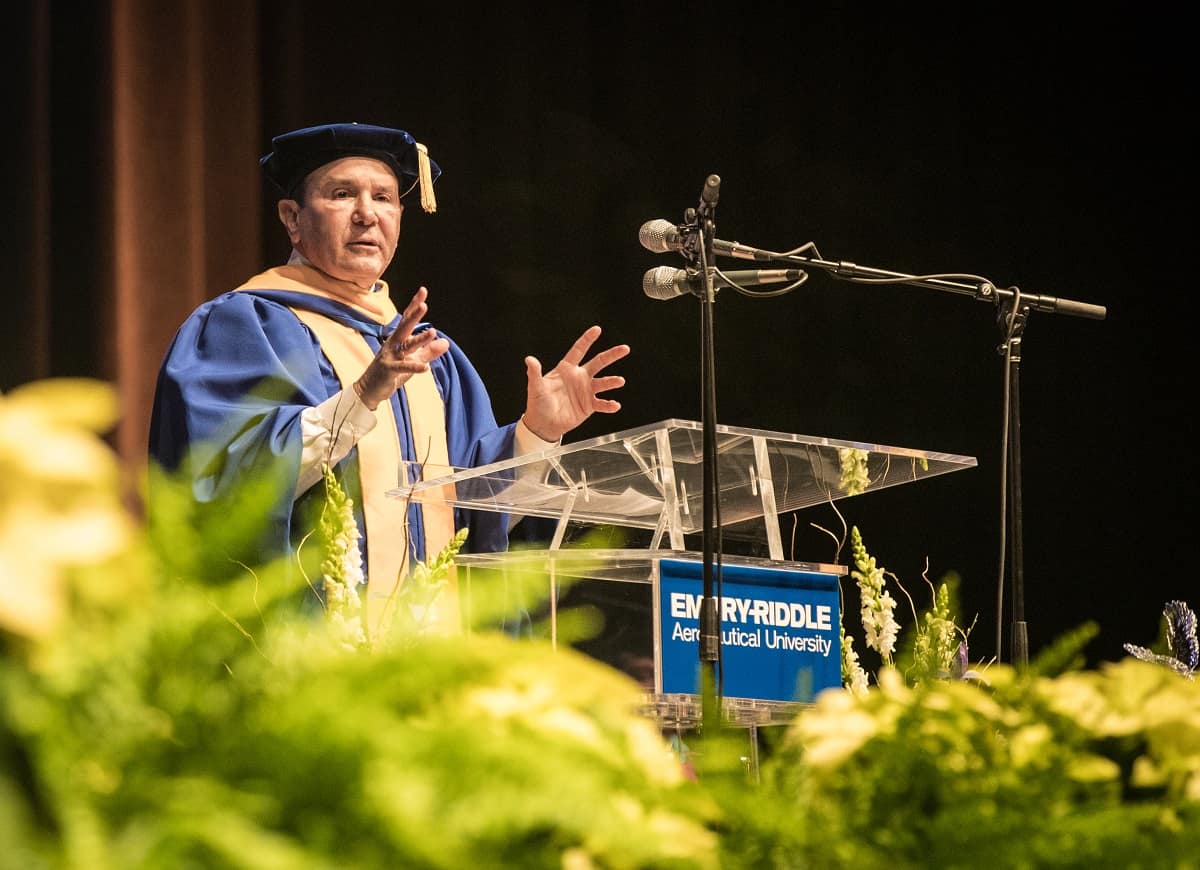 The graduating class of 526 was a record for a Daytona Beach Campus fall commencement. Graduates represented the Colleges of Aviation, Arts & Sciences, Business and Engineering, including 99 students receiving master's degrees and 10 receiving Ph.Ds. The doctoral graduates represent the fields of Aviation, Engineering Physics and Human Factors and many are already seasoned professionals in their area of study including a major in the U.S. Air Force, a top-level administrator with the U.S. Department of Transportation, a telecommunications executive and two university professors.
Read profiles on the 10 Ph.D. graduates
The Fall 2017 graduating class also includes 21 students receiving military commissions: nine from Air Force ROTC, seven from Navy/Marine Corps ROTC and five from Army ROTC.
Chiusano, founder of RMC Consultancy, asked the graduates to think about what their legacy will be and what they hope to accomplish as they venture out into the world. If they continue to learn, have fun and make a difference every day, Chiusano said, "I guarantee that you will reach your full potential."
Embry-Riddle President Dr. P. Barry Butler thanked Chiusano, a longtime friend and mentor, and congratulated all the graduates.
In addition to giving special recognition to the Board of Trustees and dedicated faculty and staff, Dr. Butler recognized Ph.D. and master's degree candidates, honor students, military veterans, and students being commissioned into the U.S. Armed Forces and those joining the Coast Guard.
He also congratulated the student athletes from the 20 teams at the Daytona Beach Campus who have achieved both academic success and athletic achievements.
Displayed behind the graduates, he also called attention to the flags of the 50 countries representing the campus's international students who he said have enriched the university with their classroom discussion and cultural perspectives.
But perhaps the most honored guests, he said, are the families.
"Graduates, your family's love and support have helped to make this day possible," Butler said.
Joshua Pevitz, president of the Senior Class, who received his bachelor's degree in Aerospace Engineering and is continuing his studies toward a master's degree as part of the Edison Engineering Development Program with GE Aviation, told graduates their college experience isn't just about receiving a valuable diploma and a foundation for the future.
"No doubt, today does mark that accomplishment for us," Pevitz said. "But because we have attended this great university, our time in Daytona has provided us with so much more: friendships, a duty for service, confidence, morality, pride and so many other virtuous traits."