Cybersecurity Students, Faculty Bring Global Recognition to Embry-Riddle Expertise

In August 2023, Cyber Intelligence and Security Department students at Embry-Riddle Aeronautical University had a rare opportunity: the chance to build and deliver the first and only aviation cyber capture-the-flag (CTF) competition for over 30,000 industry connections.
Nine students — accompanied by Department Chair Dr. Krishna Sampigethaya and professor Jesse Chiu — traveled to the Aerospace Village, part of DEF CON 31, in Las Vegas. Over almost three days, they challenged hundreds of DEF CON attendees to complete their aviation cyber CTF offering. Participating students included Michael Boehm, Elizabeth Chwialkowski, Sam DeKemper, Michael Doolan, Abigail Geiger, Nathan Johnson, Justin La Zare, Rachel Supergan and Max Werner.
CTF competitions are a common type of cybersecurity exercise that require participants to find "flags" in vulnerable or compromised systems. The goal is to develop participants' cyber intelligence and security skills, but few industry-vetted CTF competitions are student-led, and none are focused specifically on the cyber challenges faced in global aviation, as is the case with Embry-Riddle's competition. Additionally, although the August 2023 offering was the first in-person event at DEF CON, it was one of more than half a dozen that students in the College of Business, Security and Intelligence has developed and led over the past few years.
"I would like to thank Aviation ISAC and Aerospace Village, who have supported us in this effort back from 2020," said Sampigethaya. "I am happy we finally got a chance to offer our unique CTF in-person at DEF CON. Students also got to experience first-hand the magnitude of the conference and its various activities."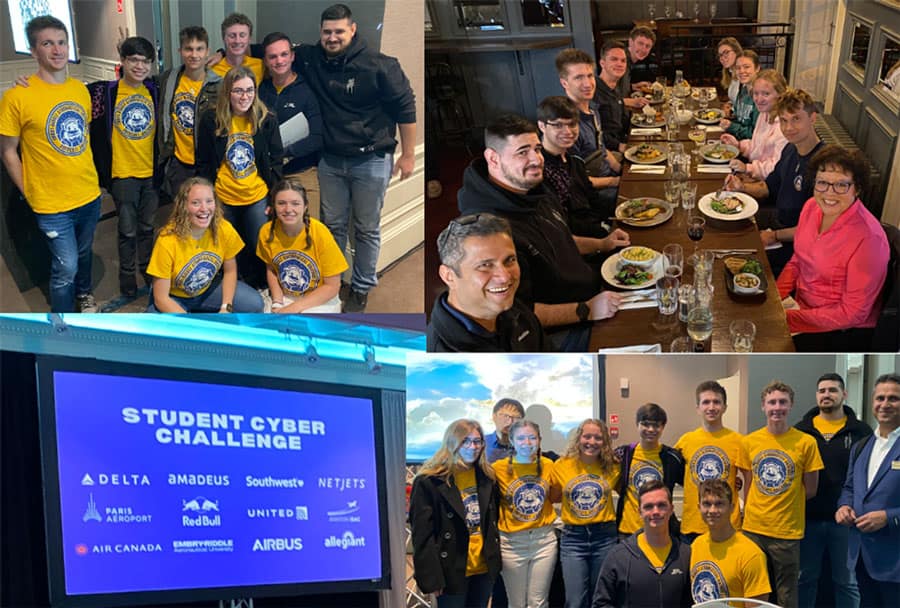 In September, Embry-Riddle students traveled to Dublin to lead another capture-the-flag competition. While there, they got the chance to meet industry leaders, challenge their peers and explore the city. (Photo: Embry-Riddle/Dr. Krishna Sampigethaya)
DEF CON, which began in 1993, is one of the world's largest and oldest security conferences. Companies like Boeing, Lockheed Martin, SpaceX and the U.S. Air Force joined Embry-Riddle in the Aerospace Village to offer their own cyber CTF challenges. In addition to delivering their CTF competition, Cyber Intelligence and Security students met with Embry-Riddle cyber alumni and attended multiple conference events, expanding their industry experience and knowledge.
Then, in September, students led a second CTF competition, where they also got a chance to travel to Dublin for the Aviation Information Sharing and Analysis Center (A-ISAC) Summit. Students offered the CTF to student teams from over a dozen colleges and universities in Ireland, and U.S. industry leaders and subject matter experts observed the CTF and, in some cases, mentored teams as they competed.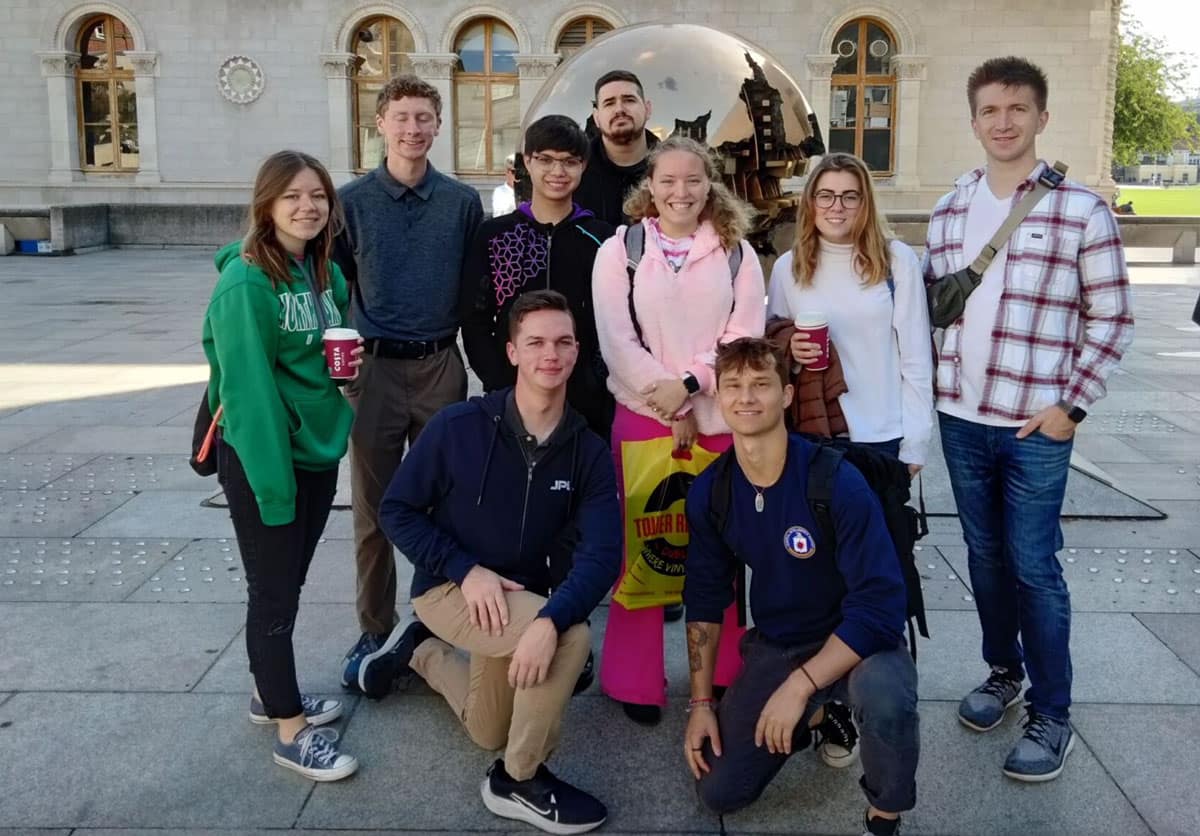 Students explored Dublin as part of their overseas trip. (Photo: Embry‑Riddle/Dr. Krishna Sampigethaya Students explored Dublin as part of their overseas trip. (Photo: Embry‑Riddle/Dr. Krishna Sampigethaya
This A-ISAC Summit CTF, sponsored by A-ISAC and several prominent aviation organizations, was very well-received, and it provided students with an opportunity to interact with cybersecurity experts, industry leaders and other aviation stakeholders.
While in Dublin, the students — Michael Boehm, Kestrel Carlough, Elizabeth Chwialkowski, Abigail Geiger, Nathan Johnson, Justin La Zare, Stephen Levy, Rachel Supergan and Max Werner — also got the chance to explore the city.
Learn more about the Department of Cyber Intelligence and Security online.
Posted In: Security Intelligence and Safety