COMPASS Helps This Eagle Set a Course for Success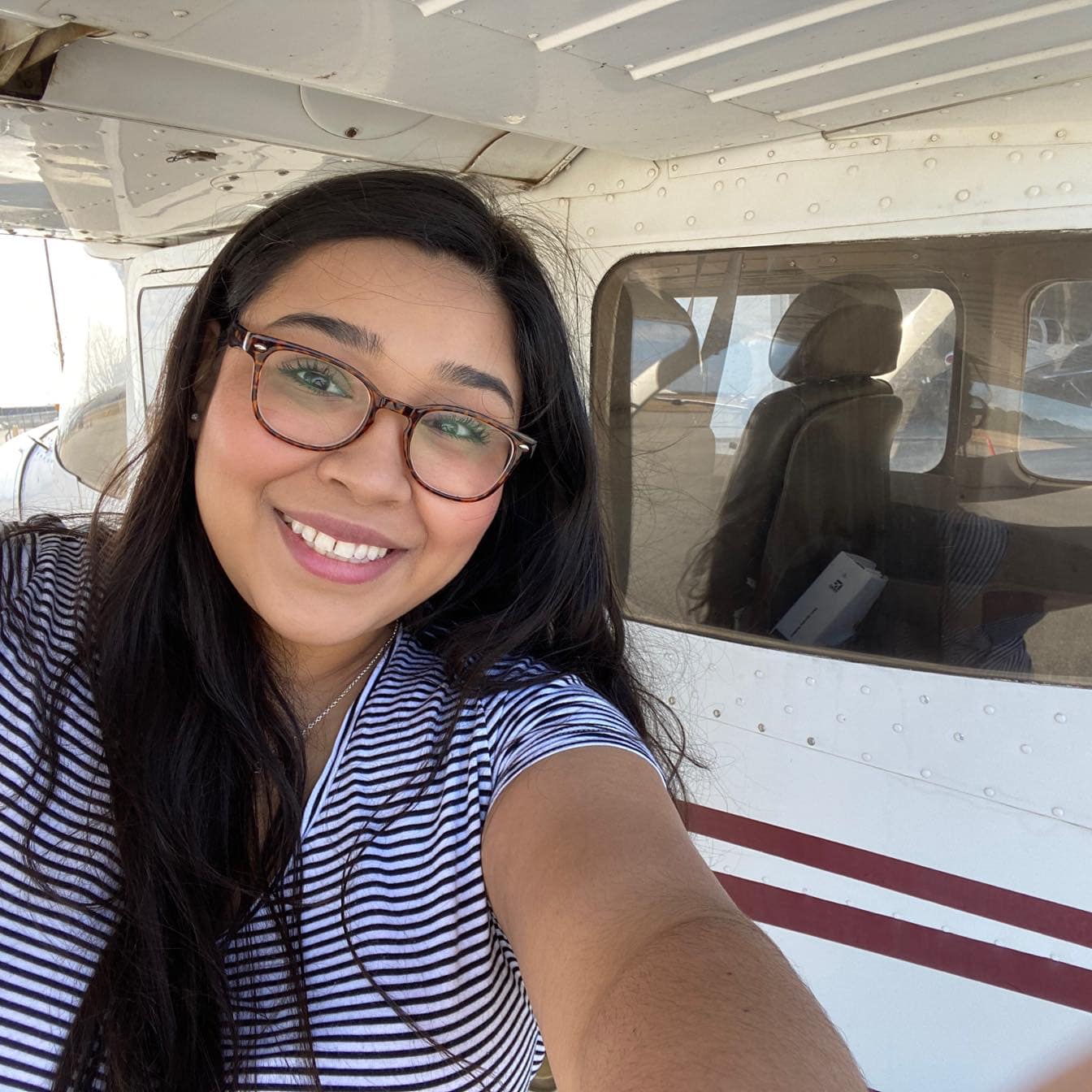 As a first-generation college student, Marily Aguilar-Hernandez is pursuing some big dreams, not the least of which is becoming a commercial airline pilot.
Now, as she works toward her B.S. in Aeronautics at Embry-Riddle Aeronautical University's Worldwide Campus, Aguilar-Hernandez is getting some much needed help with her academic and personal journey from the Center of Mentorship Programs and Student Success, better known as COMPASS.
Offered through the Embry-Riddle Worldwide College of Arts & Sciences, the COMPASS program pairs students with faculty mentors, either individually or in small groups, to help elevate the life skills that enhance personal growth and academic achievement. With the newest COMPASS Heading, Peer Mentorship, students are paired with certified, COMPASS-experienced peers to help support them toward their educational goals.
COMPASS started in 2020, growing from a COAS mentoring program that began in 2018 and was initially aimed at helping students earn their degrees more quickly. It continued evolving and COMPASS mentors now help students work on time management, study habits, goal setting and other issues that may present roadblocks to success.
"I've been doing this journey alone and I was happy to find the COMPASS program," Aguilar-Hernandez said. "It's great to have someone to talk things over with. It's really made a big difference and I wish I had known about it sooner."
"Our mentors have an impressive breadth and depth of experience in many of the areas that challenge our students: academics, work, family, and life in general—and the balance between them," said J.R. Hanamean, Director of the COMPASS program. "The guidance they offer often applies beyond the student's educational journey. COMPASS is making a difference for students, and we are proud and excited to be a part of that."
One of the key things Aguilar-Hernandez has learned is how to avoid being overwhelmed by big projects–such as doing everything it takes to earn a bachelor's degree while also become a pilot.
"The COMPASS program taught me about 'eating the elephant,' which you have to do one bite at a time," she said. "And that's actually helped me so much and it's become something that I am using now in my everyday life."
After being raised by a single mother who came to the U.S. from Mexico, Aguilar-Hernandez began her aviation adventure in Germany, where her father was serving in the military. She took her first Embry-Riddle classes at the Ramstein Air Base campus and supported herself by working as a pre-school teacher at the base.
She stayed in Germany for several years before relocating to Mobile, Alabama, where she is continuing her degree program and learning to fly. Her desire to land a job on the flight deck has become a mission that combines of her love of flying with her desire to set an example for others — especially other Latinas — to follow.
"There are so many people like me who look at something like becoming a pilot and think it would be impossible," she said. "I want to help show them it is not impossible."
Wherever she ends up flying, Aguilar-Hernandez will take her Embry-Riddle degree and the lessons she's learned from COMPASS along with her.
In fact, she is so taken with the COMPASS program that she signed up and became certified to be among the first cohort of peer mentors, part of an expanded mentoring program that COAS debuted in September 2022.
"I am excited to be part of it," she said.
"Peer mentorship is special in that it allows students to connect with other peers who are going through the same challenges of balancing school, family, and work right now, and are advancing successfully toward their goals," said Hanamean, who is also Assistant Professor of the Practice of Atmospheric Science and Associate Department Chair for Behavioral and Social Sciences.
"This makes these peers uniquely qualified to provide the relatable support and encouragement that these students need to Navigate Forward," he said. "Thus, peer mentors, like Ms. Aguilar-Hernandez, are actively engaged in student success, which is the very mission of COMPASS. COMPASS is something every student should know about."