'Gravity Never Limited Us Here at Embry-Riddle': Commencement Celebrations Span Cross-Country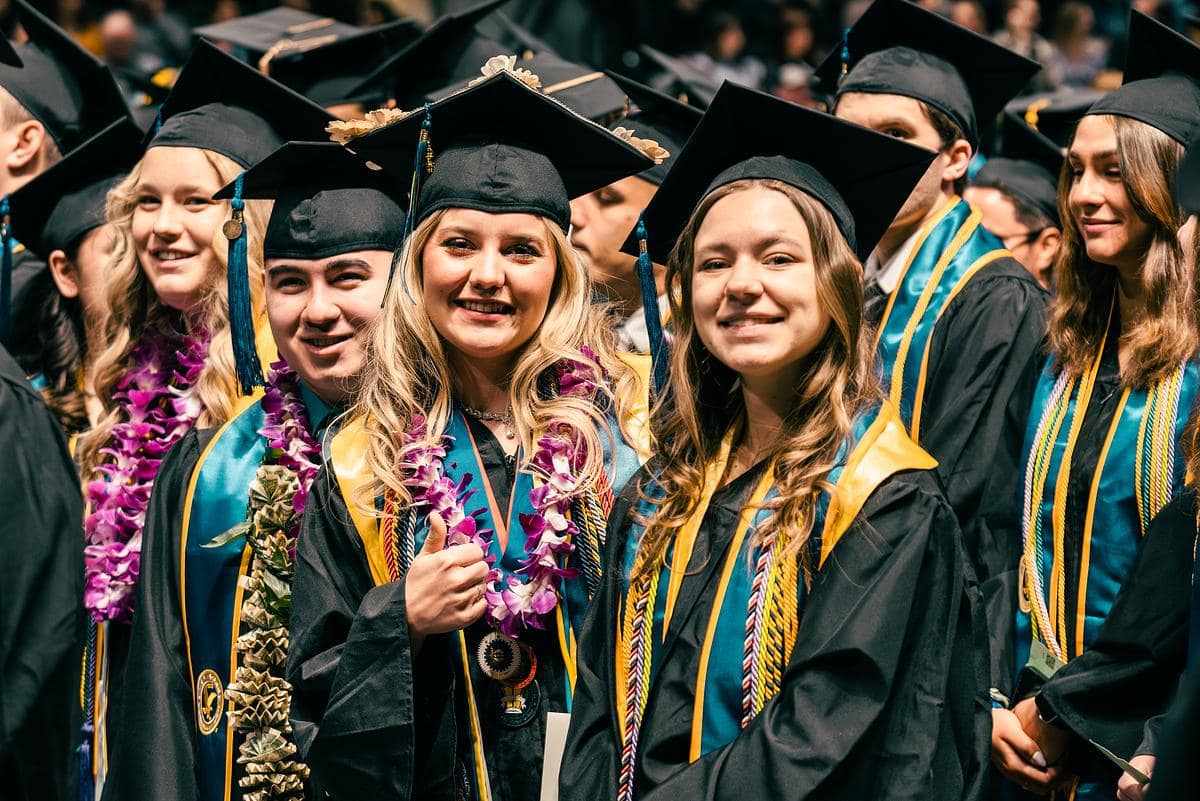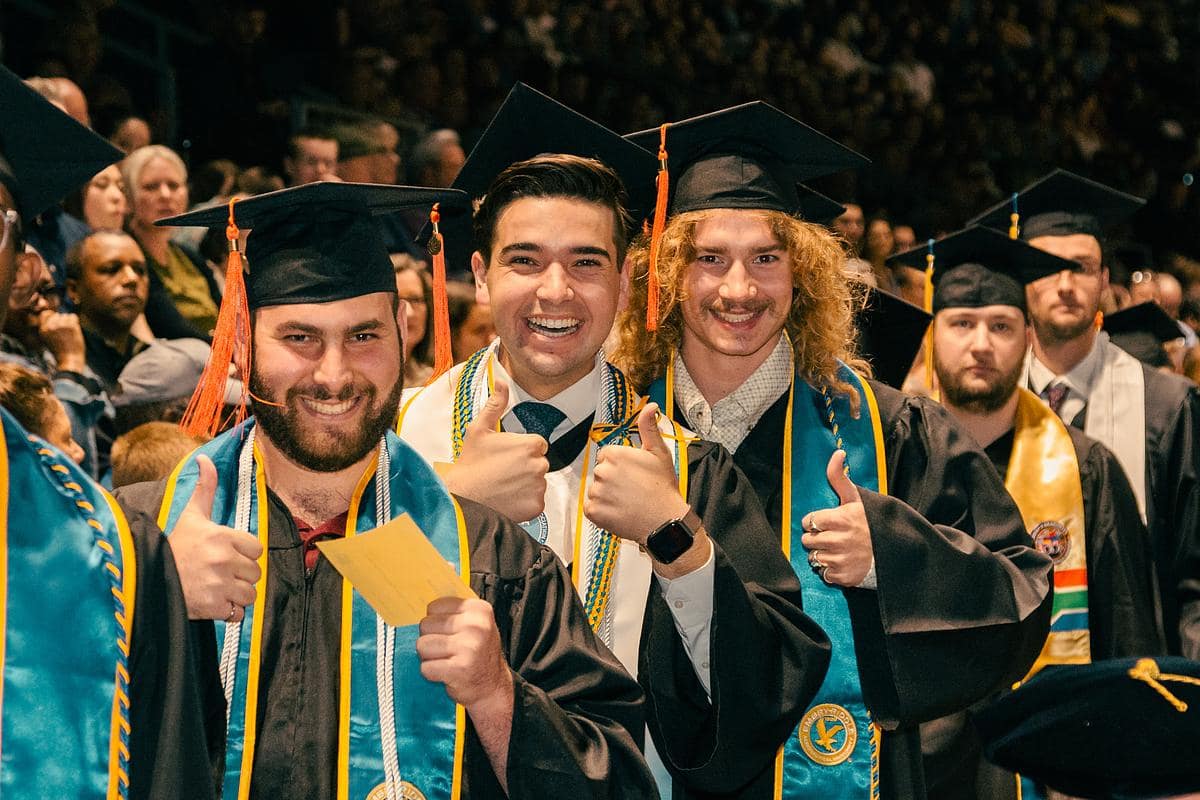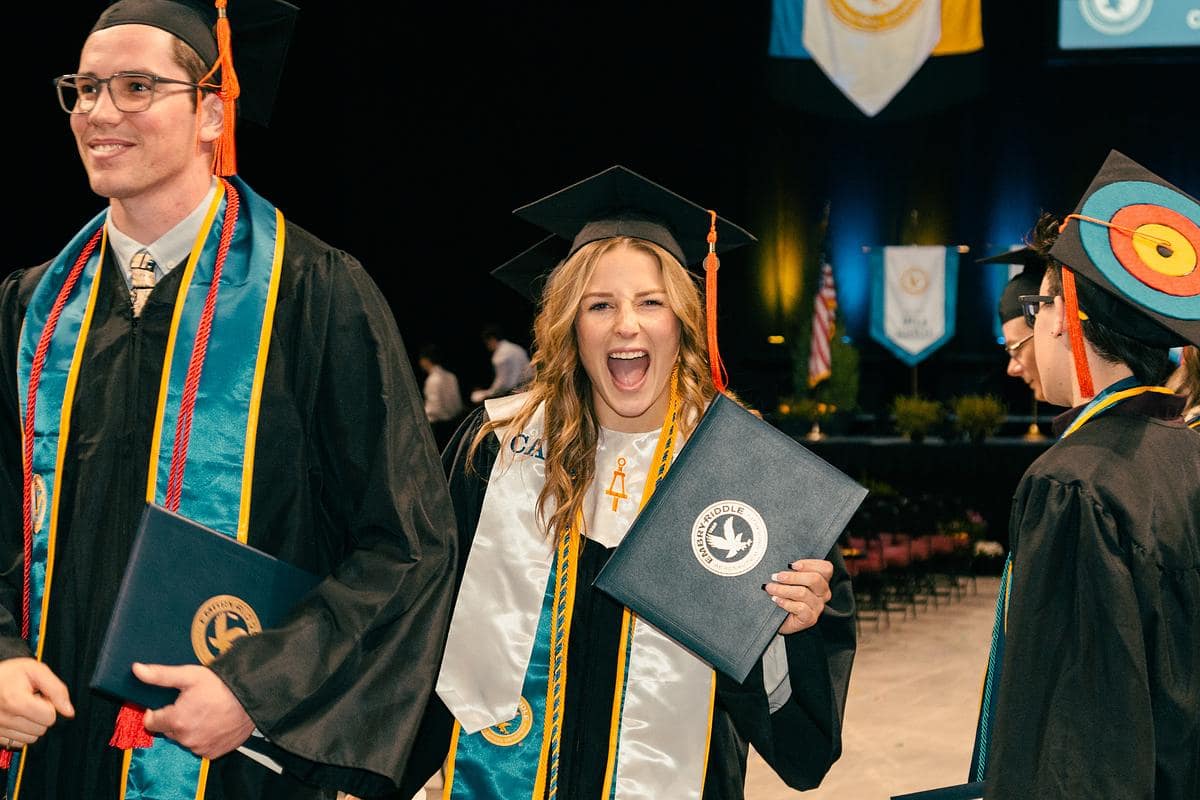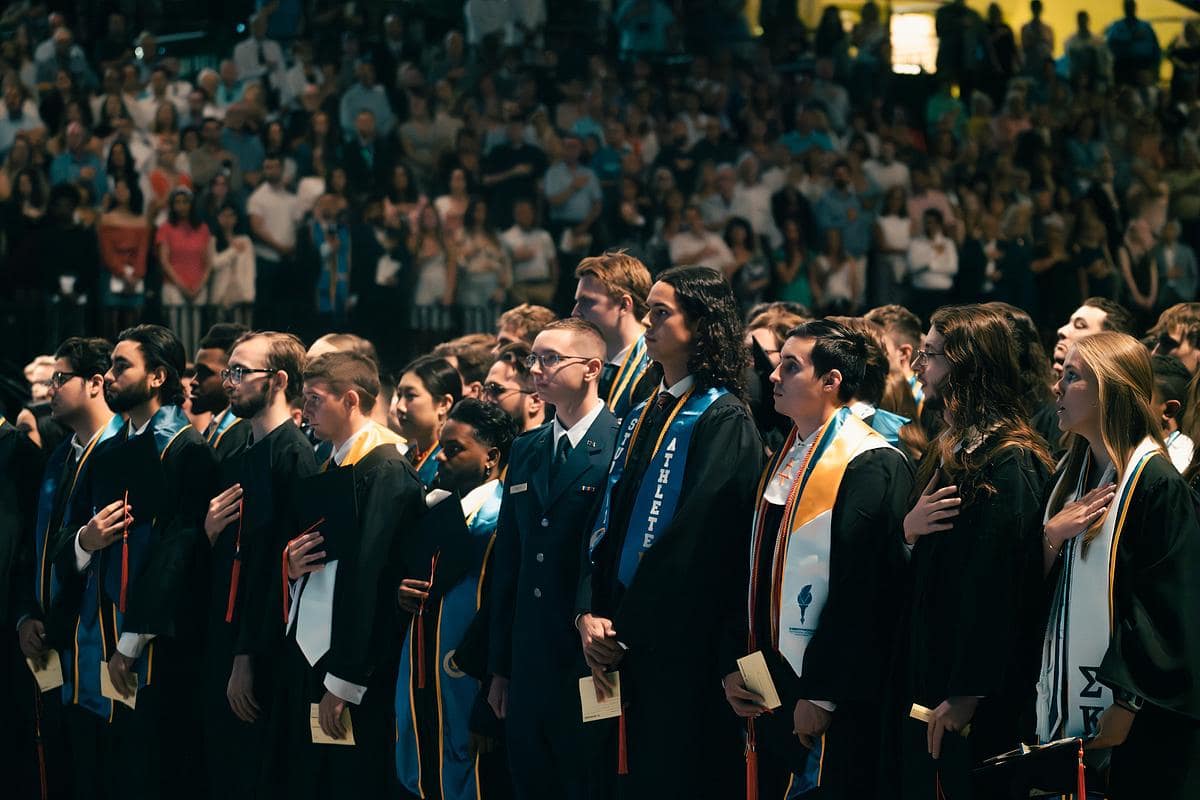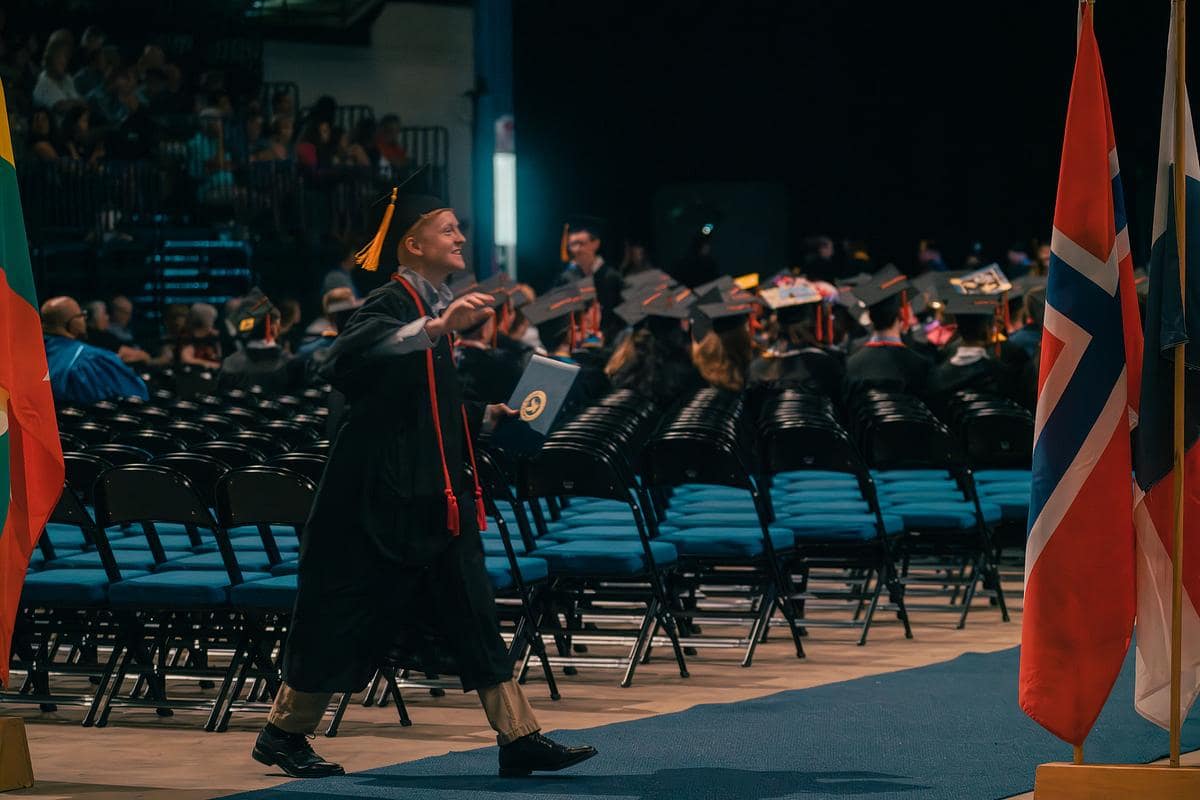 More than 1,600 graduating students from Embry-Riddle Aeronautical University's two residential campuses rang in commencement day in style last week, with celebrations in Daytona Beach, Florida, and Prescott, Arizona.
"Though you come from different places and have distinct backgrounds, you share common traits: a love of learning, a commitment to service, a desire to innovate," Embry-Riddle President P. Barry Butler, Ph.D., told the graduating class at the Daytona Beach Campus event. "As you take your next step, remember, you are now part of an elite community of Embry-Riddle alumni. Each and every one of you will be Eagles — forever."
In addition to the usual graduation day festivities, the ceremonies were especially moving when student speakers took the stage. The students shared their experiences in overcoming challenges, ranging from having to quickly learn English after moving to the United States to surviving a shooting at a high school.
Daytona Beach Campus: Not Just Surviving — Thriving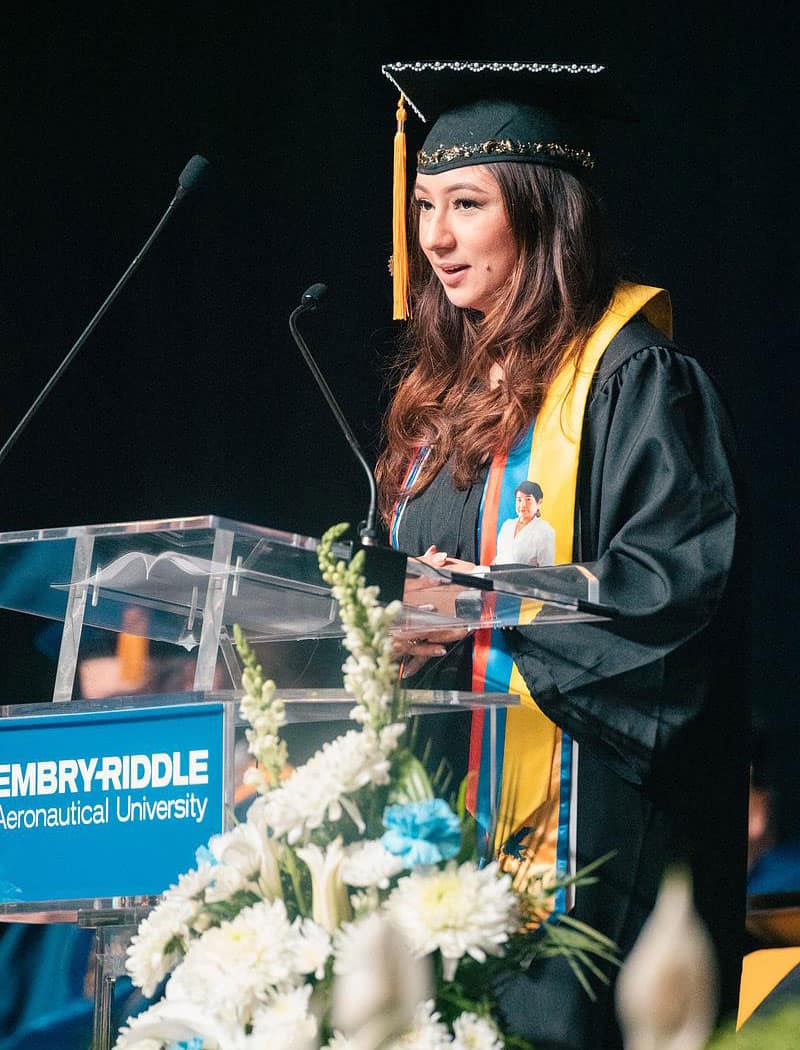 A native of Colombia, Lorena Sanabria Hernandez moved to the United States at nine years old, survived a shooting at her high school and graduated this week with an astrophysics degree and as co-president of her senior class at Embry-Riddle's Daytona Beach Campus. (Photo: Embry-Riddle/Joey Harrison)
A total of 1,169 students from Embry-Riddle's Daytona Beach Campus walked the commencement stage on Monday, May 8, 2023, at the Ocean Center to receive their diplomas. The class included 1,033 undergraduate students, 124 master's degree earners and 12 Ph.D. grads.
The featured student speakers were Lorena Sanabria Hernandez, an Astronomy & Astrophysics graduate, and Joshua Yeajun Park, a graduate of Unmanned Aircraft Systems Science. Both immigrants, the students took a moment onstage to acknowledge the will of the human spirit to persevere — especially Hernandez, who survived a school shooting in 2018, before she arrived at Embry-Riddle. That tragedy claimed the lives of 17 of her high school classmates.
"Since that day, my identity changed," said the Colombia native. "Since that day, I found out how hard it was to keep that will alive and to find a way."
But she kept going, determined to let her dreams, not her deterrents, define her.
"I stand here today as an astrophysicist — along with engineers, future doctors, physicists, future leaders," Hernandez told her peers. "This institution has bonded us together, regardless of our different cultures, borders or politics. We shared a common dream, and here we are. There's no other university like this one. Gravity never limited us here at Embry-Riddle. Remember that."
Hernandez, who emigrated to the United States when she was nine years old, served as co-president of the senior class along with Park, a native of South Korea, who couldn't speak a word of English when he came to America at six years old.
"I cried in my sleep and would scream that I wanted to go back," Park shared. "Coming to America was a challenging, yet ultimately rewarding, decision for my sisters and me. [My parents] knew the transition would not be easy, but they knew the potential opportunity for our future outweighed the risk."
Because of those risks, Park said, he was proud to stand tall on the graduation stage at "the most renowned and recognized, almost 100-year-old aeronautical university in the world."
Keynote Speaker: Capt. Houston Mills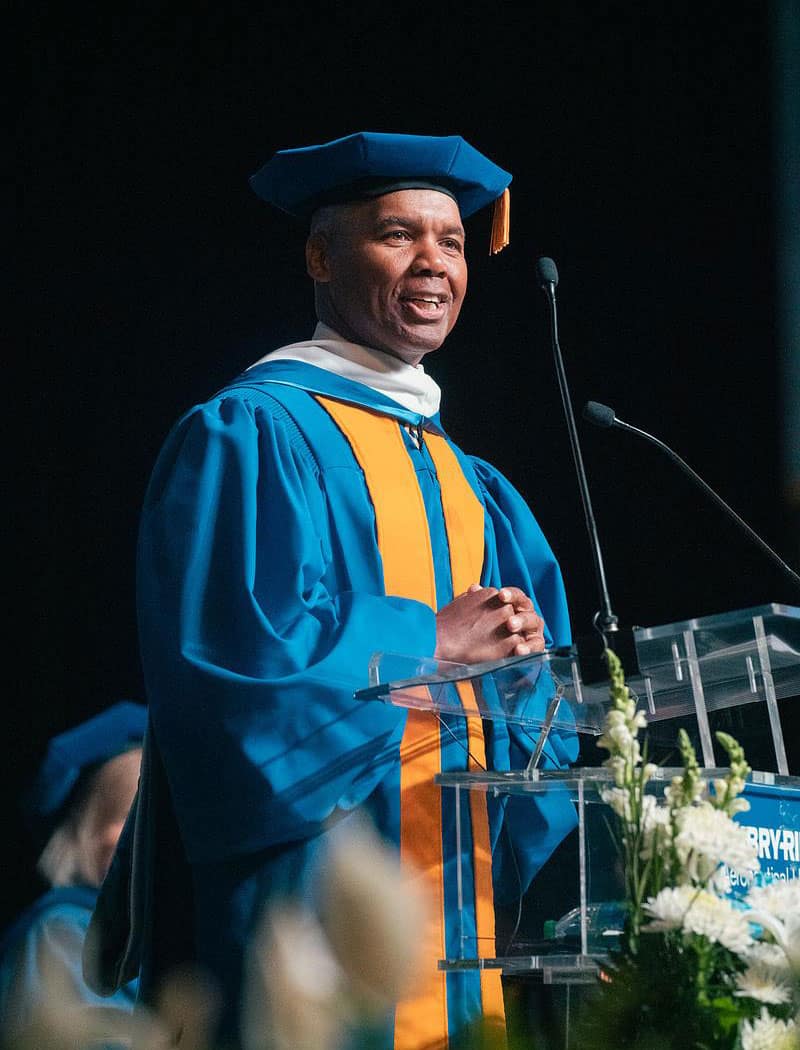 Capt. Houston Mills, current vice president of flight operations and safety for UPS Airlines, delivered the keynote address at the Daytona Beach Campus undergraduate event. (
Photo: Embry-Riddle/Joey Harrison)
Delivering the day's keynote address was Capt. Houston Mills, current vice president of flight operations and safety for UPS Airlines.
"Hope and optimism are the jet-a fuel that can propel you to big, bold and audacious dreams," Mills said. "While your degree is the end of one journey, it's just the beginning of another … But with hope and optimism in your right seat, you'll be amazed at how much you'll enjoy the ride."
Mills began his aviation career in 1985 as a Marine Corps officer and fighter pilot. He is a certified combat tactics instructor and has more than 100 aircraft carrier landings to his credit. In December 2020, he also flew the UPS Boeing 757 that carried the first lifesaving Covid-19 vaccines. Active on several industry boards, Mills currently serves as an advisor on the board for Embry-Riddle's Boeing Center for Aviation and Aerospace Safety. Additionally, he is the only African-American vice president of flight operations in the country.
Promoting a "service before self" philosophy, Mills shared that geese flying together provide additional lift and reduce drag for the birds flying behind them, resulting in the flock being able to fly an estimated 70% farther with the same amount of energy than one goose flying alone.
"Service to others is a force multiplier," he said. "Graduates: You have your flight plan. It's time to set the flaps, push the throttles and go wheels up on what I know will be an exciting, successful and impactful life journey!"
Forty-one ROTC cadets from Embry-Riddle also commissioned into the U.S. Army at the event; 46 commissioned into the Air Force; and 39 into the Navy.
Prescott Campus: Dr. Sally Mason, Keynote Speaker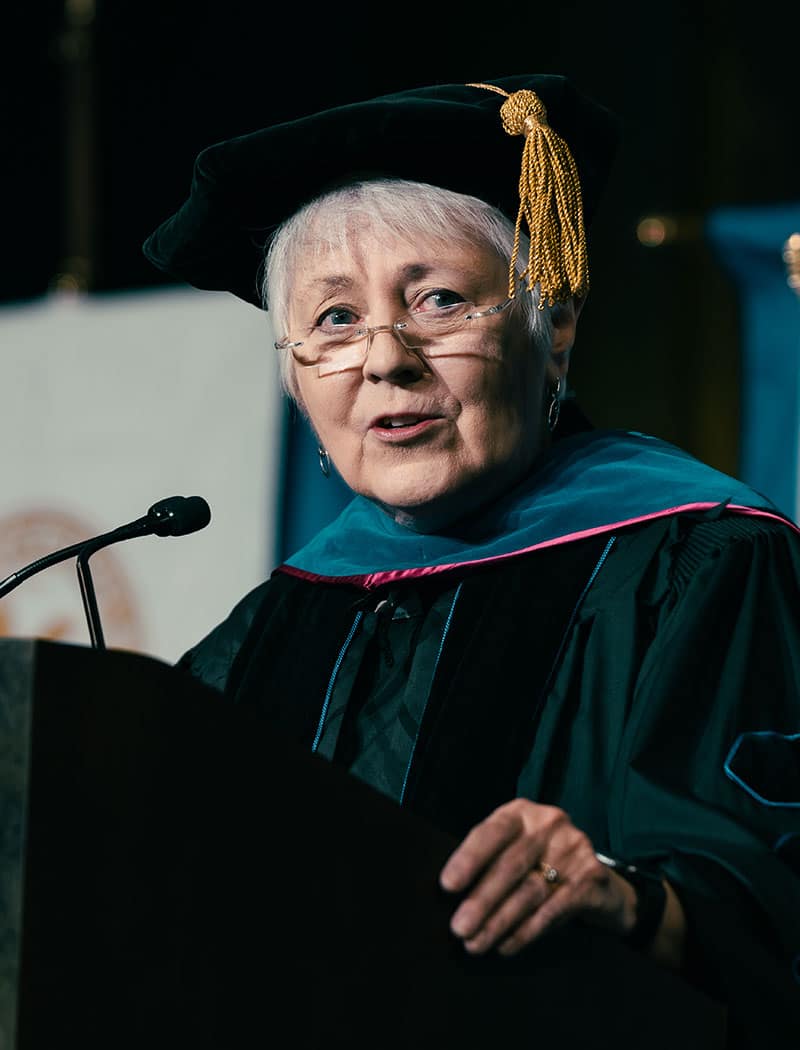 Embry-Riddle Trustee Dr. Sally Mason delivered the keynote address at the Prescott Campus ceremony. (Photo: Embry-Riddle/Connor McShane)
A total of 484 graduates walked the commencement stage Saturday, May 6, 2023, at the Prescott Campus ceremony, including 474 bachelor's degree earners and 10 master's students, as well as four bachelor's and 10 master's students from the Worldwide Campus.
That total also included 34 cadets commissioned into the military: 24 Air Force ROTC cadets and 10 Army ROTC cadets.
The graduating class included 70 international students representing: Saudi Arabia, United Arab Emirates, Mongolia, India, Spain, Taiwan, China, Republic of Korea, Philippines, Mexico, Russian Federation, France, Canada, Denmark, Myanmar, Bangladesh, Luxembourg; Viet Nam, Nigeria, Hong Kong, Thailand, South Africa, Croatia and Pakistan.
Commencement remarks were given by Embry-Riddle Trustee Dr. Sally Mason, president emerita with the University of Iowa. "Many of you may be lucky enough to go right into the workforce," said Mason. "You'll be pilots, engineers, air traffic controllers, aerospace industry workers … and some of you may be like me: a first-generation college student whose parents don't always understand what you are doing."
A lifelong scholar, Mason earned her bachelor's in Zoology from the University of Kentucky, her master's from Purdue University and her Ph.D. in cellular, molecular and developmental biology from the University of Arizona.
During her illustrious career, Mason held many leadership positions and has influenced education and science policy at the highest levels. She encouraged graduates to follow their dreams and remember the guiding principles known as the Paradoxical Commandments.
Written by Dr. Kent M. Keith in 1968 as part of a booklet for student leaders, these "anyways" still hold true today, said Mason. In part: "People are illogical, unreasonable and self-centered. Love them anyway. If you do good, people will accuse you of selfish ulterior motives. Do good anyway. If you are successful, you will win false friends and true enemies. Succeed anyway. The good you do today will be forgotten tomorrow. Do good anyway."
We Grew Up Together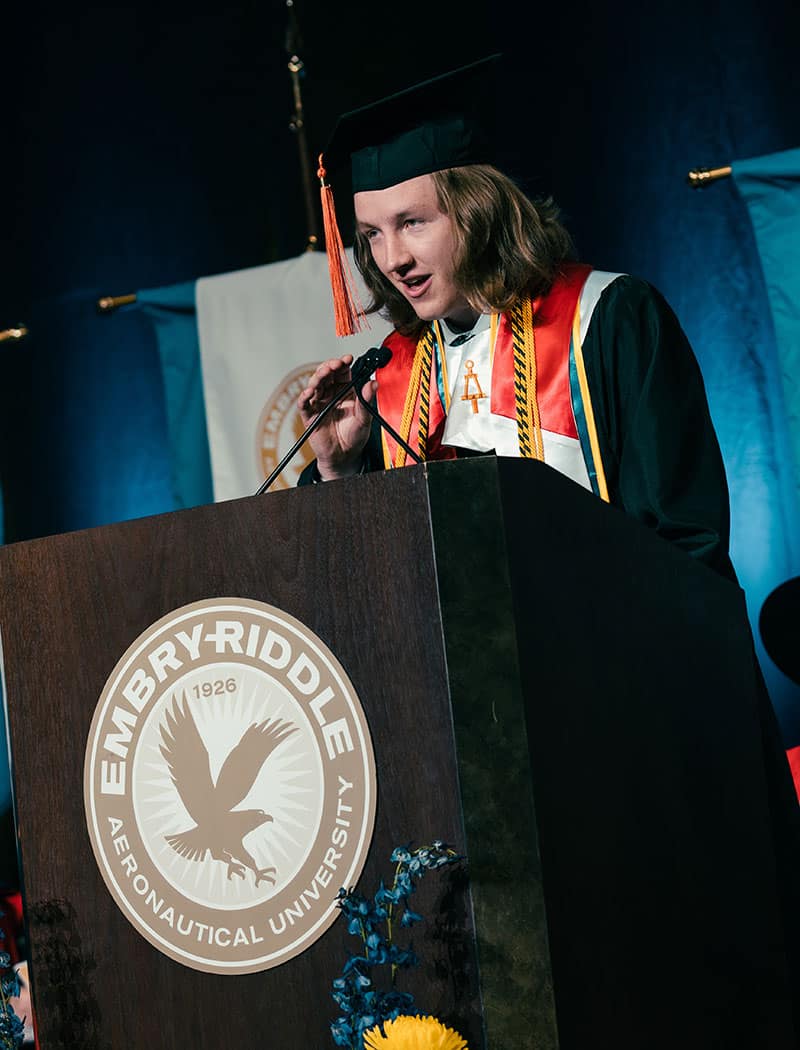 Matthew Prescavage, an Aerospace Engineering graduate, served as the featured student speaker at the Prescott Campus ceremony. (Photo: Embry-Riddle/Connor McShane)
The class speaker was Aerospace Engineering graduate Matthew Prescavage, a Hainesport, New Jersey, native who also earned the Prescott Campus Chancellor Award, which is the highest award bestowed to a graduate, recognizing exceptional academic and leadership achievements.
Looking back, Prescavage reminisced about a letter he wrote in middle school to his future self. The theme of that letter was about wanting to learn and experience life in a different way — something he found at Embry-Riddle.
"We experience new events, and more importantly, we grow up," Prescavage said. "We learn what it's like to be an adult, how to communicate with others, file our taxes and become the person our younger self would be proud of becoming.
"The future may be difficult, and it will get bumpy at times, but you will always have support from your classmates and professors, your family and those you love," Prescavage told his peers.
Prescavage's academic success has earned him membership in the Sigma Gamma Tau Aerospace Engineering Honor Society, Tau Beta Pi Engineering Honor Society and the Phi Kappa Phi Honor Society.
He was also part of a project funded by the Philanthropy Council, working closely with the Undergraduate Research Institute, in which his team was designing and integrating a quadcopter onto a rocket body to demonstrate the feasibility of a medium-scale rocket retrieval and landing system.
During the past two summers, Matthew was a quality engineering intern at L3Harris in Camden, New Jersey, as well as a flight deck systems engineering intern at Honeywell in Phoenix.
"Your talent, dreams and hard work brought you here today," said Dr. Anette M. Karlsson, Prescott Campus chancellor. "You are now part of the Embry-Riddle family and are well-prepared for promising careers in your chosen areas of aviation, aerospace, cybersecurity, business, science, engineering and more. I know you will accomplish amazing things."
An additional 272 students from Embry-Riddle's Worldwide Campus also graduated last week in a third commencement event.
Posted In: Institutional News