Collins Aerospace Exec: The Industry Needs Eager, Innovative Engineers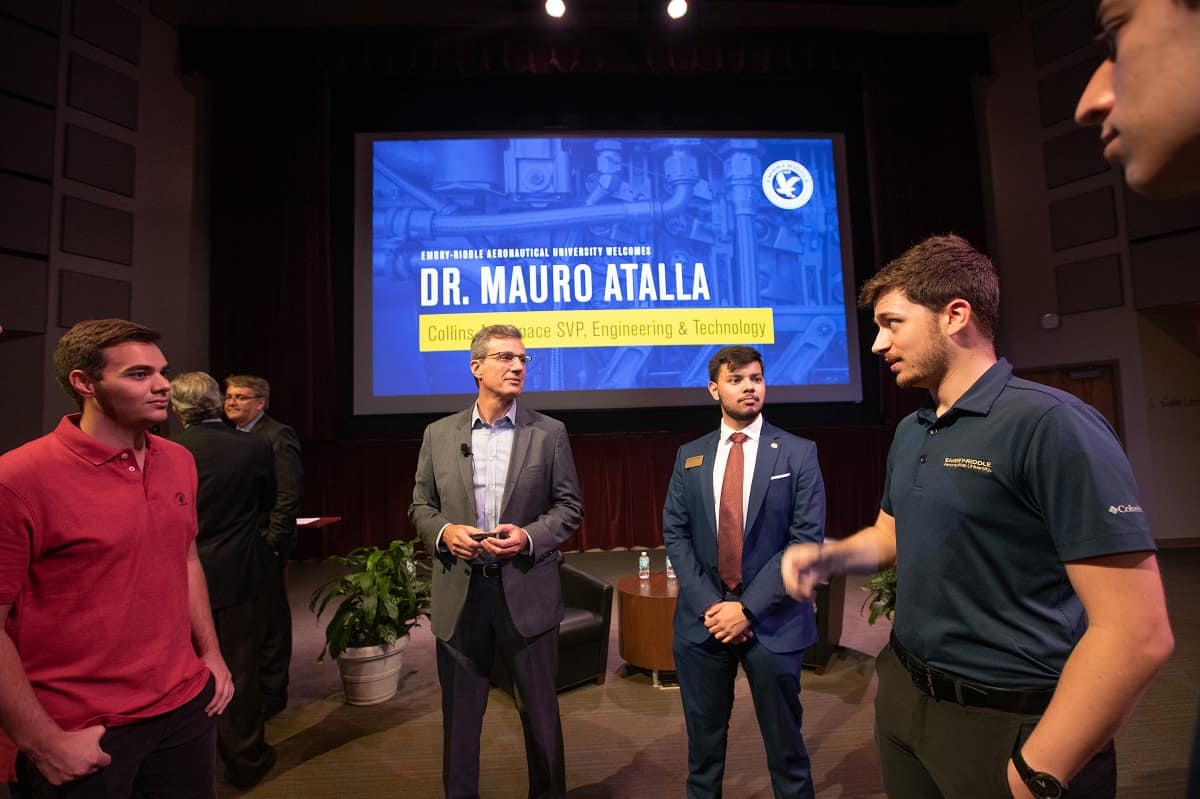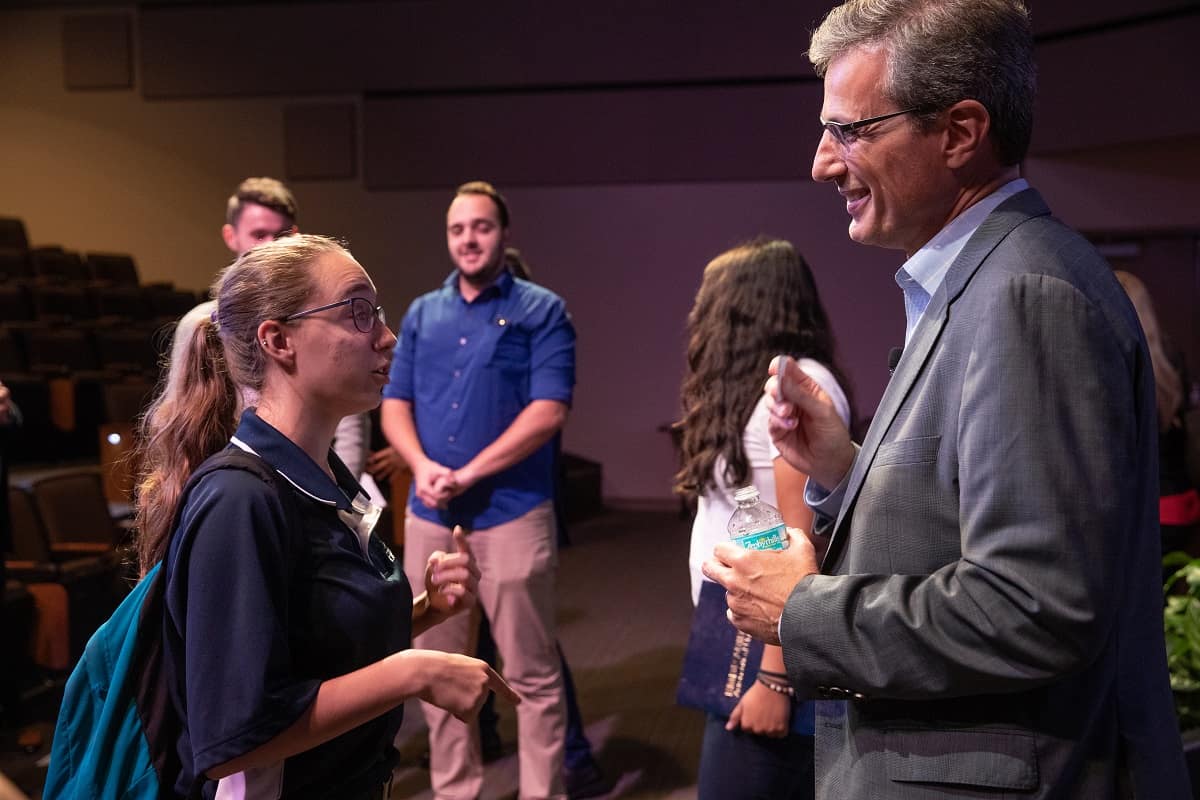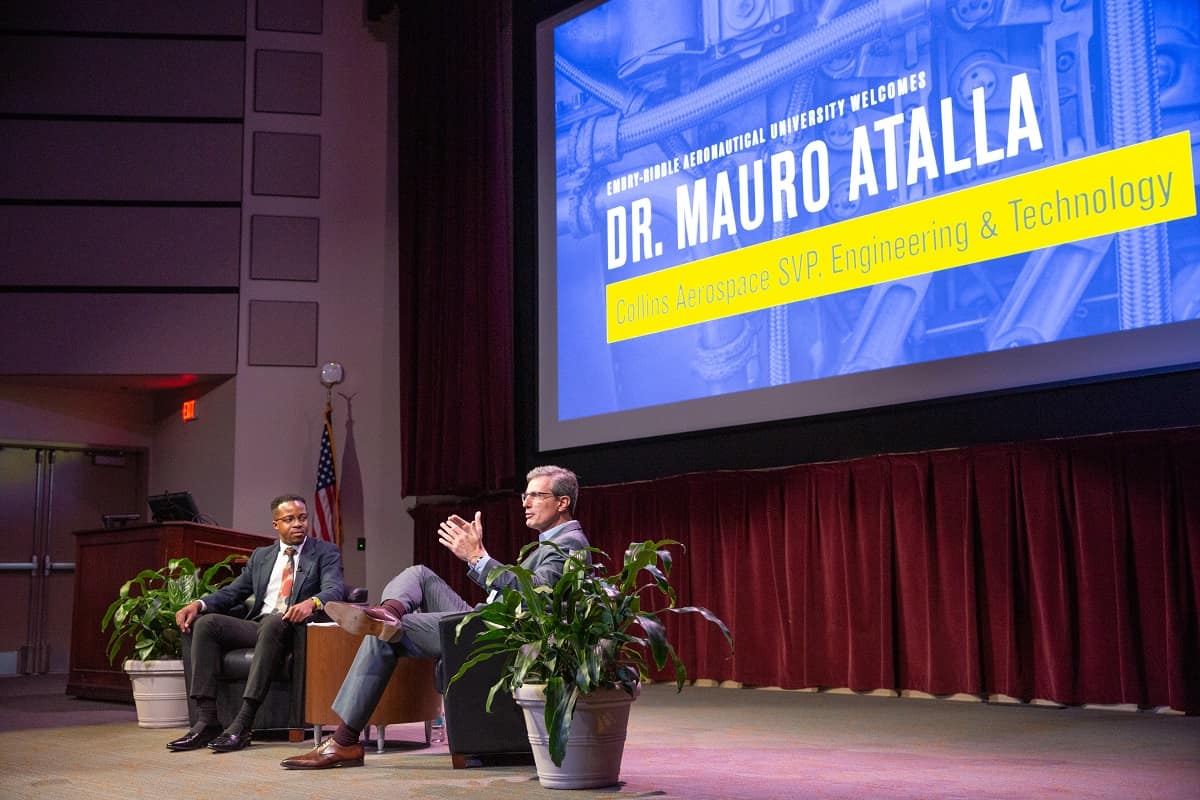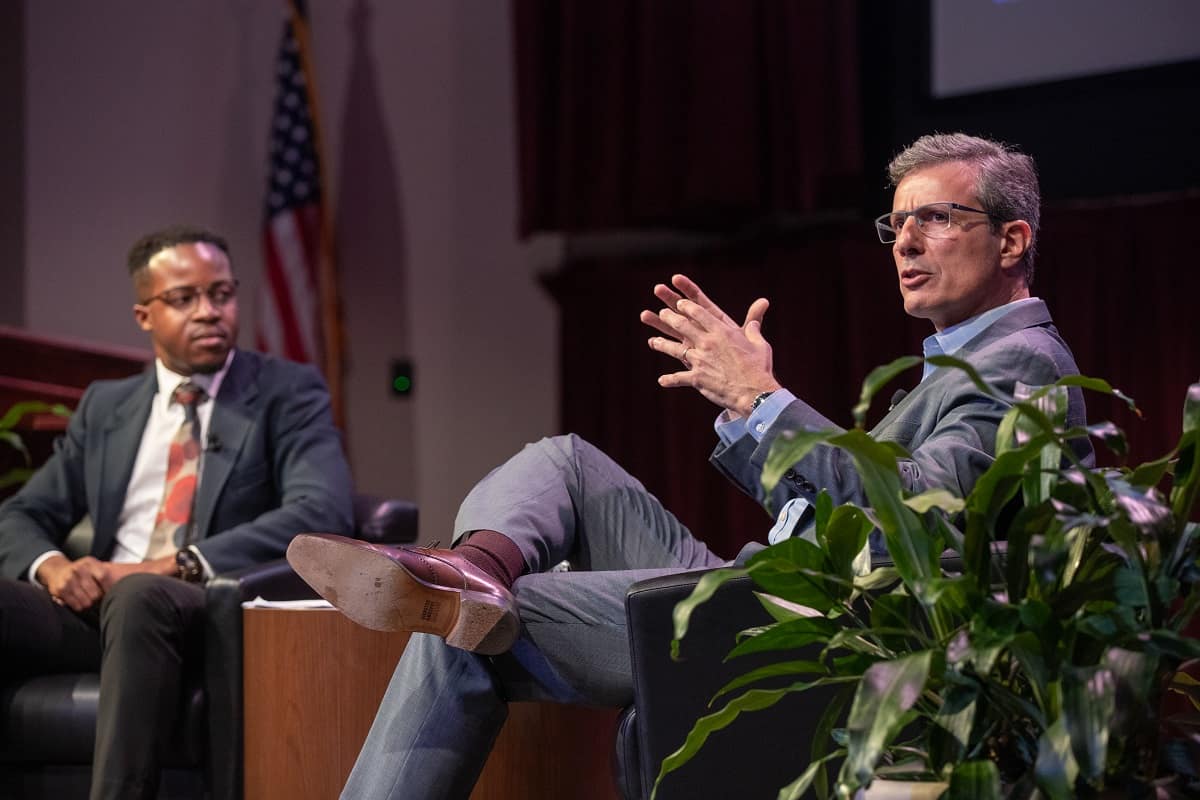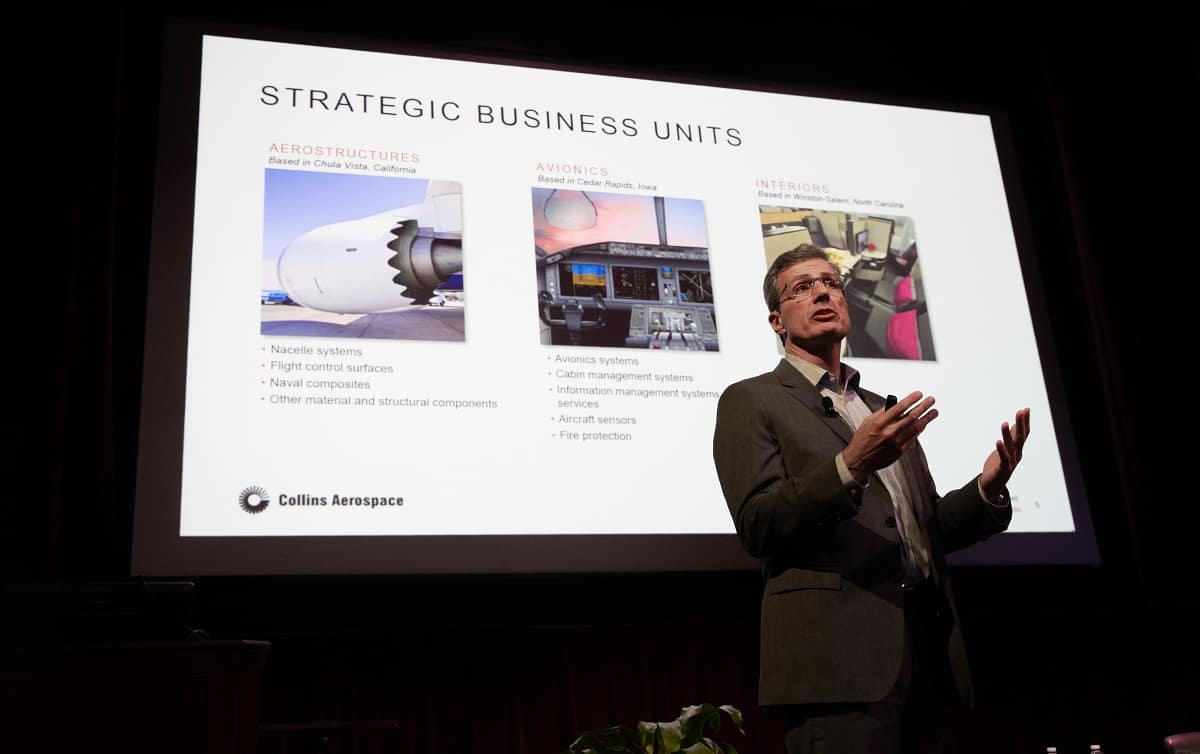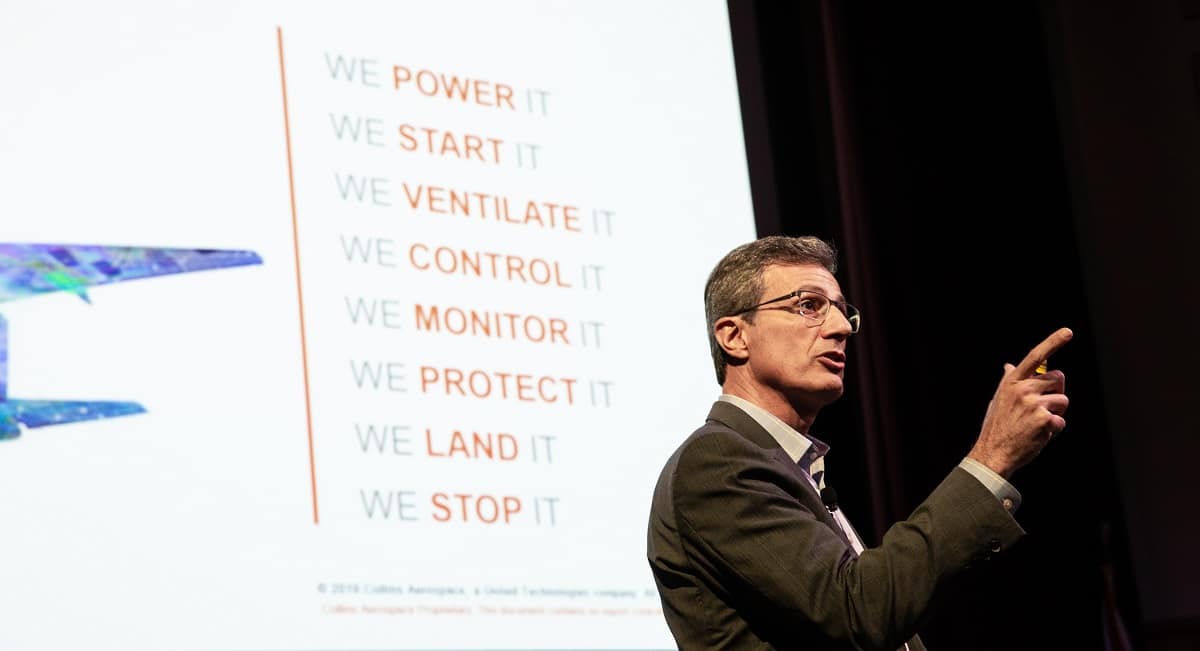 Visiting Embry-Riddle Aeronautical University's Experimental Rocket Propulsion Lab took Mauro Atalla back to his boyhood in Brazil. The senior vice president for engineering and technology at Collins Aerospace grew up with a passion for physics and mathematics and loved to build rockets at home. "Not always the safest thing," he joked at a recent Presidential Speaker Series event on the Daytona Beach Campus.
Atalla described how Collins Aerospace "makes modern flight possible" for commercial and government clients. He also shared his insights about success in the aerospace industry with student moderator Oko Nelson. Nelson is a junior majoring in business administration who has interned with Boeing and intends to work for the company after graduation.
"The coolest part of my job is that we span every discipline in engineering," Atalla said, citing six strategic business units that focus on aerostructures, avionics, interiors, mechanical systems, mission systems, and power and control. "It is impossible to be bored. We tackle the tough problems."
Atalla pointed to the ability to work collaboratively across disciplines as a high-value skill at Collins, which employs more than 17,000 engineers working in 150 sites across the globe. He came to appreciate this advantage during his early days at United Technologies Corporation (parent company to Collins Aerospace). An engineer by education, with a bachelor's and master's degree in mechanical engineering and a doctorate in engineering mechanics, he did not always understand what was driving business decisions. In earning a Master of Business Administration, however, he tackled several team projects.
"Working with someone from IT, a CFO and a marketing person from pharma broadened my perspective and the way I think about problems," he said. "I am very analytical and very much a perfectionist, so I need a team that balances that."
Assigning the right people, with a diversity of skills and perspectives, to the right teams, is a priority. He acknowledged that, although embracing a diversity perspectives can sometimes lead to creative tensions, it is also essential to creating a productive atmosphere. "Collaboration is critical to our success. Without it, we would just be a collection of companies," he said.
Collins addresses the need to develop talent and transfer knowledge through two programs. Engineers can become part of the Fellows program, which recognizes exemplary leadership, innovation and technical expertise. Fellows serve as mentors and have developed more than 1,000 courses for employees. An engineering rotation program broadens employees' understanding of the company. Over a two-year commitment, participants may move between business units in 43 locations to take on "stretch" assignments, network with in-house experts and gain the guidance of an executive mentor. "This helps employees develop a systems-engineering mindset and start building a network of experts that will help them throughout their careers."
In a Q&A session, students asked Atalla for his perspective on sustainability, the challenge of creating batteries for urban air mobility and how an increasing number of drones will safely share airspace.
The Presidential Speaker Series on Embry-Riddle's Daytona Beach Campus welcomes leaders, prominent alumni and trailblazers in aviation, aerospace and related fields. Each 90-minute conversation is free and open to students, faculty, staff and the community.
At 6:30 p.m. on Tuesday, Feb. 11, Bill Ayer, retired chairman and CEO of Alaska Air Group, will share his thoughts on "Leading Through Turbulence: The Transformation of Alaska Airlines" as the next speaker in the series.
Posted In: Applied Science | Engineering