College of Engineering Dean Awarded Aerospace-Education Trophy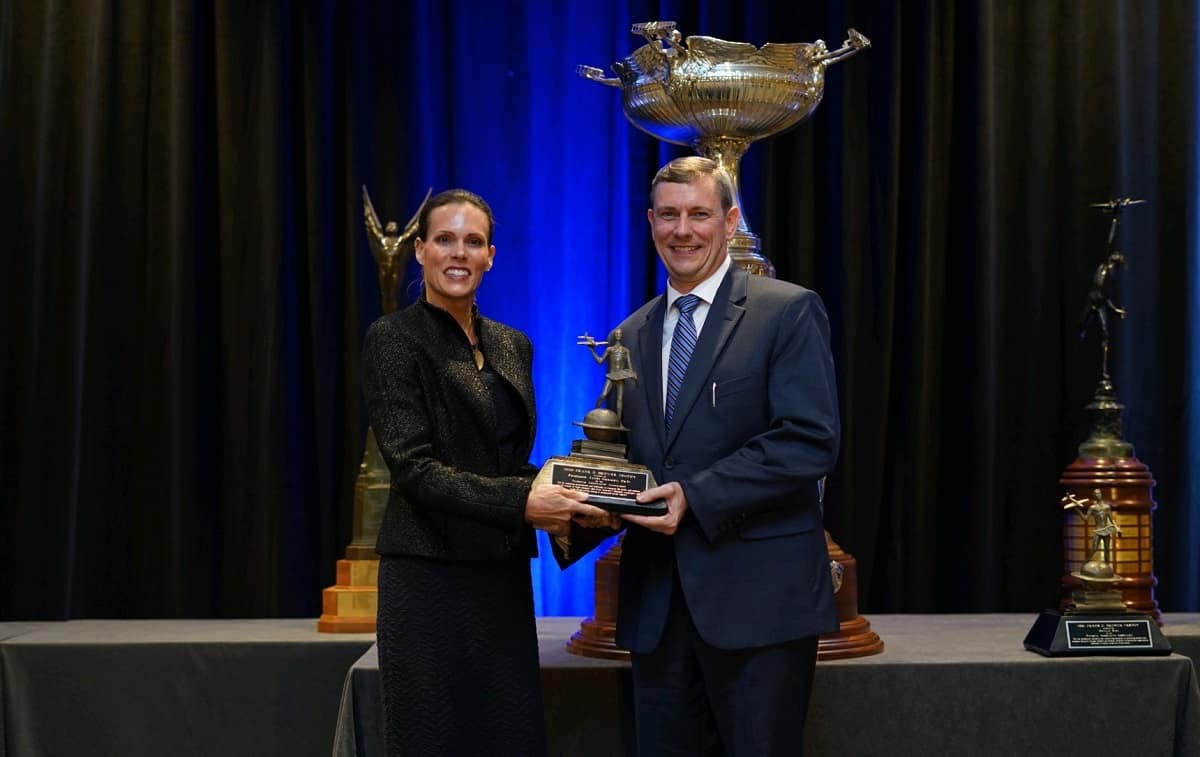 Dr. Jim Gregory, dean of Embry-Riddle Aeronautical University's College of Engineering (COE), received the prestigious Frank G. Brewer Trophy for significant contributions to aerospace education from the National Aeronautic Association (NAA) at an event in December.
According to the NAA, Gregory, who became dean of the COE on Embry-Riddle's Daytona Beach Campus in August 2021, earned praise for "his enduring contributions and leadership in engaging the public and students in the science of flight through video series, innovative laboratory experiences and world-record-setting testing of unmanned aerial vehicles."
Congratulating Gregory on his award, Lon Moeller, Embry-Riddle's senior vice president for academic affairs and provost, said, "The Brewer Trophy is a tremendous honor for Dean Gregory and reflects his commitment to the success of engineering students, as well as his passion for aerospace education."
As an educator, Gregory inspires his students through a classroom-flipping approach, in which instructional content is introduced outside of the classroom and in-class time is devoted to inquiry, application and assessment. His efforts to improve student success and make engineering more accessible have included a popular video lecture series on the Science of Flight, in collaboration with Great Courses and the Smithsonian Institution's Air & Space Museum. The course has sold more than 14,000 copies, with an additional 25,000 hours of online streaming, since its release in June 2017.
His innovative student design projects and labs have included an international collaboration for aerial detection of buried landmines, a high-altitude balloon launch and analysis of U.S. Airways 1549 flight recorder data.
In 2017, Gregory led a team of researchers and students to push the boundaries of unmanned aerial vehicle (UAV) technology and set a world record certified by the NAA and the Fédération Aéronautique Internationale for speed and distance of an autonomous drone.
Gregory's research has attracted $20 million in funding from industry and government since 2008, and has resulted in more than 100 publications. Gregory's latest contribution to aviation education was the publication of Introduction to Flight Testing, in May.
The Brewer Trophy was established in 1943 to honor "significant contributions of enduring value to aerospace education in the United States." Past recipients include John and Martha King, the Academy of Model Aeronautics, Barrington Irving, the Civil Air Patrol, the Ninety-Nines and, the 2019 recipient, the Aircraft Owners and Pilots Association's You Can Fly Program. Gregory was chosen for the award in 2020, but its presentation was postponed due to the Covid-19 pandemic.
"The Brewer Trophy has, for decades, recognized and encouraged the best ideas that use aviation to educate future generations," said NAA President, Greg Principato. "Professor Gregory is certainly a great college professor but has gone well beyond those duties to broaden the net and get young people involved in design challenges, record attempts and so many other innovative ways to use aviation to educate and learn. He is a most worthy successor to the many great individuals and organizations to have received the award."
"I'm deeply grateful and humbled to be selected for the NAA's Brewer Trophy," said Gregory. "It's especially gratifying to recognize that prior winners of the Brewer Trophy – including the NASA Spacelink Team (2000) and Professor John Anderson (2017) – were a tremendous inspiration in my own aerospace education. It's an honor to 'pay it forward' for the next generation in aerospace and aviation."