Coaching Initiative Makes a Positive Impact on Student Success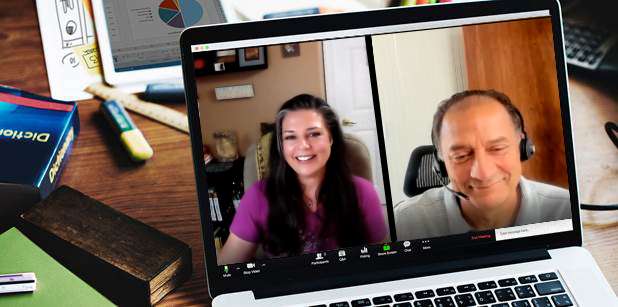 Today's complex world presents plenty of obstacles to those pursuing professional or personal success. Putting a business coach in your corner can make a world of difference.
Just ask Gary Hinkelman ('23) or Tracey Gibson ('20). Both have benefitted from free coaching made available by the Worldwide College of Business.
Embry-Riddle's coaches are faculty, certified by the Coach Training Alliance, with expertise ranging from aerospace to leadership and everything in between. They work individually with Worldwide Campus students to help them attain business, academic, and personal milestones.
"Coaching is invaluable service we provide our students," said Dr. Matthew Earnhardt, Associate Dean at the Worldwide College of Business. "This has been a service that has significantly impacted both the student and the faculty coach."
That impact has been crucial for Gibson and Hinkelman.
"No one succeeds alone," said Hinkelman, who has used the coaching service while he pursues his M.S. in Leadership degree. "It's a huge benefit to have someone who can give you additional insight and share their experience."
Gibson also took advantage of the service when she was earning her M.S. in Project Management. Having a guide, she said, helped her navigate the inevitable rough spots that emerged academically and professionally.
"It helped me make some difficult decisions, and I always felt supported," Gibson said of her coaching experience with Dr. Daryl Watkins, an Associate Professor in the Worldwide College of Business who helped create the coaching program in 2017.
"Dr. Watkins was very much a guide," said Gibson, now an aviation analyst with the U.S. Army Combat Capabilities Development Command Aviation & Missile Center. "By the time I was through, I felt I had additional tools to deal with whatever challenges that came up."
Hinkelman, who is retired from the Air Force and worked as a trainer at Lockheed Martin, has years of experience as an aviation educator. For him, the coaching service offered another key benefit.
"It's a great connection," he said. "And those are priceless."
For his part, Watkins believes in the power of the program to help students reach whatever goals they're aiming for.
"We become a trusted harbor for them," said Watkins, who holds a Doctor of Management in Organizational Leadership. "Everything is confidential, and I don't give advice unless they specifically ask. Instead, I try to ask the questions that will help them find the answers they already know."
"He's a very good listener," said Gibson, adding: "He always asks the right questions and gives you a perspective that really makes you think."
Hinkelman agreed.
"The coaching sessions really catered to what I needed," he said.
The program, which has so far served more than 500 students in four years, consistently gets good reviews from those who use it.
"It's making an impact," said Watkins. "There are not many other schools that provide coaching on this level for their students."
Based on their experiences, Gibson and Hinkelman believe any Worldwide Campus student can benefit from the program, no matter what obstacle they want to overcome or what objective they aim to achieve.
"Why would you not try it?" Hinkelman asked. "It's free. It gives you access to people with experience and understanding and, at the very least, you make a great connection."
Said Gibson: "It offered great stability in my life when I really needed it, and it was a place where I could be honest and get honest feedback in return. It's about the tools and support you get from your coach, because no one can do it alone."
"I highly recommend it."
To find out more about the coaching service from the Worldwide College of Business or to schedule a session, visit our eUnion page.