Chicago O'Hare Airport Tour Focuses on Aviation Business and Security
What better way to learn about airport operations, physical security and supply chain management than a behind-the-scenes tour at one of the nation's busiest airports? Students from Embry-Riddle's College of Business, Security and Intelligence (CBSI) recently experienced an exclusive look at Chicago O'Hare airfield operations at the invitation of Chicago Department of Aviation Commissioner Jamie Rhee.
Rhee oversees operations at both O'Hare and Midway International Airports — one of the largest and most complex airport systems in the world. Together, Chicago's airports generate more than $45 billion in annual economic activity and create 540,000 jobs for the region.
The impetus for the tour came after Rhee visited Embry-Riddle's Prescott Campus during spring 2022. Dr. Jules Yimga, School of Business department chair, said, "She gave a fantastic presentation to our students and then arranged for an airport tour focused on aviation business and security so that we could continue to discuss potential collaborations and internships."
Dr. Tom Foley, Department Chair of Global Security and Intelligence, said, "This was a great opportunity to tour the Air Operations Area (AOA) and Security Identity Display Area (SIDA) of a major international airport. Our students got to see how airports control ground vehicle access to the tarmac and runway areas of the airport."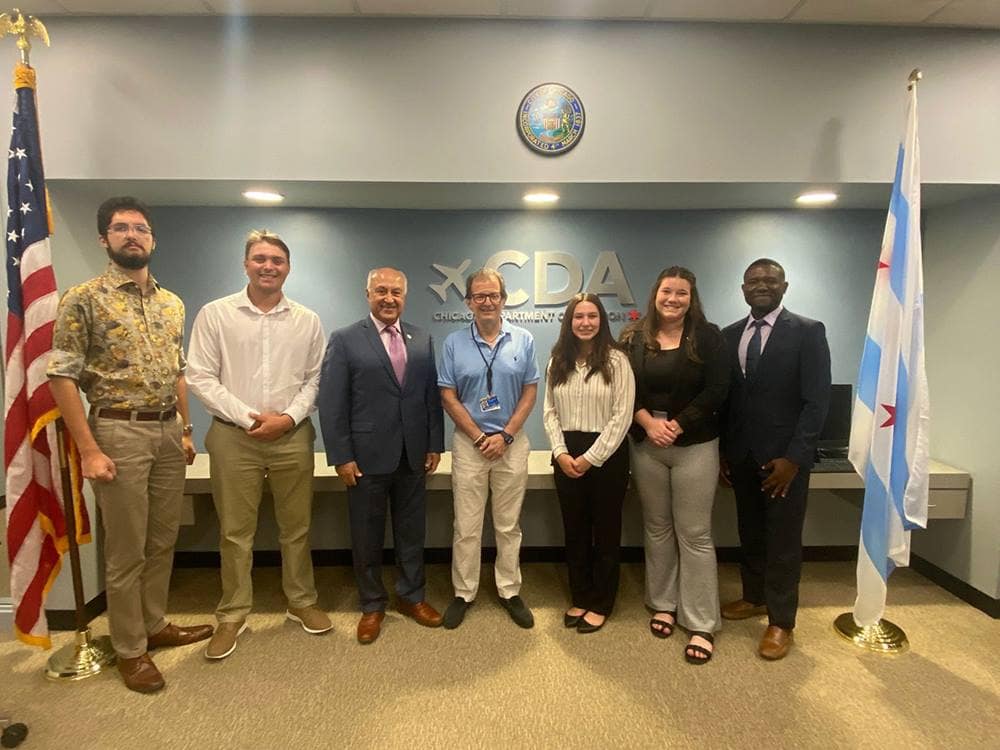 Embry-Riddle students and faculty pictured with Frank Grimaldi Jr., Deputy Commissioner of the Chicago Department of Aviation. Left to right: Tristen O'Neal, Mark Soerheide, Javad Gorijidooz, Frank Grimaldi Jr., Faith Vasquez, Ashleigh Cook and Dr. Jules Yimga. (Photo: Embry-Riddle/Tom Foley)
Tristen M. O'Neal, a senior majoring in Business Administration, said, "The property that O'Hare International Airport sits on is large enough to be its own city; likewise, the business that is conducted there is almost unfathomably intricate. It should come as no surprise, then, that the coordination necessary to operate such a facility is a marvel to behold. That airport and the people that make it run like clockwork serve as a testament to the outer reaches of human ingenuity and industry."
Sophomore Faith Vasquez added, "The opportunity to see the behind-the-scenes at the Chicago O'Hare Airport further opened my eyes to the endless possibilities I have within my degree in Global Business and Supply Chain Management. It was interesting to learn about individuals' unique roles and their importance in such a large network. Being able to drive around on the tarmac was especially fun!"
Dr. Yimga, who teaches air transport economics, said, "We want to expose our students to as much as possible so they are well prepared for the job market when the time comes. This tour gave our students a first-hand look at security elements and protocols consistent with what they are learning in class."
The group was in Chicago to attend the Phi Beta Lambda National Leadership Conference and to test their skills against other business students at the national level. Under the mentorship of Dr. Yimga and Dr. Javad Gorjidooz, several Embry-Riddle students placed in the top 10 of this national competition. Congratulations to:
Tristen O'Neal, fourth place in Impromptu Speaking
Faith Vasquez, seventh place in Help Desk
Ashleigh Cook, ninth place in Cyber Security
Mark Soerheide also competed in the Public Speaking category after winning at the state level.
Embry-Riddle Prescott's College of Business, Security and Intelligence (CBSI) represents the first comprehensive degree-granting college of its kind in the United States. CBSI focuses on the training of future business, security and intelligence professionals on both the national and international level.
Posted In: Security Intelligence and Safety