Changing Demographics in Aviation Maintenance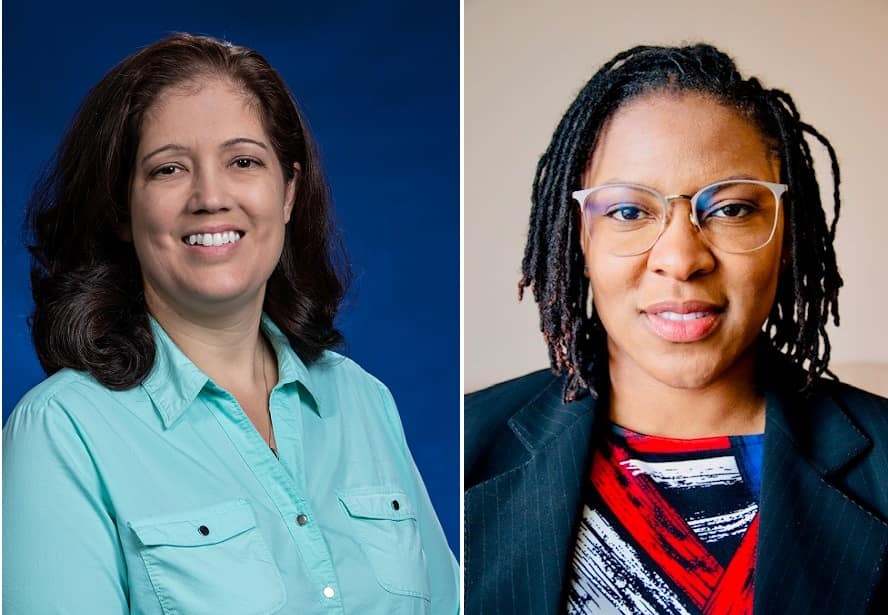 The face of aviation maintenance is changing as more and more women move into the field. Reflecting that change, and with the aim of helping further diversify the talent pipeline in a high-demand and high-paying industry, the Embry-Riddle Department of Aviation Maintenance Science (AMS) recently added five new female instructors to its faculty.
"Those faculty members bring an incredible wealth of knowledge to the department and our students," said R. Eric Jones, associate professor and AMS chair. "Aviation maintenance science is different today than it was in past generations, and that is a good thing. We want our department to reflect the wide range of talent currently working in the field. We want all of our students to 'see it so they can be it.'"
Newly hired Lashonda Clarke, an assistant professor, said she thinks three factors can improve the diversity of the population of students who choose fields like aviation maintenance.
"No. 1 is exposure — women, for example may not know that there are aviation maintenance jobs available to them," Clarke said. "No. 2 is finances," she said, adding that she relied on scholarships throughout her academic career. The Boeing Company offers scholarships to Embry-Riddle students in aviation science and aircraft maintenance majors, awarding two women majoring in Aviation Maintenance in 2021 with between $5,000 to $7,500 annually for two years.
"And No. 3 is mentoring. Some students actually need a little push and motivation."
Originally from the Bahamas, Clarke earned her associate's degree at St. Petersburg College and then transferred to Lewis University. She says her grandfather, a boat and auto mechanic, was one of her biggest influences as she was growing up. "I was the little girl handing him the tools," Clarke said.
After earning her bachelor's and master's degrees at Lewis, she took a job at Amazon, working on drones and their support technology. She pointed out that Amazon's drones, intended for package delivery, are among a huge range of new aviation equipment currently being developed and representing new maintenance demand.
"With urban air mobility on the rise, a whole new spectrum of aircraft will be coming out, and all of it will require maintenance," Clarke said.
Other new areas for aviation maintenance technicians include commercial space operations, Cybersecurity and Aviation Safety management systems, Jones said, adding that Embry-Riddle students with AMS skills are being hired right out of school. The university's AMS graduates also have preferred hiring status with airlines such as Spirit and Frontier.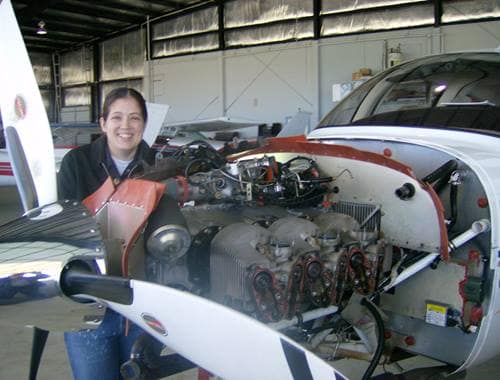 Assistant Professor of Aviation Maintenance Science Derren Kuhn works on a Cirrus SR-22. (Photo: Derren Kuhn)
Assistant professor Derren Kuhn, another recent hire at Embry-Riddle's Department of Aviation Maintenance Science and an Embry-Riddle alumna, is certified as both a pilot and an aviation maintenance technician. She flew corporate aircraft and also worked as a flight instructor.
"Being a pilot has helped me be a better technician, and being a technician has helped me be a better pilot," Kuhn said.
AMS sophomore Margaret Washington, who has a concentration in maintenance management and a minor in project management and took five courses this summer, said women are very much needed in aviation maintenance.
"Diversity is such an incredible asset in maintenance because this field relies heavily on teamwork and collaborative troubleshooting. Part of finding productive solutions is having a range of voices and experiences contributing to the troubleshooting process," Washington said. "To any women considering AMS, I would say don't be hesitant to explore your options. Celebrate the variety you bring to the table."
Washington, who joined the Air Force when she turned 17 so she could afford college and work on the F-35, said that although she sometimes encountered gender discrimination as she made her way into aviation, she more often felt welcomed.
"I do receive the occasional jest that has something to do with me being a woman," she said. "But these comments are dwarfed in comparison to the overwhelming encouragement, respect and sense of community that I have been lucky enough to experience in this field."
Veterans Florida has partnered with Embry-Riddle Aeronautical University to place separating and retiring active-duty service members in the university's Aviation Maintenance Technology program — an authorized SkillBridge program, under the U.S. Department of Defense (DOD). Separating or retiring service members interested in the aviation maintenance SkillBridge or have questions about the program can visit https://worldwide.erau.edu/amtp.
Posted In: Aviation