Capitol Hill Internship Adds New Perspective to Aviation Legislation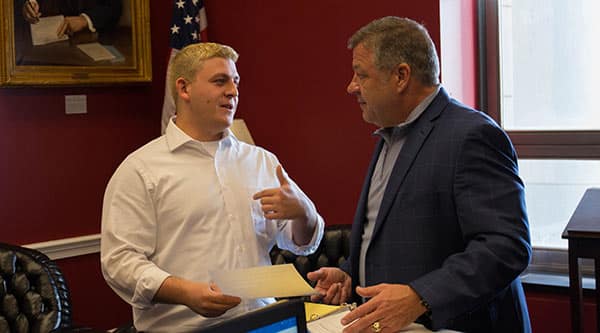 Rules and regulations are naturally a part of aviation education at Embry-Riddle Aeronautical University. But hands-on internships, like the one completed by Homeland Security senior Avery Katz, offer firsthand insight into how important safety measures become law.
Katz was the first student to serve as a Congressman John Mica intern, a unique, hands-on learning opportunity created in honor of Mica's 24 years of service to Volusia County, the state of Florida and United States. The months-long selection process was highly competitive and incorporated interviews with both Embry-Riddle and House Transportation and Infrastructure Committee (T&I) staff. Officials hope the internship will encourage students to continue Mica's legacy of civic leadership in the complex area of transportation.
"Being selected was very exciting and humbling," shared Katz, who served as the only intern at the T&I committee in the fall. "It was very interesting working with the people who create regulations in government for aviation and those who oversee the Federal Aviation Administration (FAA) and National Transportation Safety Board."
A highlight of the internship came in September on the House floor. Rep. Bill Shuster (R-Pa.), who retired in early January, mentioned Katz by name during his presentation on H.R.302 – FAA Reauthorization Act of 2018, which reauthorized the FAA. The bill also works to further integrate unmanned aircraft systems into the National Airspace System (NAS) and addresses other aviation safety issues.
"Prior to approval, they [T&I] held a conference committee, which is when House and Senate members from both parties come together in one room to negotiate the language of the bill," explained Katz. "I was excited to not only observe but participate and share my technical, aviation background."
In addition to his work on H.R.302, Katz met with lobbyists and constituents to explain how the bill impacts them; participated in hearings, including one about integrating new aircraft such as drones and flying cars, into the NAS; and was introduced to hundreds of individuals within government and the aviation industry.
"This internship is important because it puts Embry-Riddle at the forefront of major aviation policy issues," shared Diane Zorri, Ph.D., an assistant professor of Security Studies and International Affairs who encouraged Katz to apply for the internship. "Through the internship, Avery has been able to develop contacts on Capitol Hill and learn about the complexity of the interagency process in Washington. It is a major step toward furthering Embry-Riddle's reputation as developing leaders in aviation and aerospace."
The experience also broadened Katz's career outlook in aviation.
"Before this internship, I was very interested in becoming a pilot flat out," he said. "Now, I think getting to work up close and personal with the work they do in aviation safety interests me. Maybe I will split my work down the road and fly as a pilot while also working in areas within the House."
(Photo: Jeff Urbanchuk/House Transportation and Infrastructure Committee)