Business Students Collaborate Across Country on Real-World Consulting Projects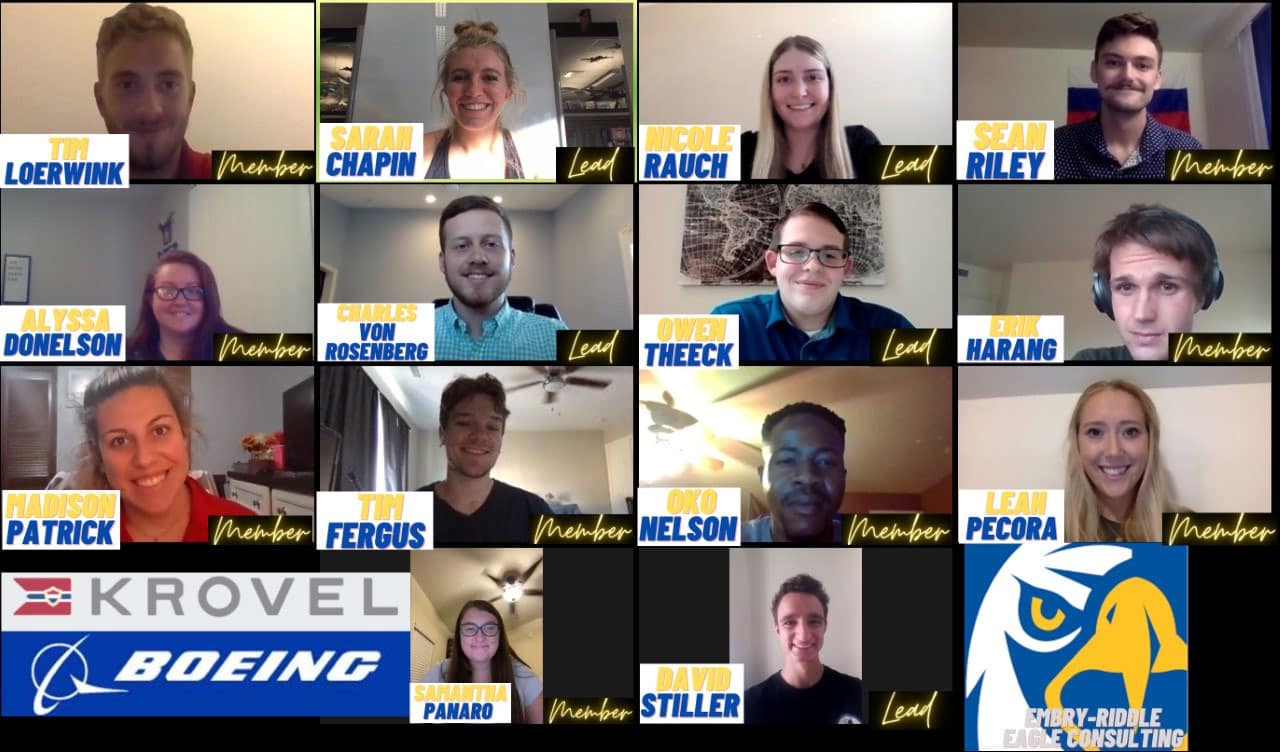 As they prepare to enter an increasingly virtual workplace, Embry-Riddle Aeronautical University Business students are consulting on real-life marketing analysis projects with clients as remote as Norway — while collaborating with colleagues on the other side of the United States.
Starting this semester, students from the university's two campuses — in Daytona Beach, Florida, and Prescott, Arizona — are working together on two consulting projects, one with a yacht company in Norway called Krovel and the other with The Boeing Company.
The students' collaboration mirrors the kind of arrangement found more and more frequently in the business world, where coworkers collaborate via video stream from all over the globe.
"Having teams on both campuses is crucial because it introduces new ideas, diverse backgrounds and different methods," said Owen Theeck, a senior majoring in Aviation Business Administration at Embry-Riddle's Daytona Beach Campus.
"I have loved getting to know the Daytona Beach team," said Nicole Rauch, a Prescott Campus senior majoring in Global Business. "They bring lots of great ideas to the table. It really makes us feel like we are one whole team, regardless of the distance."
This project allows us as students to apply everything we have ever learned in a classroom to real life.
Embry-Riddle's business development consulting program began more than 20 years ago on the Prescott Campus and concentrated first on small local businesses. It has grown to include domestic multinational companies, as well as foreign firms, with 40% of the consulting projects being conducted for companies in Western Europe and, especially, the Nordic countries.
Dr. William Paulin, adjunct business professor who operates his own international business development consultancy and has created similar programs at a number of U.S. universities, said Embry-Riddle students are especially adept at delivering a good product to clients, pointing out that the consulting work they do fills real-world needs.
"Embry-Riddle students are a little bit different. I see students who rise up and do professional-level work," Paulin said. "I bring in real businesses with real objectives. It would hurt if we didn't do a good job for them."
Sarah Chapin, a senior majoring in Aviation Business Administration, said the experience of working as a consultant to Krovel Yachts has been a high point of her academic career.
"This project allows us as students to apply everything we have ever learned in a classroom to real life," Chapin said. "We get to experience a real work environment, where the test is meeting the company's needs and even exceeding them."
Tim Loerwink, another Aviation Business Administration senior, said the experience has given him a comprehensive preview of the workplace.
"I feel like I'm employed by a consulting company, and my client is Boeing," he said. "This has really broadened my knowledge of what the future is going to look like."
Each semester, about 15 teams of four to eight students take on projects for companies. This semester is the first that students from Daytona Beach have collaborated with their Prescott counterparts, an arrangement that organizers Richard Gibson, associate business professor, and Dr. Jennifer Hinebaugh, assistant professor of Management, say should become standard in fall 2021.
"We're already in this virtual season, and now the students have a common goal on these really cool projects," said Hinebaugh. "They're so excited to have a different group of students to work with and have been able to form amazing bonds."
Gibson added that the experience will also distinguish students in the job market.
"When the students go to get a job, they're going to be living in a virtual world," he said. "If they say, 'I managed a project completely virtually,' I think that looks really good on a resume."
Posted In: Business