Breast Cancer Detection, Water Filtration and Bridge Health Innovations Top Embry-Riddle's Competition for Entrepreneurs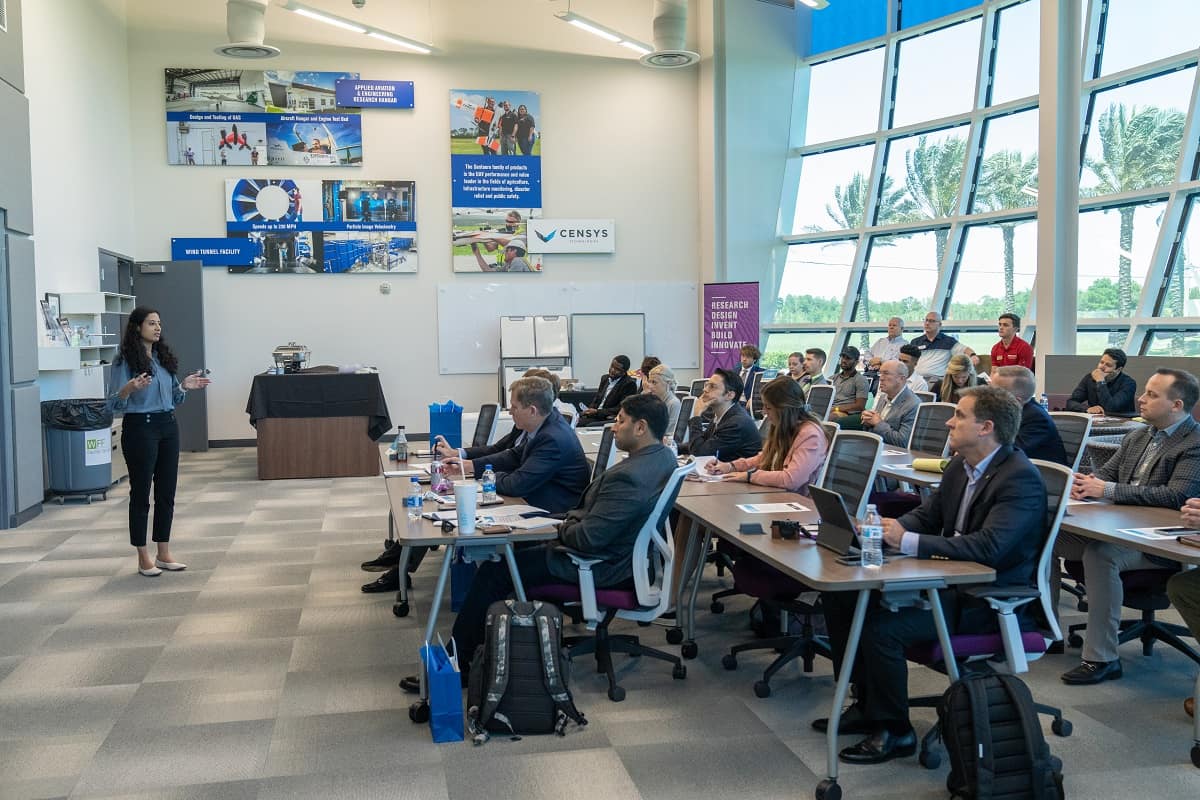 Taking home the top prize of $10,000 in seed funding at Embry-Riddle Aeronautical University's annual Launch Your Venture business competition last week, EarlyByrd CEO Bindi Nagda of Florida Institute of Technology was honored for technology designed for the early detection and dynamic monitoring of breast cancer.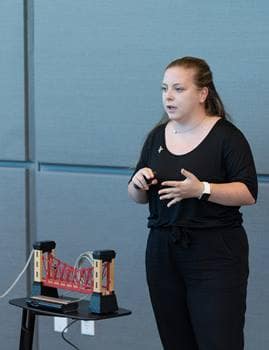 Embry-Riddle student Maricarin Minnock won second place for her company, Guardian Structural Health, which aims to manufacture fiber-optic sensing systems to monitor bridge health.
"The purpose of this competition is to recognize and award university-led startups that have revolutionary ideas that will change the future of engineering, aviation and aerospace industries," said Dr. Stephanie Miller, executive director of technology transfer and Research Park initiatives, who oversees Launch Your Venture — the leading aviation and aerospace contest for entrepreneurs.
The event's primary mission — to help students transition "from student to CEO" — is one that's shared with Embry-Riddle's David B. O'Maley College of Business year-round, according to Dr. Ramy Rahimi, assistant professor of Entrepreneurship.
"Preparing teams for Launch Your Venture is a process based on learning and application of carefully tailored course materials and co-curricular activities," said Rahimi, who also manages the Center for Innovation and Entrepreneurship. "Our teams today have taken their first steps into the world of entrepreneurship with exceptional ideas, cutting-edge technologies and comprehensive business plans wrapped in feasible solutions."
The winning company, EarlyByrd, competed against five other startups in a 10-minute pitch competition, followed by a question-and-answer session, before a panel of judges. Three startups won funding. All winning teams also earned professional business consultations and in-kind prizes.
More Innovative Ideas
Other winners of the Launch Your Venture competition were as follows:
Second Place ($5,000) – Guardian Structural Health
Maricarin Minnock presented her company, Guardian Structural Health, which aims to manufacture fiber-optic sensing systems that track the structural health of bridges with the goal of identifying bridges in need of repair before catastrophic collapses have the chance to occur. A native of Pittsburgh, Pennsylvania (dubbed "the city of bridges"), Minnock, who is also a member of Embry-Riddle's Women's Rowing Team, explained that the city currently has 446 bridges, and inspecting them all takes workers just over 3.5 years. In contrast, her product would offer real-time monitoring 24/7, and the sensors could be installed at any time — not just during a bridge's construction, as is the case for other similar products.


Third Place ($3,000) – Medusa Filtration System
Embry-Riddle student Nicholas Heath presented his company, Medusa Filtration System, which is seeking funding to build a large prototype of a regenerative water-filtration device. The system would be marketed to county governments, environmental firms and private companies with the goal of making water treatment more efficient and effective. As an added bonus, Heath's system would filter enough ammonia from water to sell it separately as fertilizer — the market rate for ammonia sales is currently $1,400 per ton — creating a secondary revenue stream.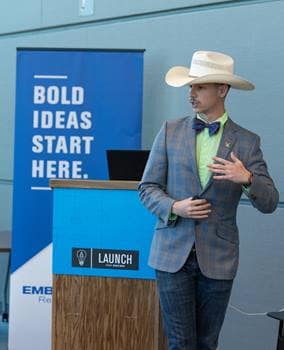 Third-place winner Nicholas Heath of Embry-Riddle pitched his company, Medusa Filtration System, which aims to build the world's first fully regenerative large-scale water-filtration system.
Four of the six teams that competed at Launch Your Venture are run by Embry-Riddle students, who have access to unique resources, such as technology transfer consultations with NASA at Kennedy Space Center.
"We prepare our students for the entrepreneurial path through the development of business models and plans where we incorporate technology through the NASA Technology Transfer and Department of Energy Technology Transfer programs," Rahimi said. "Basically, we try to work our way backward, repurposing space and energy technology."
Representatives from NASA also visit Embry-Riddle's Daytona Beach Campus to sit in on business presentations and offer students advice.
"The Launch Your Venture program provided an excellent setting for Florida university student-led startups to present their business plans to a variety of investors and professional judges," said Jeff Kohler, technology transfer specialist for NASA at Kennedy Space Center. "I was impressed with the students' enthusiastic and professional to-the-point presentations, most of which centered around a technology developed in the federal laboratories, including NASA and the National Institutes of Health. NASA has expanded its university outreach to promote technology transfer, and it's great to see student startups take advantage of these opportunities. We look forward to supporting these student startups this year and in the future."
Supported by the Nexus Partners of the Embry-Riddle Research Park, the Launch Your Venture competition highlights student-run businesses. The April 8 event was judged by three business leaders — George King III, founder of Horsetree Glen Capital; Tom Amond, emerging tech incubator leader at GE Gas Power; and Darshan Divakaran ('10), senior manager of strategic innovations and partnerships at AFWERX — and took place in Embry-Riddle's MicaPlex (John Mica Engineering and Aerospace Innovation Complex).
In 2021, a generous half-million gift from Dr. Charles "Chuck" Duva, a member of Embry-Riddle's Board of Trustees, and his wife, Beth Duva, Ph.D., kickstarted an ambitious $5 million fundraising initiative to further elevate Launch Your Venture and advance entrepreneurship.
Posted In: Business