Branching Out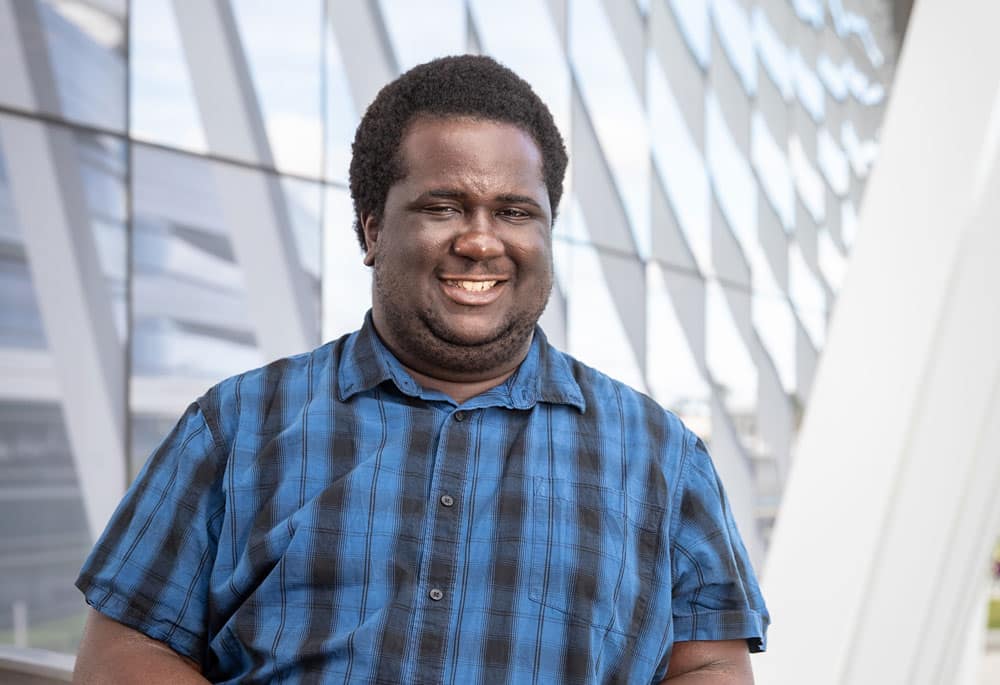 Growing up in the U.S. Virgin Islands, Jordan Thomas got his first taste of flying at a young age.
"I was probably 2 years old for my first flight," said Thomas, a junior at Embry-Riddle's Daytona Beach Campus. "I remember the noise of the plane scared me, but I liked looking out of the window. Even to this day, I like looking out of the window when the plane is taking off and landing."
He took enough lessons to complete a solo flight, but then decided he would rather design planes as a career, instead of fly them.
Raised by a single mom who worked two jobs, Thomas mimicked her work ethic and excelled in school. He wasn't surprised when he learned he was accepted into Embry-Riddle, which was his top-choice for a college. But the cost of schooling was intimidating. He was just about to take out another loan for school, when he heard that he had been chosen to receive a Stimpson Endowed Scholarship.
"I was so happy," he said. "Scholarships help a lot, because they help you see that people do believe in you and want to help you achieve your goals."
Besides a degree in aerospace engineering, Thomas also plans to earn a master's degree in business. With family in Trinidad and St. Vincent, Thomas said he often flew between the islands, and the service wasn't that great. One of his ultimate goals is to improve the quality of air travel between the Caribbean islands.
"Right now, traveling between the Caribbean islands is a hassle," he said. "Everyone is prepared to lose their luggage and not get it back until two weeks later."
Scholarships have also allowed Thomas the opportunity to get involved in campus activities. He was chosen for the university's Emerging Leaders Program his first year on campus and now serves as a mentor helping other students develop their leadership skills.
"I was really shy," said Thomas, who is also a member of the AcaFellas, an all-male acapella group on campus. "Leadership is getting out of your comfort zone and doing the right thing."
He has overcome his shyness so much that he joined the university's orientation team this past fall. He is paid a stipend, but he also enjoys helping other students feel at home on campus.
Ultimately, Embry-Riddle was the right place for him to grow academically and socially, he said, and he is looking forward to pursuing a career in structural aerospace engineering and corporate business.
"I wanted to branch out from the Virgin Islands and have new experiences and see new places," Thomas said. "Embry-Riddle has really taught me how to be more confident."