Boeing President and CEO David Calhoun Encourages Embry-Riddle Graduates to Remain Resilient and Take Their Place in the Innovation Economy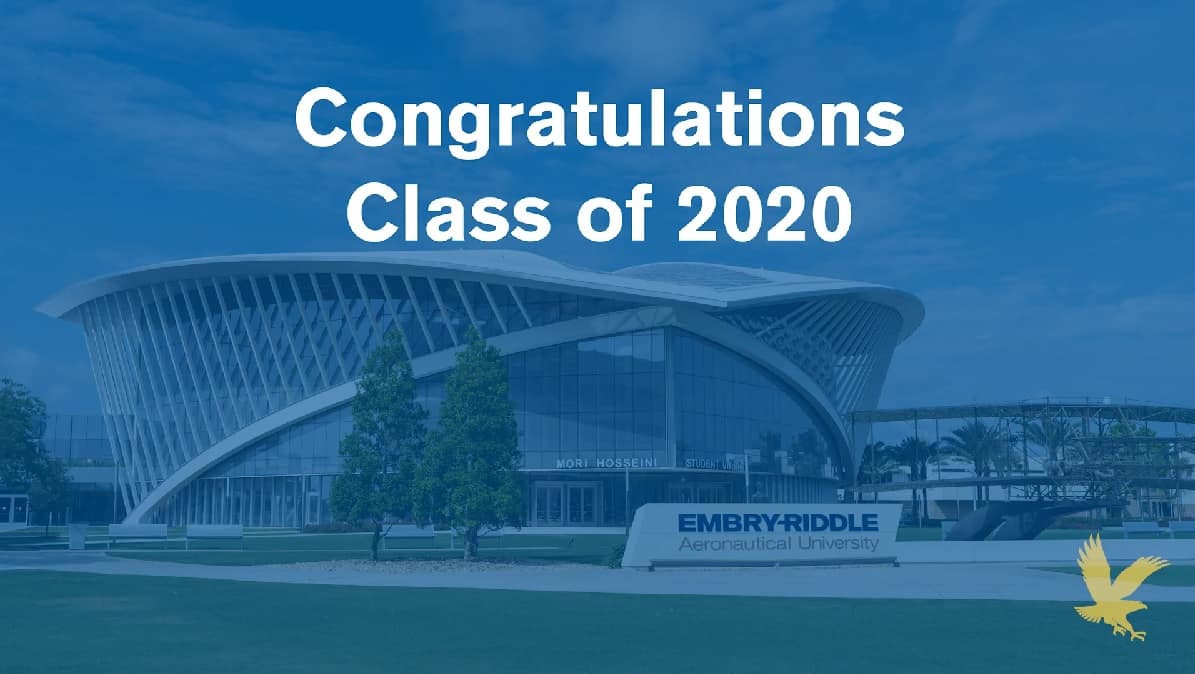 New graduates of Embry-Riddle Aeronautical University's campuses in Daytona Beach, Florida, and Prescott, Arizona, received encouragement from the head of the world's largest aerospace company – The Boeing Company President and CEO David Calhoun, who served as keynote speaker during virtual commencement ceremonies.
Calhoun shared a bright vision of the future. "I am confident you will all play a role ushering in this new era of innovation," he told Embry-Riddle's graduates.
As the aerospace industry enters its second century, Calhoun said, "We are focusing on emerging technologies – unmanned aircraft systems operations and the safe introduction of these vehicles into the air space, while preserving the flying public's confidence in air travel in every minute of every day."
He noted that advances in autonomy, artificial intelligence, data analytics, hybrid, hydrogen and fully electric propulsion, and additive manufacturing have unlocked new possibilities that will help reimagine travel and transport, and he urged graduates to look for their place in the innovation economy.
Calhoun encouraged the graduates to find mentors, too. "Pick a few leaders who do things differently," he said, "Watch what they do and learn from them."
He concluded by saying, "I am confident that you have what it takes to get through any difficulty that you are faced with, as long as you find your inner confidence and navigate the peaks and valleys in your life guided by your values."
Embry-Riddle President Dr. P. Barry Butler congratulated all 2020 graduates on their achievements. "I share in the pride felt by your loved ones," he said. "I value the personal, lasting connection I have with all of you as Eagles. Back in 1926, when T. Higbee Embry and John Paul Riddle started their flying school, they promised the public: 'If it's flying, we do it. If it's airplanes, we have them.' We still deliver on that, but the mission has expanded beyond their wildest dreams."
Virtual Celebrations for 2020 Graduates
Embry-Riddle hosted its first-ever Virtual Commencement in six different ceremonies to celebrate all graduates around the world from spring, summer and fall 2020.
Traditionally, the Daytona Beach, Florida, and Prescott, Arizona, graduation ceremonies are held in their respective cities, while the Worldwide Campus commencement ceremonies take place around the globe, including Daytona Beach and Pensacola, Florida; Frankfurt, Germany; San Diego, California; Seattle, Washington; Dallas, Texas; Washington D.C.; and Okinawa, Japan.
This year, all 2020 graduates were recognized during virtual ceremonies by name, degree, college and any academic honors they received, accompanied by an individualized graduation slide.
All the online commencement celebrations included the time-honored elements of an in-person graduation ceremony at Embry-Riddle, including a welcome from Senior Vice President for Academic Affairs and Provost Lon Moeller, the Presentation of Colors, singing of the National Anthem, an opening invocation and closing benediction, the opening of the Commencement Ceremony and conferring of degrees by Trustee Emeritus Phil Elliott, Jr. (Honorary Doctorate, '04) and special guest speakers.
A total of 26 Embry-Riddle graduate students received Ph.Ds. for spring, summer and fall 2020.
From the College of Arts & Sciences, graduates receiving Ph.D.'s in Engineering Physics included Pavel Inchin, Krishna Bhavithavya Kidambi, Dona Chathuni Piumika Kuruppuaratchi and Beket Tulegenov. Ph.D.'s in Human Factors were awarded to Anastasia Nicole Diamond, Mattie Milner and Jordan Elizabeth Rogers.
From the College of Aviation, Ph.D.'s in Aviation were conferred upon Susan K. Archer, Bradley S. Baugh, Richard W. Cole, Jennifer M. Edwards, Stephanie G. Fussell, James H. Hartman, III, Edwin V. Odisho, II, Rachelle Strong, Lakshmi Vempati, Kenneth A. Ward and Sabrina Woods.
From the College of Engineering, Ph.D.'s in Aerospace Engineering were awarded to Audrey Jean-Miche Gbaguidi, Seyyed Saman Salehian, Dhuree Seth and Naveen Sri Uddanti. Ph.D.'s in Mechanical Engineering were conferred upon Ali Ahmed Abdulrasool, Kaloki Lubekho Nabutol and Yuan Tian, and a Ph.D. in Electrical Engineering & Computer Science was awarded to Bharvi N. Chhaya.
A total of 3,575 students received undergraduate degrees and 1,249 students received master's degrees for spring, summer and fall 2020.
At the Prescott Campus, 599 students received undergraduate degrees and 22 were awarded master's degrees. Fifty students received military commissions: 36 from Air Force ROTC, 13 from Army ROTC and one from Navy ROTC.
At the Daytona Beach Campus 1,245 students received bachelor's and associate degrees and 222 received master's degrees. Five Marine and six Naval Officers, seven Air Force Officers, and 11 Army Officers have been commissioned from the Daytona Beach ROTC Programs.
A total 352 Associate degrees, 1,379 Bachelor's degrees and 1,005 Master's degrees were awarded by the Worldwide Campus.
All graduates were encouraged to post pictures online on their favorite social media sites using specially created celebratory filters for their graduation photos and videos using the hashtag #ERAU2020Grad. Other suggested ideas to celebrate graduation with friends and family safely were to host a virtual commencement viewing party and to hold a socially-distanced drive-thru celebration in their neighborhood.
All Commencement Ceremonies are available for viewing:
Any photos and videos that graduates, family and friends posted online with the #ERAU2020Grad hashtag can be viewed on these social media sites:
Posted In: Institutional News