Boeing Joins Embry-Riddle's Aviation Maintenance SkillBridge Program for Transitioning Military Personnel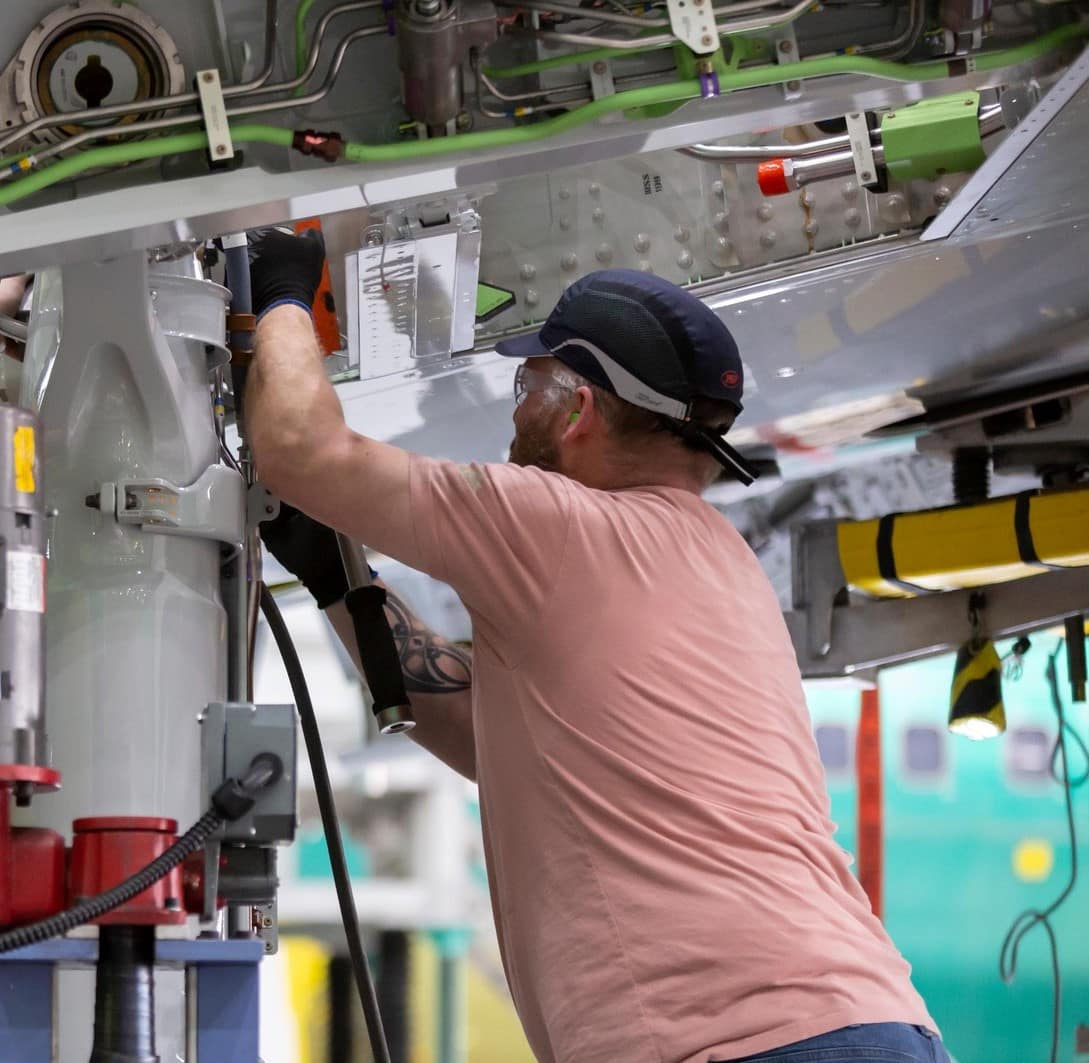 Embry-Riddle Aeronautical University is excited to announce that The Boeing Company has become the newest industry partner in its Aviation Maintenance Technology (AMT) SkillBridge program, which has successfully transitioned more than 450 servicemen and women into civilian careers since its inception in 2019.
"We are very pleased to welcome The Boeing Company as a new SkillBridge program industry partner," said Dr. John R. Watret, FRAeS, chancellor of Embry-Riddle's Worldwide Campus. "Providing employment opportunities for transitioning servicemen and women at industry-leading companies is tantamount to success, and this new partnership serves as recognition of the necessity of our collective mission to do just that."
Authorized by the Department of Defense, Embry-Riddle's AMT SkillBridge Program is designed to train and place transitioning service members, honorably discharged veterans and eligible military spouses into Aviation Maintenance-related careers with reputable industry partners. Each year, approximately 200,000 service members leave active duty and re-enter civilian life.
"Boeing is proud to partner with Embry-Riddle's AMT SkillBridge program," said Justin Walker, director of global talent acquisition at Boeing. "Embry-Riddle's proven track record of success in helping transitioning servicemen and women leverage their in-demand skills into full-time career opportunities across the aerospace industry reflect our shared values and make them an ideal Boeing partner."
Boeing-partnered initiatives have been on the rise at the university, headlined by the company's recent $5.1 million donation to establish the Boeing Center for Aviation and Aerospace Safety at Embry-Riddle.
A $3 million endowment from Boeing also funded the induction of another class of Boeing Scholars at Embry-Riddle Aeronautical University last fall. The program seeks to diversify the aviation workforce by granting two-year scholarships to outstanding high school students who plan to study Aeronautical Science or Aviation Maintenance Science in college.
Additionally, Boeing will provide guaranteed job interviews for Reserve Officer Training Corps (ROTC) graduates from Embry-Riddle as well as three partnering schools — Bethune-Cookman University, Daytona State College and Stetson University — after the graduates complete their military service commitment. And the company sponsored a multi-year project beginning last year to develop the next generation of cybersecurity leaders.
For service members separating or retiring from the military, the SkillBridge program provides an opportunity to bridge the transition into the civilian aviation and aerospace sector. The program is offered at Camp Lejeune-New River, North Carolina; Camp Pendleton-Oceanside, California; Ft. Liberty, North Carolina; Ft. Campbell, Kentucky; Ft. Carson, Colorado; Naval Station Norfolk, Virginia; and through Hurlburt Field-Virtual. Transitioning service members currently located on Oahu, Hawaii can also learn more about the program during weekly information briefings at Schofield Barracks and monthly information briefings at Marine Corps Base Hawaii.
About The Boeing Company
As a leading global aerospace company, Boeing develops, manufactures and services commercial airplanes, defense products and space systems for customers in more than 150 countries. As a top U.S. exporter, the company leverages the talents of a global supplier base to advance economic opportunity, sustainability and community impact. Boeing's diverse team is committed to innovating for the future, leading with sustainability, and cultivating a culture based on the company's core values of safety, quality and integrity.
Posted In: Aviation | Institutional News