Black History Month: From Embry-Riddle to NASA to … Mars?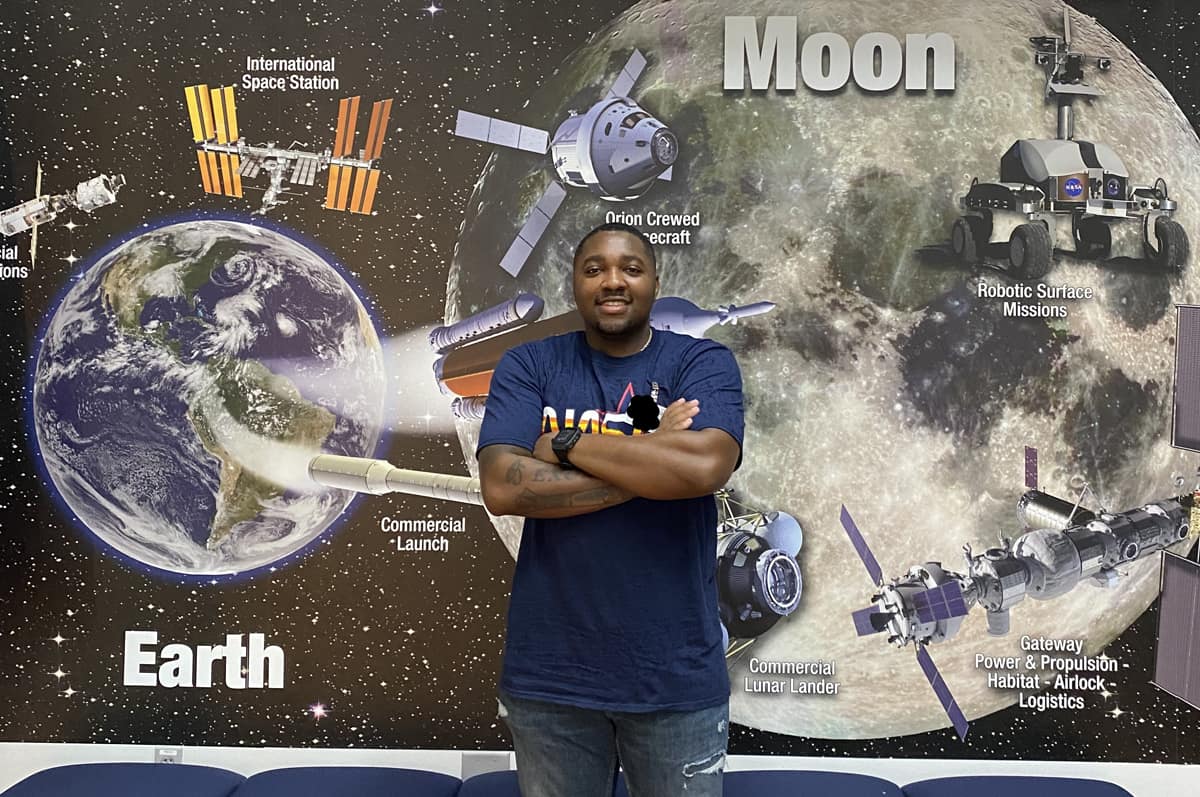 Jamarius Reid doesn't even remember when his fascination for flight began. Instead, he remembers moments: watching jets fly over his house in Charlotte, North Carolina; flying a kite; going for his first plane ride. These moments stuck with him, eventually evolving into an infatuation with spaceflight, which he nurtured by watching National Geographic documentaries and reading books on space.
He dreamed of being an astronaut but never thought his dream could become a reality until he learned about the career journey of Black astronaut Ronald McNair while doing research for a project in high school.
"Dr. McNair's story gave me the epiphany: 'It is possible,'" said Reid, a doctoral student at Embry-Riddle Aeronautical University's Worldwide Campus, where he also earned his master's degree.
Now 27 years old, Reid's dream of spaceflight has a target: Mars. He just landed a job as a flight controller/extravehicular activity operations specialist at NASA, and is an intern in NASA's Office of STEM Engagement at the Johnson Space Center, where he works with the International Space Station Research and Integration Office. He is also a member of the U.S. Army Reserves.
Reid said Embry-Riddle has been instrumental to his success.
"Embry-Riddle allows willing students to explore and make mistakes. Every idea, plan or opportunity may not be successful 100% of the time, but still the university's faculty support student endeavors," Reid said. "Through guidance, mentorship and compassion, Embry-Riddle has given me the opportunity to develop and grow."
Additionally, the ability to take virtual classes through the Worldwide Campus has given him the flexibility to pursue lofty ambitions while also raising a daughter.
"My current program, Ph.D. in Aviation, is a hybrid, and because of this, I had the flexibility to relocate to Houston for the job at NASA, as I continue to pursue my career goals," Reid said.
Robert Deters, associate professor in the Department of Engineering and Technology, met Reid through the Worldwide Campus's student chapter of the American Institute of Aeronautics and Astronautics. Deters became his faculty advisor, and Reid became chair of the student branch.
"Just from my interaction with Jamarius, I expect a bright future from him," Deters said. "I hope that our paths continue to cross."
Reid, as the father of a 4-year-old, said that time-management is key for nontraditional students like him.
"I view my education like a job. This is something I must do — get the job done. This point of view changed my approach, work ethic and productivity," he said. "There are hundreds of experiments conducted onboard the International Space Station, so if I'm going to be working with that volume of research, I better get used to it now."
He said his daughter is interested in planes and in cooking.
"She may help with nutritional research and applications in microgravity one day," Reid said. "I'm sure that will be needed for trips between Earth and Mars."
Starting in 2020, Reid served as the first Student Government Association president representing Embry-Riddle Worldwide. He has also interned at NASA's Goddard Space Flight Center, helping to integrate and automate radio frequency testing, NASA's Ames Research Center (Aeronautics Research Mission Directorate), and NASA Headquarters (Science Mission Directorate Biological and Physical Sciences Division). He has worked with Nissan North America, Inc., as well, on software development projects as a system administrator with project management responsibilities. In the fall of 2021, he received the Dr. John Watret Scholarship.
Posted In: Space