Birds vs. Planes: Embry-Riddle Students Conduct Study of Aircraft Wildlife Strikes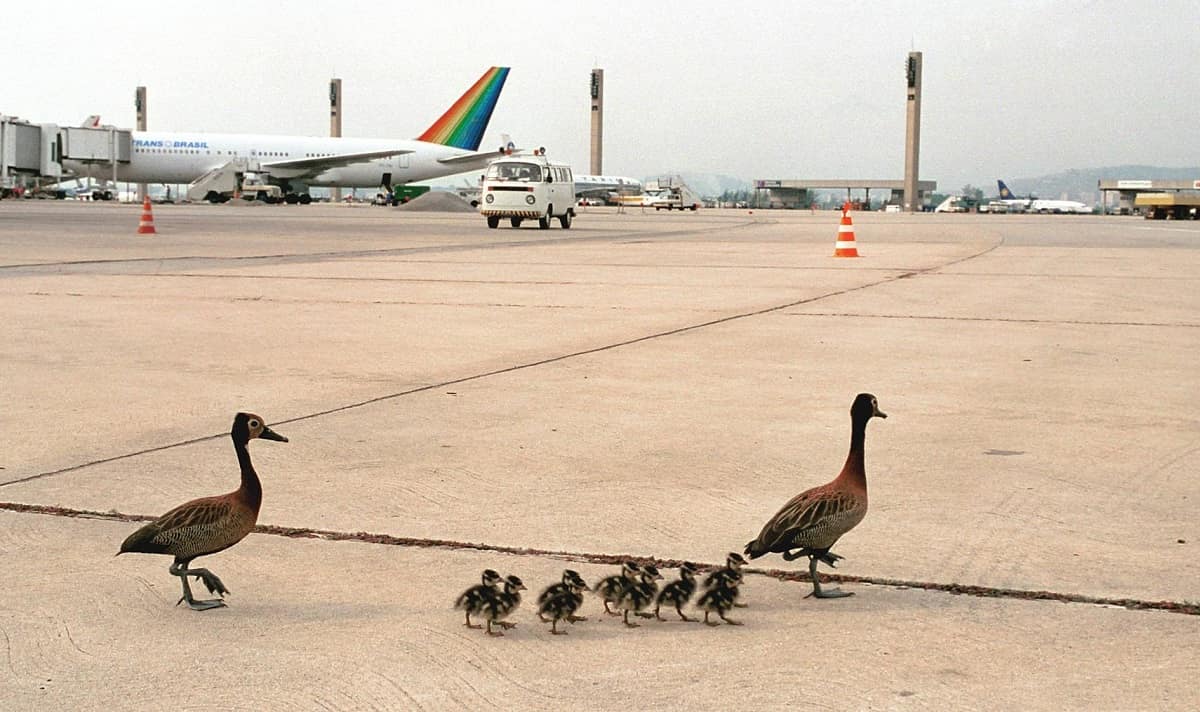 As an instructor at the Brazilian Air Force Academy, Flavio Antonio Coimbra Mendonça was flying in formation when one of his colleagues experienced a bird strike to the leading edge of his aircraft's right wing. It was a relatively minor incident — not nearly as dramatic as the U.S. Airways Flight 1549 landing on New York's Hudson River following a bird strike in 2009 — but it got Mendonca wondering about ways to reduce wildlife collisions with aircraft.
The problem of wildlife strikes to aircraft is huge and growing. According to a 2021 study, there were more than 227,000 wildlife strikes to aircraft between 1990 and 2019 in the United States, and the rate of the strikes to commercial aircraft per one million aircraft operations increased from 22.78 in 2011 to 37.30 in 2019. Most of the strikes involved birds, and most happened during arrival (approach and landing roll).
So, after joining Embry-Riddle as an assistant professor of Aeronautical Science in 2020, Mendonça proposed a pilot study using unmanned aircraft systems (UAS) to help identify wildlife species that pose a threat to airplanes, as well as the land features that attract wildlife to airports, such as wetlands and landfills. The study will be focused on New World Vultures, a top threat to airplanes and a family of species that more than doubled in number between 1990 and 2018.
"The general idea is to collect pilot data on using UAS safely to identify wildlife in and around the airport environment, and it would have several benefits, including better access to difficult terrain, cost savings and time savings," said Mendonça. "Our goal is then to market the project and get collaboration with an airport and the FAA."
For four undergraduate students involved in the study, who are all in the UAS program on Embry-Riddle's Daytona Beach Campus, the project will provide hands-on experience in identifying the most effective drone sensors to observe and predict the presence of wildlife at airports, structuring plans for exactly how to employ UAS technology for this purpose, and mitigating the risks associated with UAS operation at an airport.
Matthew Schwarz, a senior who is planning to go on to a master's program at Embry-Riddle, said the project is giving him wide-ranging experience that will be helpful as he moves toward his career.
"This study gives me experience in multiple aspects of UAS data collection, such as product management, operation, site planning and documentation," Schwarz said.
Taylor Rogers, a senior whose interest in UAS is leading toward a career in building drones, said the airport wildlife project is providing her with valuable background on the issue, as well as experience working with a group.
The four students are working with Qualified Airport Wildlife Biologist Robert Sliwinski -- of Christopher B. Burke Engineering in Rosemont, Illinois – who will provide them with instruction free of charge on such skills as identifying the land features and habitats that could attract New World Vultures to airports.
His work often involves studying the wildlife at an airport over a 12-month period, including two daylong visits per month and evening visits to look for deer and coyotes.
"During the day, I will do three bird surveys at designated locations, typically taxiways and runways," Sliwinski said. "I stay in one location for five minutes and count and log in as many birds as I can see and provide what behavior they're exhibiting, whether they are loafing or flying or perched. I put that all in a database to formulate some decisions about trends happening over time."
Sliwinski said he is intrigued by the possibilities of UAS in assisting the surveys, which are known as Wildlife Hazard Assessments (WHA) and are required whenever wildlife strikes occur at or near an airport.
"UAS could provide a bird's-eye perspective on what is happening on the ground," Sliwinski said. "When I'm doing a WHA, I am on the ground at all times, and my perspective is somewhat limited. When a bird is flying over the landscape, there are certain signatures such as water that provide the bird with an indication that there is water there. With UAS, it could be possible to see other signatures such as land configurations and slope that could attract them."
The project will employ a DJI Mavic 2 Enterprise drone, which has high-resolution thermal and visual cameras, and the PIX4Dmapper photogrammetry software for mapping. The project's operations will occur at the Daytona Beach Campus.
"The students are developing a concept of operations as if they were flying in the airport environment," said Mendonça. "We are not expecting students to have any conflicts with aircraft, even though they are planning to do data collection as if they were in a Class C (airport) airspace."
Posted In: Aviation | Research | Uncrewed Systems