'Beat the Odds': National Fellowship Class Headlined by Eagle Who Journeyed from Paralysis to Running a 5K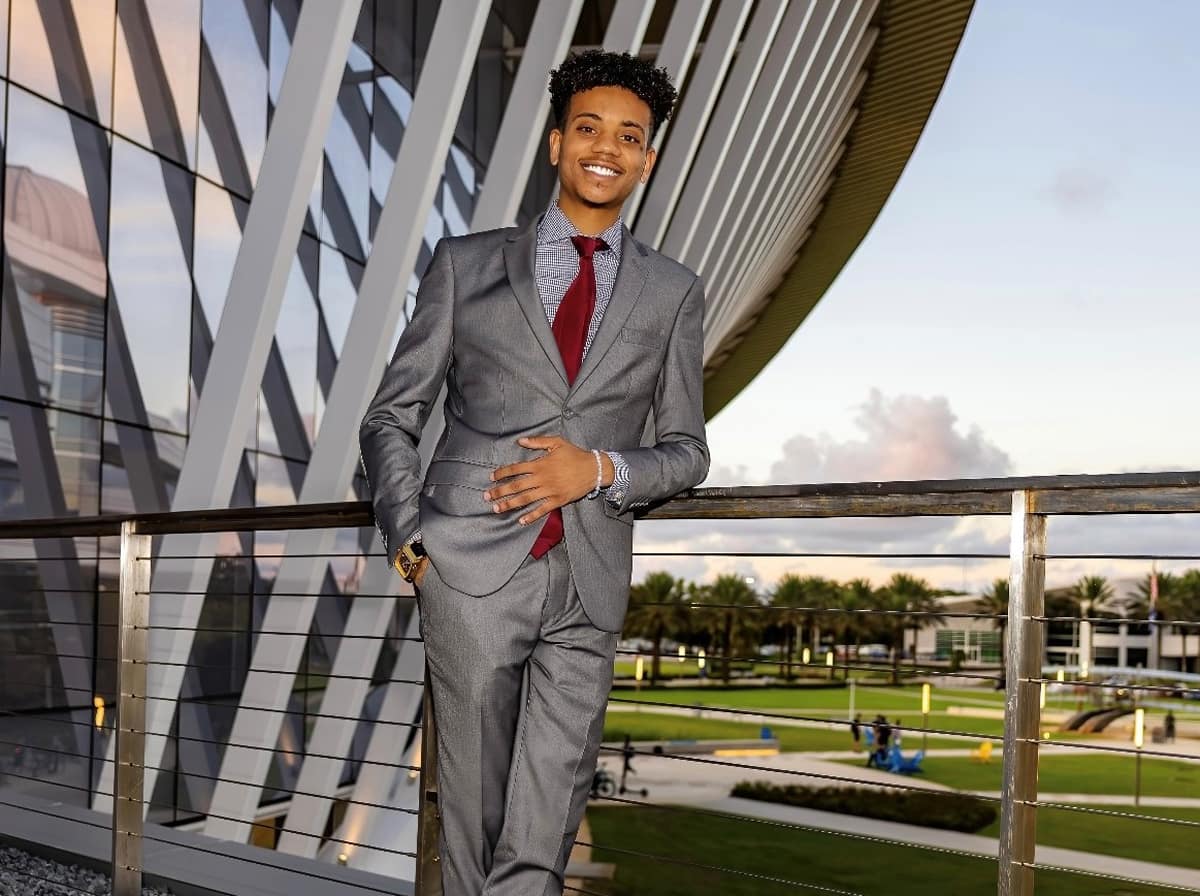 Five students from Embry-Riddle Aeronautical University have been selected to receive 2023 Patti Grace Smith Fellowships, which guarantee them paid internships at industry-leading firms, professional mentoring and grants up to $2,000. For the third consecutive year, Embry-Riddle had the most students selected for this award of any university in the country.
One of those student recipients is Homeland Security & Intelligence senior Stanley Tucker, who overcame extraordinary obstacles to earn this award.
Tucker was driving his motorcycle home in 2021 when he was struck by an impaired driver. The collision sent him flying 40 feet through the air then skidding to a stop on the roadway.
If I have learned anything from this experience, it's that the only thing I can't do is quit.
He remembers feeling his body tingle hotly as he lay on the blacktop. He tried to get up but couldn't move. So, he waited. He listened for the blaring of ambulance sirens. He thought about his daughter, Maya, then 3 years old. He wondered if he'd ever see her again.
At the hospital, Tucker endured six surgeries. Doctors told him he would likely never walk again — and if he did, it would be with a walker. Upon his discharge, he remembers recognizing that his life had reached a crossroads. He could either let this trauma define him, or he could use it as an "opportunity to beat the odds."
He chose the latter.
"This gave meaning to my life," Tucker wrote in an op-ed for The Avion last year. "[It] made me recognize the opportunity I had to change my perspective and helped me think more positively."
In spring 2022, Tucker returned to class. He got good grades, landed an internship at Leading Edge Aerial Technologies. He also ramped up his physical therapy and ditched the walker.
Later that year, in November, he made good on the pledge he made to himself that day in the hospital to beat the odds. He ran in the True to the Blue 5K. He even launched an outreach program to help underprivileged youth get started in aerospace.
"I felt it was my responsibility to be a role model and provide for my daughter," said the Richmond, Virginia, native. "I feel it is now my responsibility to give back to my community, considering how a terrible situation led to a positive change. If I have learned anything from this experience, it's that the only thing I can't do is quit."
This month, Tucker added yet another accomplishment to his record by being named one of five Embry-Riddle students to earn Patti Grace Smith Fellowships. As one of the perks of the program, he will intern this summer at HawkEye 360.
Meet the Fellows
The Patti Grace Smith Fellowship recognizes students based on excellence in academics, creativity, ingenuity and serving others, to help promote diversity in the aerospace sector, including in engineering, science, policy and more. Of 31 total undergraduate students selected for Patti Grace Smith Fellowships this year, five study at Embry-Riddle. In addition to Tucker, the winners are listed as follows: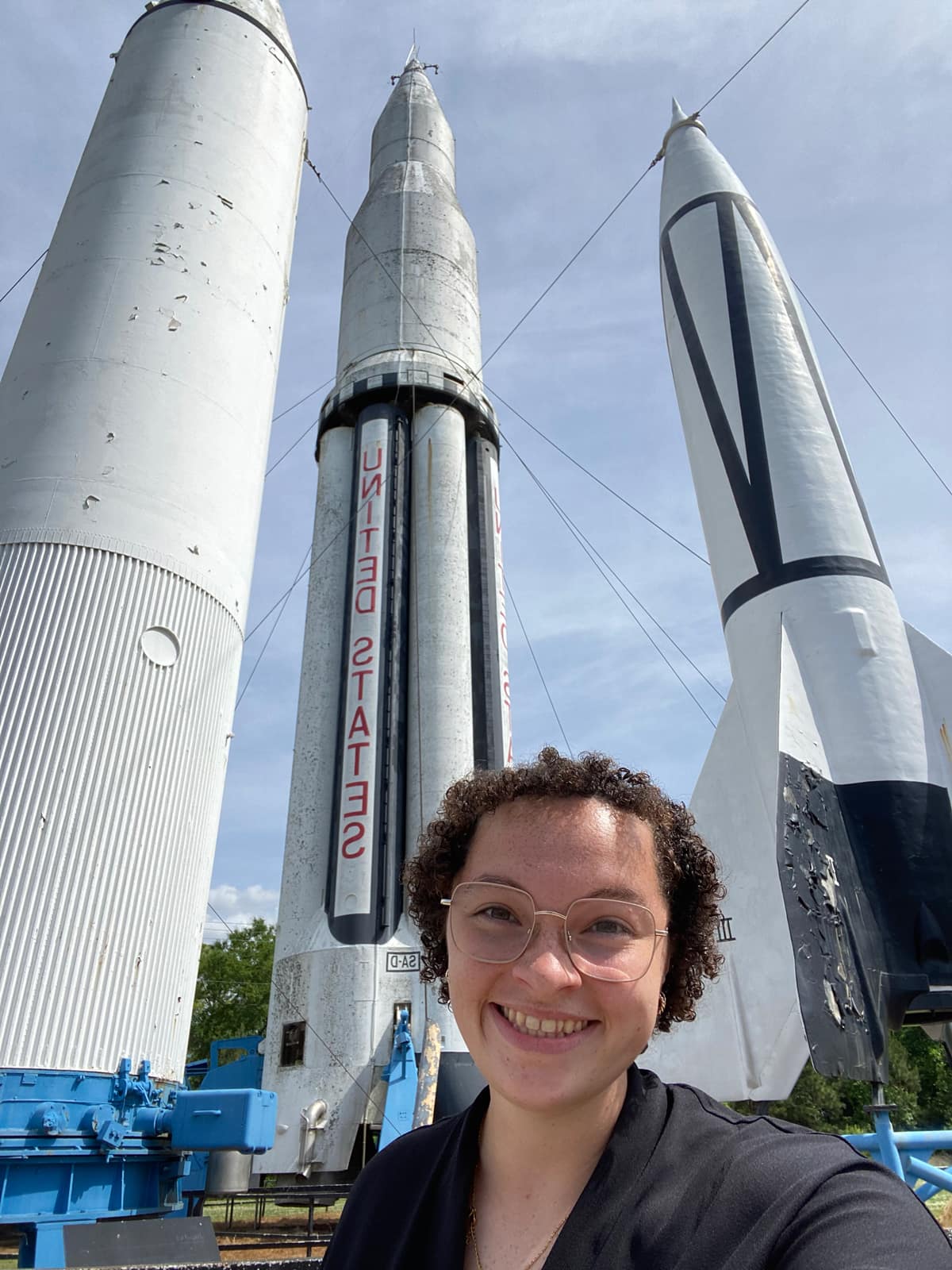 Aerospace Engineering senior Emily Burrus interned at the Marshall Space Flight Center in Huntsville, Alabama. (Photo: Emily Burrus)
The first in her family to attend college, Burrus remembers her grandparents buying her her first telescope, which kicked off a lifelong love of space, science and the world. The day she moved onto Embry-Riddle's Daytona Beach Campus from Mount Sinai, New York, however, she received word that her grandmother had died.
"I really had no blueprint for what to expect at school or how I would find my place in this new environment," she said. But then she remembered one of her grandma's favorite songs: "The Show Must Go On," by Queen. "It is an anthem that helped me get through the jarring adjustment of college and her passing at the same time. I am proud every day to be part of my beautiful and diverse family. … Without my family's unwavering support, I would have never had the confidence to pursue college or recognize that it was actually an option for me."
Additionally, Burrus recently earned the Patti Grace Smith Memorial Scholarship, through the Commercial Spaceflight Federation, and will receive the award this month in Washington, D.C. It is a distinction only available to winners of the Patti Grace Smith Fellowship and, according to Burrus, highlights one of many networking/scholarship possibilities afforded by the program.
After graduation, Burrus hopes to work in astronautics as a test engineer, and she will intern with Blue Origin this summer. Her dream is to be an astronaut and "advance humanity in a positive way."
Xavier Goewey, Aerospace Engineering freshman
A Belleville, Illinois, native, Goeway said that he has been motivated throughout his life by his parents to become the best version of himself through education. "After college, my dream is the help build and design humanity's future in space through extraterrestrial and orbital habitation technology," he said.
This summer, he will intern at Sierra Nevada Corporation.
Andrew Pierre-Antoine: Aerospace Engineering freshman
A Winter Garden, Florida, native, Pierre-Antoine is striving to follow in the footsteps of his parents, both of whom hold doctoral degrees and, he says, have always set an "example of educational excellence." He will intern at Airbus this summer.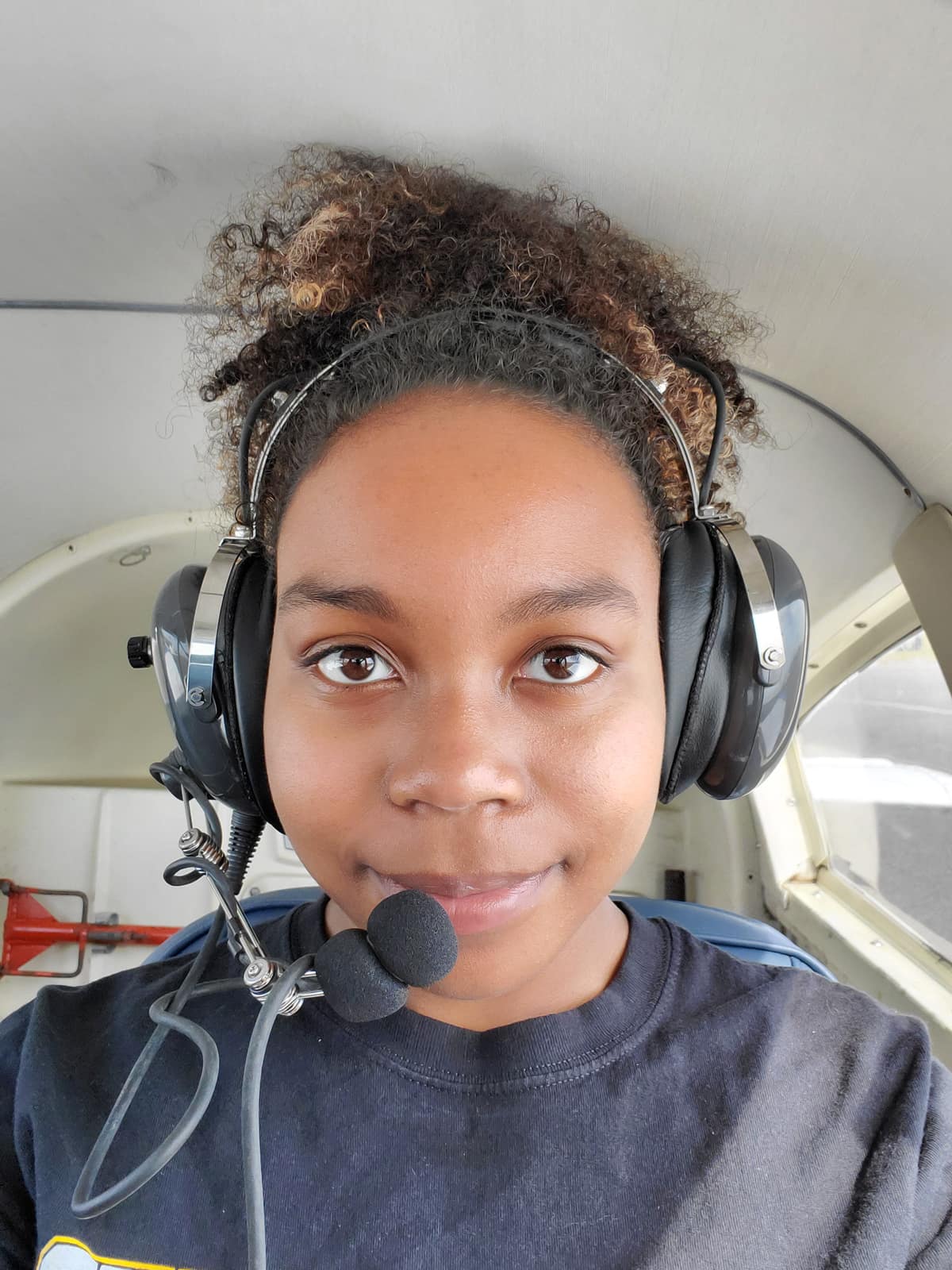 Janae Jordan, an Aerospace Engineering freshman, was inspired to achieve academically because of her dad, who earned his college degree during retirement. (Photo: Janae Jordan)
Jordan learned early in life that success requires perseverance.
Originally from Philadelphia, she moved to Fleming Island, Florida, to live with her dad when she was 11, after her mom died of tumor-related complications. Then, the school she used to attend up north was unexpectedly closed, and all her academic records were lost. This meant having to retake state placement exams, and she soon found herself falling behind. She felt the setback most in high school, when her peers began taking calculus but she was still struggling with pre-calc.
"However, this gave me the motivation to catch up in any way possible," she said.
One of those ways was through dual-enrollment courses, which offered a jumpstart on earning college credits while still in high school. Her success in these courses led to scholarships and, eventually, to acceptance into Embry-Riddle.
After graduation, Jordan hopes to work in the design and manufacturing of rockets or planes. She will intern this summer at BryceTech.
The Big Picture
While African-Americans make up 14.1% of the U.S. population and roughly 15% of American undergraduate and graduate students, a recent study conducted by AIA and AIAA found that only 10.03% of U.S. aerospace and defense workers, and only 5.69% of aerospace executives, are Black.
"We are delighted to continue to find excited, driven and talented students that want to bring Black excellence into aerospace," said Tiffany Russell Lockett, cofounder of the Patti Grace Smith Fellowship, in a recent press release. "Our goal is always to bring the best students forward for our host companies to consider, and this is the most competitive class to date. With the highest number of applicants ever, we are excited to see where this class goes and how we will continue to make an impact in the future."
"We couldn't be prouder of our students chosen for this prestigious award," added Russell Griffin, Embry-Riddle's chief diversity and inclusion officer. "These Patti Grace Smith Fellowship winners exemplify how Embry-Riddle's deep focus on readiness for aerospace engagement extends to all our students, making them standouts to and for the industry."
For more on previous student accomplishments, visit Embry-Riddle's
Office of Prestigious Awards and Fellowships
.
Posted In: Engineering | Security Intelligence and Safety | Space