Aviation Dean Alan Stolzer Tapped for Top National Safety Committee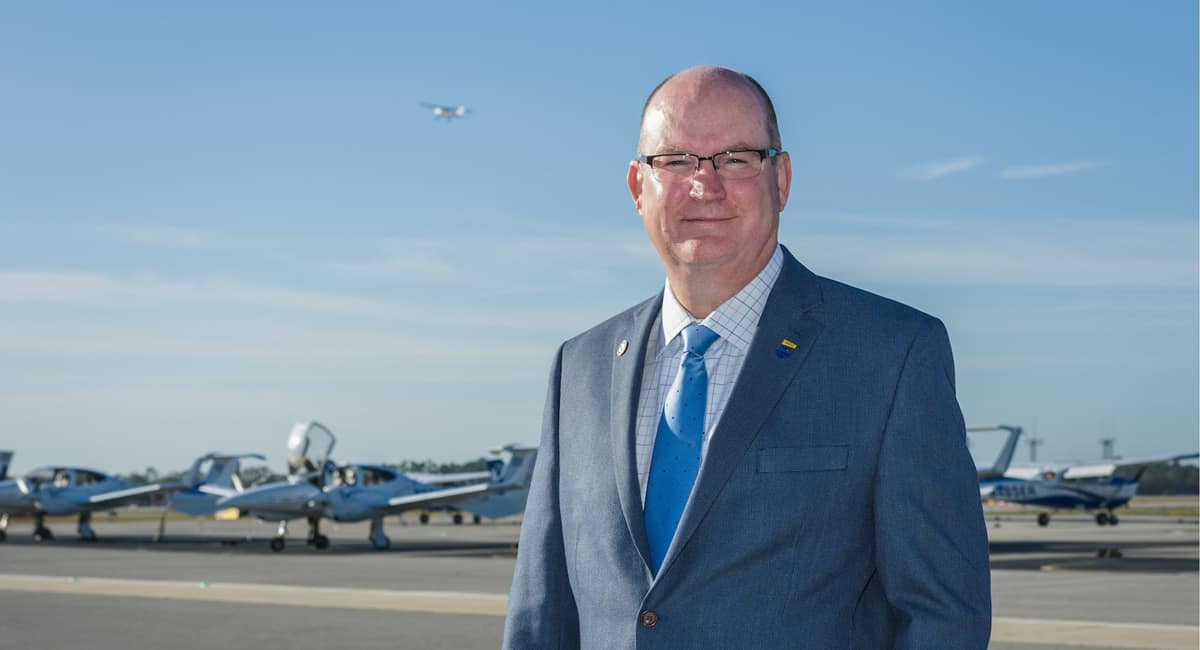 Dr. Alan J. Stolzer, dean of the College of Aviation at Embry-Riddle Aeronautical University's Daytona Beach, Fla., campus has been appointed by a U.S. cabinet secretary to serve as the only academic representative on the Department of Transportation's new Safety Oversight and Certification Advisory Committee (SOCAC).
Stolzer, an accomplished scholar and highly experienced pilot with a 30-year track record as a higher-education leader, was named by U.S. Department of Transportation (DOT) Secretary Elaine L. Chao to become a voting member of her advisory committee. The group includes 22 top aviation executives as well as representatives from the Federal Aviation Administration (FAA) and industry associations.
"The committee's input will help the Department ensure the FAA remains the world's leader in aviation safety," Chao said in a media announcement.
The committee, created by the FAA Reauthorization Act of 2018, will advise Chao on policy-level concerns related to safety issues facing the aviation industry. Such issues might include, as examples, aircraft and flight standards certification processes, oversight of safety management systems, risk-based oversight efforts, and more.
Embry-Riddle President P. Barry Butler congratulated Stolzer and all other new SOCAC committee members. "Dean Stolzer's appointment by Secretary Chao reflects his lifelong dedication to his students' welfare and his key role in building Embry-Riddle's reputation as a champion for aviation safety," Butler said. "Alan will be in outstanding company as he serves on the new advisory committee. We wish the whole group well as they work to advance evidence-based policy decisions in support of aviation."
The lineup of voting members appointed to the SOCAC includes 20 leaders from professional organizations such as the National Business Aviation Association as well as companies including GE Aviation, Gulfstream Aerospace, Delta Air Lines, United Airlines, Boeing Commercial Airplanes, Honeywell Aerospace, Pratt and Whitney, Bell/Textron, Garmin International, and Wing Aviation LLC. In addition, Secretary Chao named two non-voting FAA representatives to the SOCAC.
"I was deeply honored to be appointed to Secretary Chao's advisory committee," Stolzer said. "It will be a great privilege to work alongside such outstanding and dedicated experts in aviation safety," Stolzer said.
A Champion for Aviation Safety
A recipient of the FAA Air Transportation Centers of Excellence Outstanding Faculty of the Year Award in 2010, Stolzer serves as Dean of Embry-Riddle's Daytona Beach-based College of Aviation and as a professor in the School of Graduate Studies.
He has flown more than 8,000 hours as pilot-in-command and has spent time in more than 40 makes and models of fixed-wing aircraft. He also holds an Airline Transport Pilot, Certificated Flight Instructor, and an Airframe and/or Powerplant certificate from the FAA.
Previously a Designated Pilot Examiner, he issued more than 100 certificates and ratings on behalf of the FAA. Stolzer holds the Quality Auditor, Quality Engineer, and Quality Manager certifications from the American Society for Quality, and a Project Management Professional certification from the Project Management Institute.
In 2014, he was elected a Fellow of the Royal Aeronautical Society. He has received the Meritorious Award from the College of the Ozarks for Distinguished Achievement, the Federal Aviation Administration Air Transportation Centers of Excellence Outstanding Faculty of the Year Award, and the Paul A. Whelan Award and the President's Award from the Aviation Accreditation Board International.
An active researcher and teacher who focuses on Safety Management Systems and Flight Operations Quality Assurance, Stolzer is the author of many publications, including two books on Safety Management Systems. He earned a Ph.D. in Quality Systems from Indiana State University and additional degrees from Embry-Riddle and the College of the Ozarks.
He will serve a two-year term on the new DOT advisory committee.
Posted In: Aviation