Veteran, Aviation and Aerospace Sustainability Grad Leads Charge in Producing PPE for Military Hospital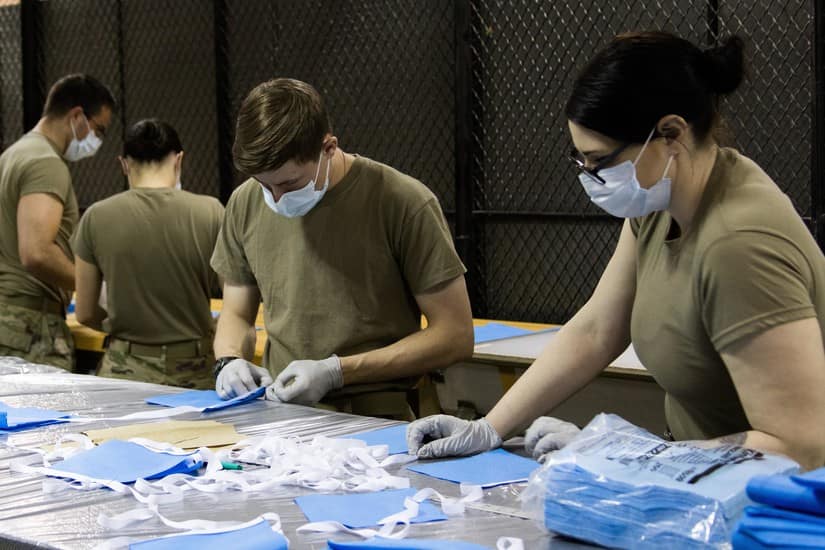 When U.S. Army Chief Warrant Officer 3 Jeremy Vann's battalion commander informed him that the Madigan Army Medical Center (MAMC) at Joint Base Lewis McChord, near Tacoma, Washington, was short of personal protective equipment (PPE), he knew to think outside the box to provide a solution.
A recent graduate of Embry-Riddle's online Master of Science in Aviation and Aerospace Sustainability (MSAAS) program, Vann remembered associate professor Dr. Patti Clark stressing the need to think spatially to enable objective analysis to support sustainable initiatives and projects. Using this knowledge, he and his team in the 1st Special Forces Group (Airborne) at Joint Base Lewis McChord pulled in personnel from the Rigger Shed – the people who repair parachutes – to sew together surgical masks from raw materials procured locally.
Vann also began evaluating the possibility of making prototype respirator masks and face shield frames using 3D printers. Following the National institute of Health's guidelines, he then analyzed and validated the training procedures required for producing these much-needed supplies.
In short order, prototypes for reusable respirator masks, 3D-printed face shields and surgical masks were being produced for MAMC, a network of Army medical facilities located in Washington and California that serve more than 100,000 active duty service members, their families and retirees.
"The effort in and of itself is a worthwhile exercise in how to innovate to provide solutions, especially as the U.S. military has the best capability in the world," said Army Lt. Col. Christopher S. Jones, Group Support Battalion Commander, in an interview with Joint Base Lewis-McChord Public Affairs.
"Understanding the resources that might be available at the point of need and to begin producing the PPE as quickly as possible with skilled people, while seeking sustainable solutions – that was the challenge," said Vann. "A large part of what we achieved happened because of the importance we place on training and working together as a team. My experience in the Army and Air Force, combined with what I learned at Embry-Riddle, reinforced the ideas that innovative solutions, technology and processes are only as good as the people producing them."
The curriculum of the Aviation and Aerospace Sustainability program draws on recent advances in cutting-edge science, practices and innovations, and applies an interdisciplinary case approach and systems perspective. Students learn to contextualize knowledge resources concerning aviation and aerospace sustainability strategy and policy while using analytic tools to support sustainable initiatives and projects.
Sustainability is not just a global humanitarian challenge, though, according to Dr. Leila Halawi, chair of the MSAAS program, who called it "the business opportunity of the century." In an effort to promote the initiative further, Embry-Riddle will modify the MSAAS program to 30 credit hours, with no capstone requirement, beginning July 2020. Additionally, a 12-hour Sustainable Aviation and Aerospace Graduate certificate will be offered to students who maintain a cumulative grade point average of 3.0 or higher for the series of courses and complete them within three years.
"These changes will make the degree more competitive with similar degrees in the marketplace, without affecting academic rigor or achievement," Halawi added.
Posted In: Aviation