Aura Aero, Embry-Riddle to Prepare Eco-Pilots and Create High-Paying, High-Quality Jobs for Floridians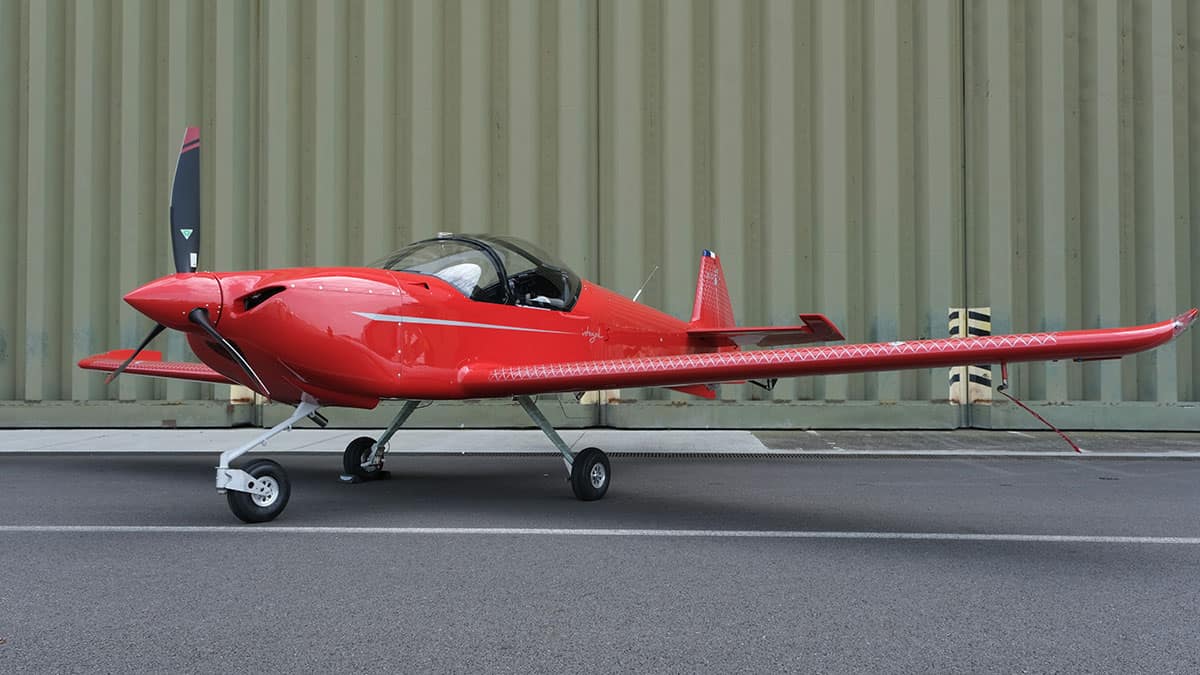 LE BOURGET, France — Preparing pilots to fly zero-emission, eco-friendly aircraft of the future is the goal of a newly inked partnership that will also create high-paying, high-quality jobs, Aura Aero and Embry-Riddle Aeronautical University announced at the 2023 Paris Air Show.
A memorandum of understanding between Aura Aero and Embry-Riddle was signed at the Florida Activation Event, hosted by Florida Lieutenant Governor Jeanette Nuñez and Enterprise Florida on June 20 at the Business France Headquarters in Paris.
By establishing a major footprint in Embry-Riddle's busy Research Park in Daytona Beach, Florida, electric aircraft pioneer Aura Aero expects to create some 20 exceptional new jobs in Volusia County as well as internships for student pilots. Since 2017, Embry-Riddle's Research Park has served 25 leading and emerging companies while creating 174 lucrative jobs and 224 internships.
"Embry-Riddle Aeronautical University plays an important role shaping Florida's next generation of top-tier talent in aerospace," said Lieutenant Governor Nuñez. "Their MOU with Aura Aero demonstrates the importance of this event and its ability to create meaningful partnerships between Florida and France in order to enhance our state's workforce development. Together, we look to strengthen our aerospace sectors by creating a pipeline to meet demand."
Under the agreement, Aura Aero is also launching an internship program for Embry-Riddle students who are eager to learn more about "the Integral" — the company's two-seater training aircraft with aerobatic capabilities, which is available with thermal or full electric propulsion.
"Aura Aero is committed to serving humankind by designing and manufacturing aircraft that accelerate air transport decarbonization," said company co-founder and CEO Jérémy Caussade, who also serves as the company's chief engineer. "We are excited to partner with Embry-Riddle, a global leader in aviation education, to accelerate innovation and prepare pilots for a more sustainable future."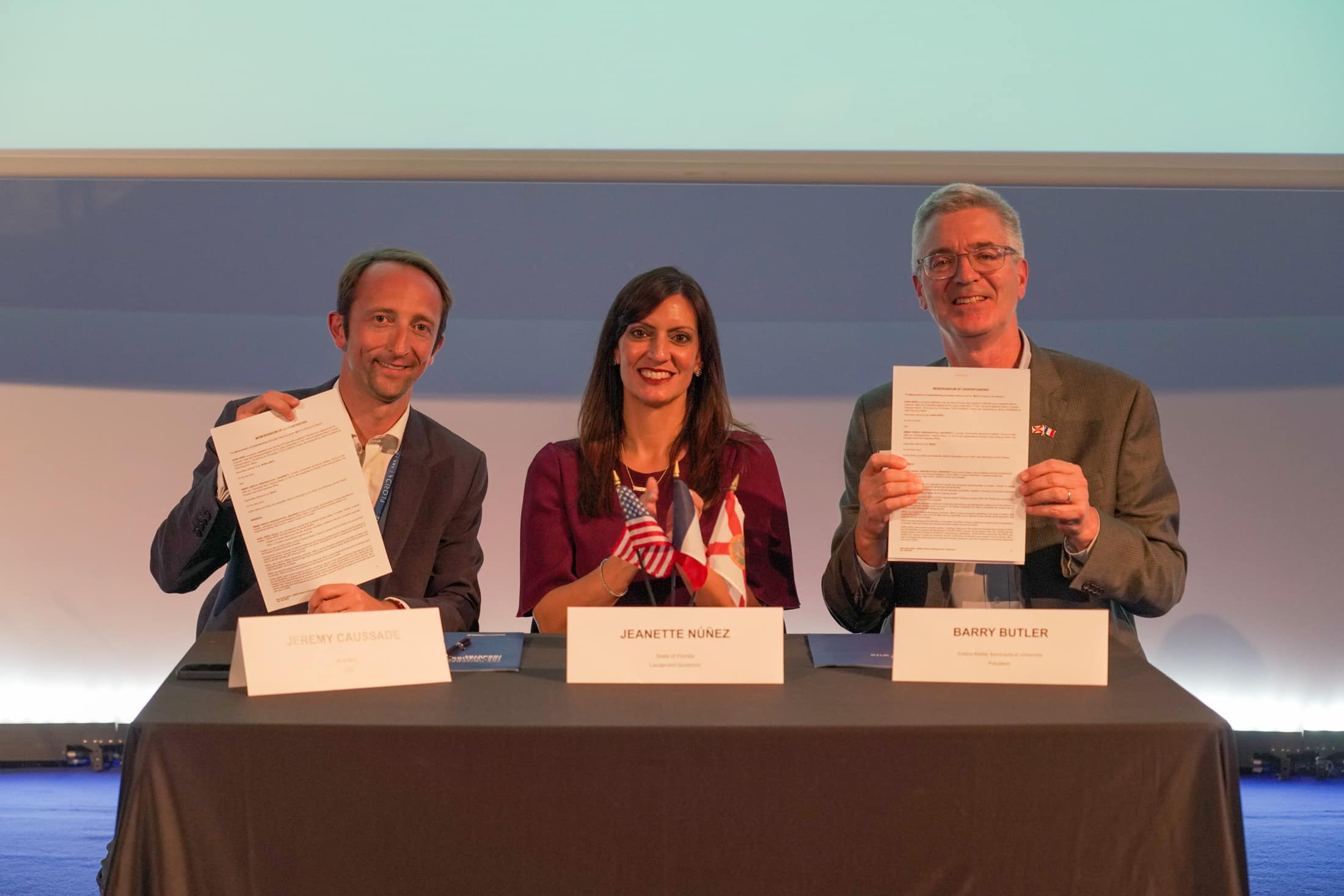 Embry-Riddle President P. Barry Butler, Ph.D. (right), signed a partnership with Aura Aero CEO Jérémy Caussade (left) and Florida Lt. Gov. Jeanette Nuñez (middle), this week at the Paris Air Show. (Photo: TJ Villamil)
Embry-Riddle President P. Barry Butler, Ph.D., said the partnership reflects a unique synergy between two organizations with shared goals. "We look forward to welcoming Aura Aero, a company at the leading edge of sustainable aviation options, to Embry-Riddle's Research Park in Daytona Beach to support their technology development efforts while also enhancing educational opportunities for our students."
Embry-Riddle Senior Vice President and Chief Operating Officer Rodney Cruise said: "Our Research Park offers a creative ecosystem that cultivates transformational business ideas and careers. We are honored to work with Aura Aero to advance sustainable aviation, create high-paying, high-quality jobs and build workforce capacity."
In addition to the Integral training aircraft, Aura Aero, established in 2018, is developing the ERA (Electric Regional Aircraft), a regional transport 19-seater. Alongside Caussade, the company's co-founders are Chief Programs Officer Wilfried Dufaud and Chief Operations Officer Fabien Raison.
Aura Aero plans to establish operations at Embry-Riddle's Research Park by 2024. Details are pending, but the company will occupy between 3,000 and 10,000 square feet of space in the MicaPlex, the Research Park's cornerstone facility, and the adjacent Applied Aviation and Engineering Research Hangar.
At the Paris Air Show: Visit Embry-Riddle in Hall 3, #G73. Visit Aura Aero in the B4 area, in front of the press center.
Media Contacts
Ginger Pinholster, Vice President of Communications, Embry-Riddle, +1 386-226-4811, virginia.pinholster@erau.edu
At the show: Jacques Rocca, Aura Aero, Communication and Institutional Affairs Advisor, +33 (0)6 07 91 03 29, jacques.rocca.external@aura-aero.com
By phone: Caroline Brown, Aura Aero Press Officer/CB Relations Presse, +33 (0)6 22 08 86 23, caroline.brown.rp@gmail.com
About Aura Aero
A pioneer in low-carbon aviation, Aura Aero is committed to serving mankind by designing and manufacturing aircraft that accelerate air transport decarbonization by industrializing disruptive technologies resolutely focused on the aviation of tomorrow. Combining the best in the aeronautical industry and digital technologies, Aura Aero manufactures aircraft that offer unrivaled efficiency in the market of eco-efficient vehicles. Founded in 2018, Aura Aero is based at Toulouse-Francazal Airport in France and employs 200 people. In addition to its many shareholders, the manufacturer is supported by the Occitanie Region, the BPI (French Public Investment Bank) and the venture capital firm Innovacom. Laureate of the France Relance modernization fund and benefiting from the France 2023 investment plan, Aura Aero is a member of the steering committee of AZEA (Alliance for Zero Emission Aviation), a European Union initiative.
Posted In: Institutional News