Why We Need Astroecologists: Bioinformatics Expert to Speak at SpaceCom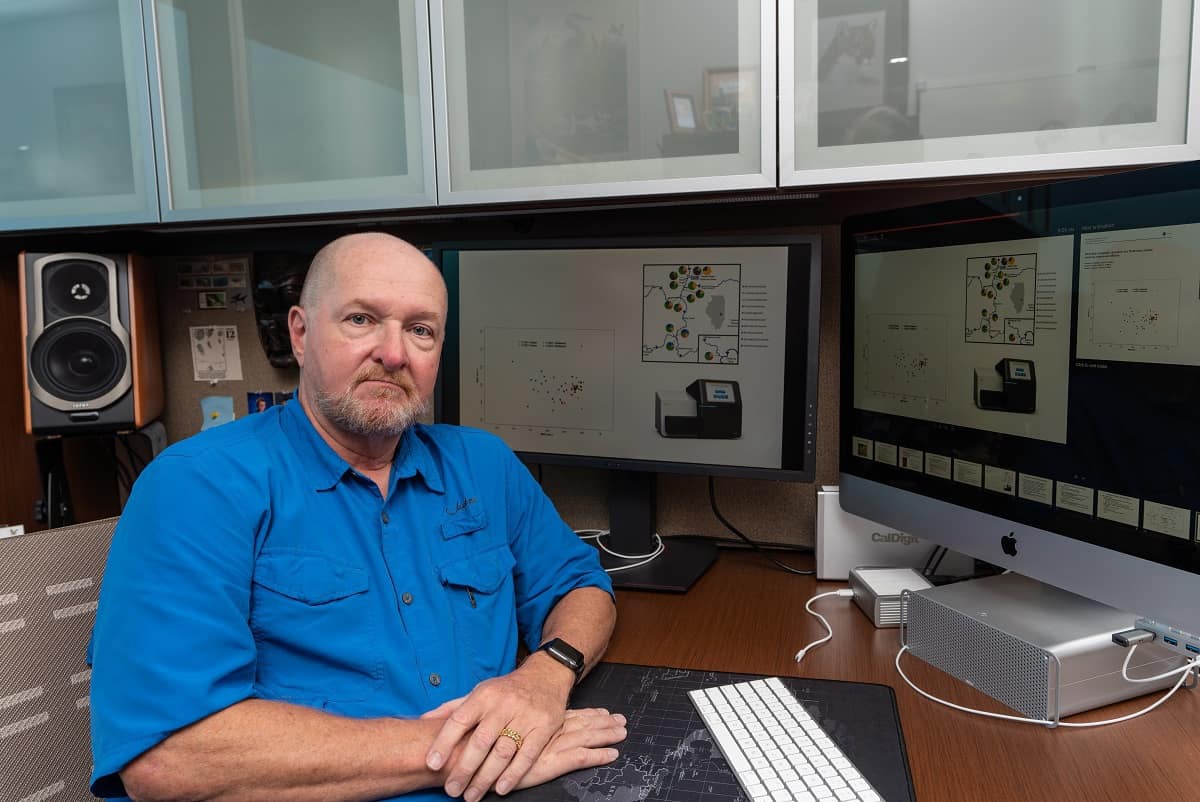 Research could suggest better responses to bacterial pathogens in space environments – and in healthcare facilities, where antibiotic-resistant bacteria have inadvertently been encouraged, said Embry-Riddle's Dr. James Novak.
"In systems such as healthcare facilities, bacteria are viewed as unwanted pests, regardless of their inherent pathogenicity, and we have attempted to eradicate them," said Novak, Aerospace Physiology program coordinator and associate professor of aerospace physiology. "This is an impossible task, and has led to the selection of bacterial strains that are resistant to the antibacterial agents we have employed against them."
Novak, who has been invited to give a presentation entitled "Why We Need Astroecologists" at SpaceCom on Nov. 27, said healthcare facilities have adopted a faulty approach: targeting a particular class of bacteria, rather than acknowledging a bacterial community, or microbiome. In this way, the facilities have caused the community structure to become enriched with antibiotic-resistant bacteria.
"Dealing with the microbiomes in and on space vehicles, we have the opportunity to learn from our mistakes and employ a more enlightened approach, based upon our knowledge of bacterial genetics and bacterial community ecology," Novak said.
SpaceCom is a conference and exposition where NASA, aerospace and other industries come together to gain insights into cutting-edge research and technologies.
Focusing on Bacterial Communities
In his presentation for SpaceCom's microbiology panel, Novak will be making the argument that the correct approach to assessing the microbiome of space environments such as the International Space Station is to monitor the bacterial community and its change over time.
"We can still monitor for specific taxa that may cause problems for humans, the spacecraft or cargo, but not in isolation, rather as part of the bacterial community dynamics," Novak said.
He said that although a bacterial community in an environment in space will most likely change and simplify, researchers must study ways to avoid developing resistance by using broad-spectrum antibiotics. "This is especially important for the human occupants, as their internal microbiome is an integral part of their immune system."
Novak was invited to speak at the conference after being identified as a top expert in the type of bioinformatic analysis necessary to assess bacterial communities.
"Dr. Novak's participation in such an important conference shows our research breadth in this area," said Senior Vice President for Academic Affairs & Provost Lon Moeller.
Big Data and Bioinformatics
Novak became interested in ecological genetics and data analysis in the late 1970s. It was then that he worked on one of the first "big data" projects, the Mauna Loa carbon dioxide data that shows how CO2 concentration is warming our atmosphere. His role was to write the code to detrend, or reveal absolute changes, within the data, in order to describe the rate of CO2 increase.
The identification of bacteria in a series of samples is a bioinformatics analysis that requires the identification of several hundred-thousand to millions of sequences from the samples that have to be aligned and then compared to a database of known bacterial sequences for a specific gene or genes. "We can then begin to assess and summarize the community by utilizing standard community ecology metrics such as species richness, various diversity measures, and other statistical measures," Novak said.
Because this kind of analysis needs to be performed in real time to assess how fast a community is changing, Novak and his team are essentially developing an artificial intelligence-based system. "Our goal is to create a protocol and workflow that can be performed efficiently within the unique physical parameters we find on both deep-space and orbital spacecraft," Novak said.
Novak started working with the Johnson Space Center on several projects, including bacterial community analysis in space environments, a little over a year ago. He said his background as an ecologist has been a good fit because of a main focus of the research – how species interact within a community. "What surprised me was that many of the scientists at NASA have a similar scientific outlook," Novak said, "and we quickly synched in our approach to the question at hand."
"Jim teaches this bioinformatic analysis approach at Embry-Riddle," said Moeller. "That's significant for our Aerospace Physiology students, as about half are interested in working in the space industry as physiologists or biologists. Training our students in the core fundamentals with real-world applications like the Johnson Space Center project has helped jumpstart the major, giving us immediate recognition in the industry."
Novak said the exposure and training students in the Aerospace Physiology program are receiving is unique among institutions of higher education.
"The Aerospace Physiology program has been well received by NASA, the private space industry, the military, commercial aerospace industries, as well as leading healthcare providers such as Florida Hospital," said Novak. "Our students have interest in and are poised to enter any of those fields and are already getting internships with those stakeholders. I am not surprised by the growth of the program because it is giving the students an opportunity to learn biology and physiology like no other program can offer."
— By Michaela Jarvis