Alumna-Alaska Airlines Captain Seeks to Increase Female Minority Pilots Nationally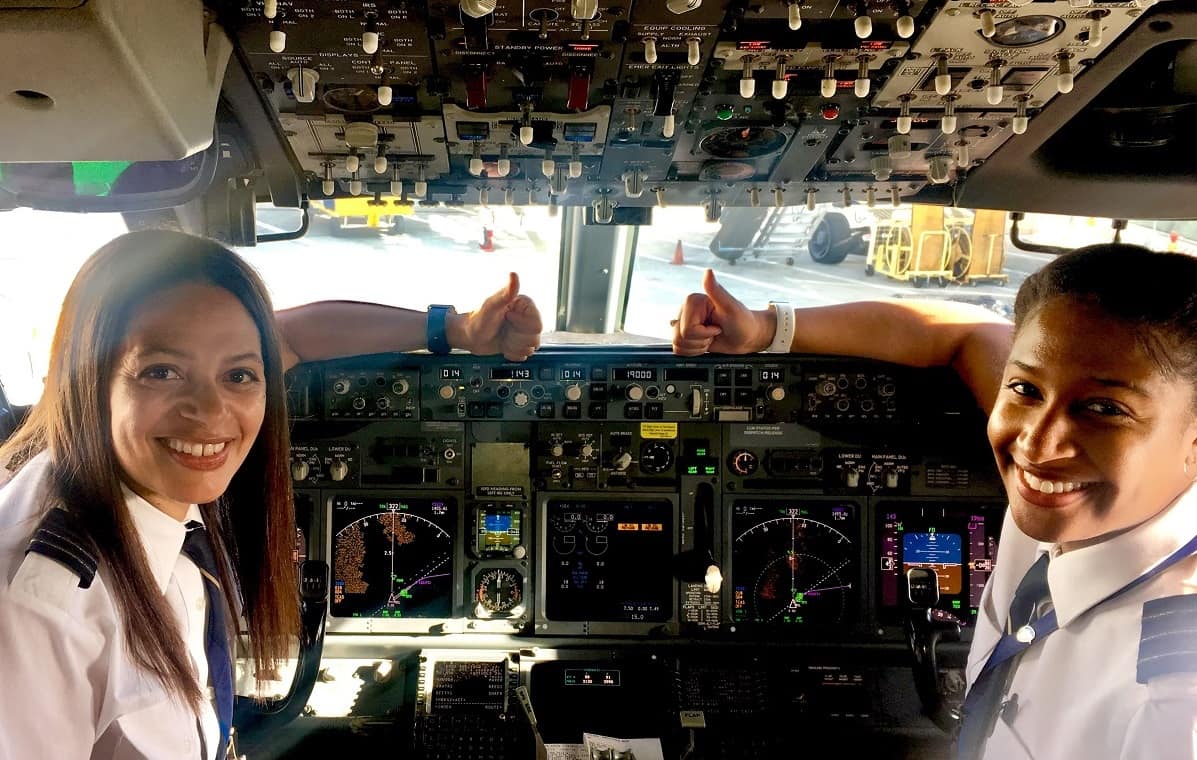 Not a day goes by where Capt. Tara Wright isn't approached by a passenger wanting to take a photo with her because they report never being on a flight piloted by a female.
"I call it a selfie a day and educating one person about how flying airplanes is something anybody can do if they have access to the right education and skill-building opportunities," said Wright, an Alaska Airlines pilot who graduated from Embry-Riddle Aeronautical University's Daytona Beach Campus in 1993 with a bachelor's degree in Aeronautical Science.
She's on a mission of educating more young women that they too can be in the flight deck. She points to her Embry-Riddle training and education that has allowed her to stand out from other pilots during her 25-year career flying and instructing for various companies.
She's one of less than 7,000 active women airline pilots in the U.S., or less than 5 percent. The FAA reports active airmen certificates in 2017 were 609,306, which includes all types of pilots, including private, airline transport, commercial and others with women pilots making up 42,694 or 7 percent.
Wright is a member of Sisters of the Skies, a national organization of professional black women pilots who the group says represents less than half of 1 percent of the total professional pilot career field in the U.S. or less than 150 holding airline transport pilot, commercial, military or certified flight instructor licenses. The organization promotes and supports minority women in their pursuit of aviation as a career through STEM outreach education, mentorship and scholarships.
"Women of color, and even women more broadly, just don't know this is a viable career option and that's in large part because they haven't seen lots of women flying airplanes," Wright said. "It's important to demonstrate there are people like me who do this job."
Wright has reached a number of firsts in the field. She said she was the first African-American female pilot to become a captain at Alaska Airlines in April 2017 and the 7th African-American female captain for a major commercial airline in the U.S. She joined Alaska Airlines in 2007 as the second African-American female pilot at the airline.
She also made history on Mother's Day in May while piloting an Alaska Airlines Boeing 737-800 jet from San Francisco to Portland, Oregon. Capt. Wright along with first officer Mallory Cave were the first African-American female pilots to crew an Alaska Airlines jet together.
"You're sharing a pretty interesting piece of Alaska Airlines history this morning. You will be piloted by two African-American female pilots for the first time in Alaska Airlines history," she told passengers on the intercom. A Facebook video of the announcement and cheers from passengers went viral with the story appearing on news outlets throughout the U.S. and internationally.
Alaska Airlines also shared the news on social media.
"History in the flying. Alaska Airlines Flight 361 from San Francisco to Portland, OR. Our first-ever flight piloted by two African-American women. What Bessie Coleman started in 1921, we continue here," the company's tweet read. (Coleman was the first African American to earn an international pilot's license.)
Oriana Branon, Alaska Airlines spokeswoman, said Alaska Airlines is committed to attracting, retaining and advancing a diverse employee population, which supports its company goal of "winning together with our people."
"We believe that by celebrating and promoting milestones such as the historic flight of Captain Wright and First Officer Cave, we can open up the talent pipeline even further so that girls and women everywhere can achieve their dreams of flying," Branon said.
While Wright appreciates the milestones she's made, she looks forward to the day where flight decks mirror demographics in neighborhoods and communities.
"If the flight deck looks exactly the same as when I go to the grocery store, then we've done a great job. But clearly we have a long way to go," she added.
Wright, who has been at Alaska Airlines for 11 years, her second major airline carrier, also previously flew for Comair-Delta Connection, U.S. Airways, Hewlett-Packard Co., Great Lakes-United Express and GP Express-Continental Connection.
While her father was an educator and general aviation pilot, she was not always on the path to becoming a pilot. She originally wanted to be an aeronautical engineer and design aircraft while learning to fly on the side. But she quickly realized engineering was not for her and switched to Aeronautical Science.
She received numerous certificates and ratings at Embry-Riddle, including her private, instrument, commercial single-engine/multi-engine, certified flight instructor and certified flight instructor-instrument.
"Embry-Riddle set me up beautifully to compete," Wright said pointing to technical and flight training skills she gained and knowledge from her academic courses. "When you go out in the world and in job situations, you never know when you're going to have to pull from your knowledge base in aviation and that is where Embry-Riddle filled in all the right holes."
Wright, who graduated with honors and was on the Dean's and President's Lists, was involved in numerous organizations on campus, including Senior Class Council, Omicron Delta Kappa national leadership honor society, and secretary of The Ninety-Nines chapter, an international organization of women pilots.
She also became an Embry-Riddle flight instructor for a period after graduation and met her husband, Wayne Wright Jr., at a campus event. He graduated from the Daytona Beach Campus in 1991 with a bachelor's degree in Aviation Maintenance Management and works for Southwest Airlines as an aircraft mechanic. Married for 24 years, they live in California near San Francisco with their three children.
Her future goals are to retire in 14 years with Alaska Airlines. She also wants to continue working with both her company and Sisters of the Skies to increase the number of female minority pilots. When she speaks to youth during outreach opportunities, she encourages them to be well prepared, work hard and to set their own goals and expectations.
"Just keep marching and following your goals," Wright said.