Airline Exec Offers Embry-Riddle Students 10 'Golden Rules' to Thrive in Aviation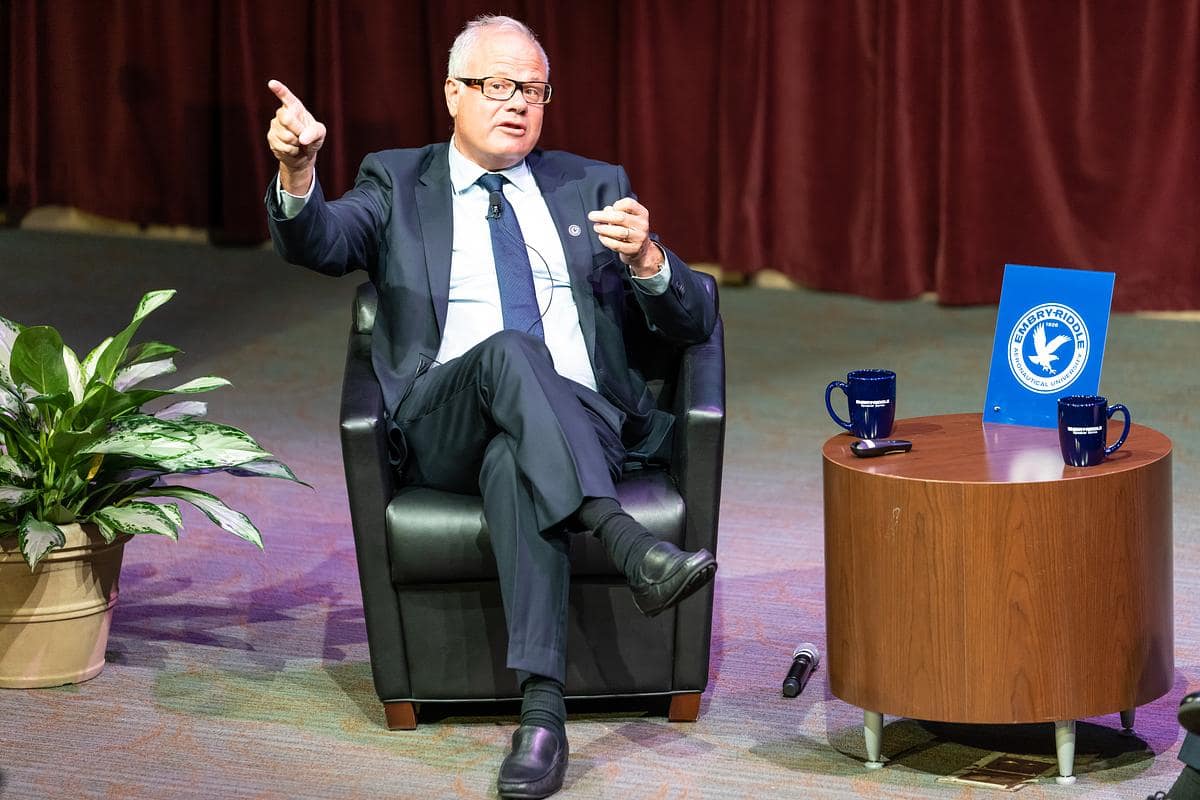 Gianfranco "Panda" Beting knows how to survive in the airline business.
After 40 years of experience in various roles, such as leading aviation marketing efforts, cofounding two companies — Azul Airlines and Breeze Airways — consulting, writing 18 books on aircraft and serving as publisher of Flap International magazine, Beting still gets excited when talking about airplanes and the industry built around them. His enthusiasm is as strong as ever, he explained, because of one basic tenet by which he lives.
"Get out of the mediocrity," he told a crowd gathered recently on Embry-Riddle Aeronautical University's Daytona Beach Campus. "That is the rule of thumb."
Pushing himself into new challenges has kept him engaged. Beting's success, however, has more to do with originality.
"Recipe for disaster: Enter any market and try to offer what established competitions already offers," he said. "If you do that, 100% guarantee, you're going to fail miserably. … You have to do something absolutely different."
The latest featured guest of the university's Presidential Speaker Series, Beting offered advice to aspiring aviation professionals during a conversation moderated by Alexandre Prado, an Aerospace and Occupational Safety senior who also holds a private pilot license and is president of the local International Society of Air Safety Investigators chapter.
There are 10 "golden rules" that must be followed, Beting said, in order to survive in the airline business.
Safety First.
"That is sacred," he said. "There's no business without safety. There's absolutely no way you can compromise there."
Airlines are a service industry.
"When we understand that we're all servants, everything starts to make sense," he said. "What really makes a difference between flying Airline A versus Airline B is the men and women [interfacing with the customers]."
Put people first.
"Learn to be a servant leader," he advised, stressing the important of learning from one's teammates. "Open your ears. Be humble. … If you treat your people right … you make them proud to wear your uniform."

Create a sexy brand.
"Caring for a brand is like caring for a newborn … it's 24/7," he said. "Every flight is a chance either to ruin it or to build a stronger brand. No small detail can be overlooked."
Communication is key.
Make your company's communication elite by combining "credibility, visibility and relevancy."
Bless the competition.
"Good competition makes you stronger, makes you sharper, makes you wake up earlier in the morning," he said. "So bless the competition — then work to kill it."
Cut costs at all costs.
"Costs are like grass — you've got to cut them as they grow," he said.
The only constant is change.
"You've got to adapt yourself to an ever-changing environment," he said. "What you learned yesterday doesn't apply today."
Aim high.
"Excellence is not a destination, it's a state of mind," he said, noting that one should pursue excellence in everything from their work to frying their eggs in the morning. How you do one thing is how you do everything.
Never stop flying — or learning.
"Knowledge is like bricks: If you really want to build a fortress, you need a lot of bricks," Beting said, noting the importance of reading, traveling, expanding one's horizons. Then he showed a photo from one of the most memorable trips of his life — to North Korea. "Never stop investigating. Never stop going places."
To close, Prado asked, "What is aviation for you?" And Beting didn't hesitate.
"My life," he said. "Everything. Everything."
At 9 years old, Beting started what he didn't realize at the time was the beginnings of a mentorship with an airline founder who became a father figure. He got married in an airport. He draws and paints and photographs aircraft any chance he gets.
"We are birds of a feather," he told the crowd. "We love this business so much. Everything that we invest in aviation … will come double, triple, four times — because this is one magic industry."
Review past Presidential Speaker Series events online.
Posted In: Aviation | Institutional News