Agreements to Enhance Simulator, Drone Training Take Flight at Oshkosh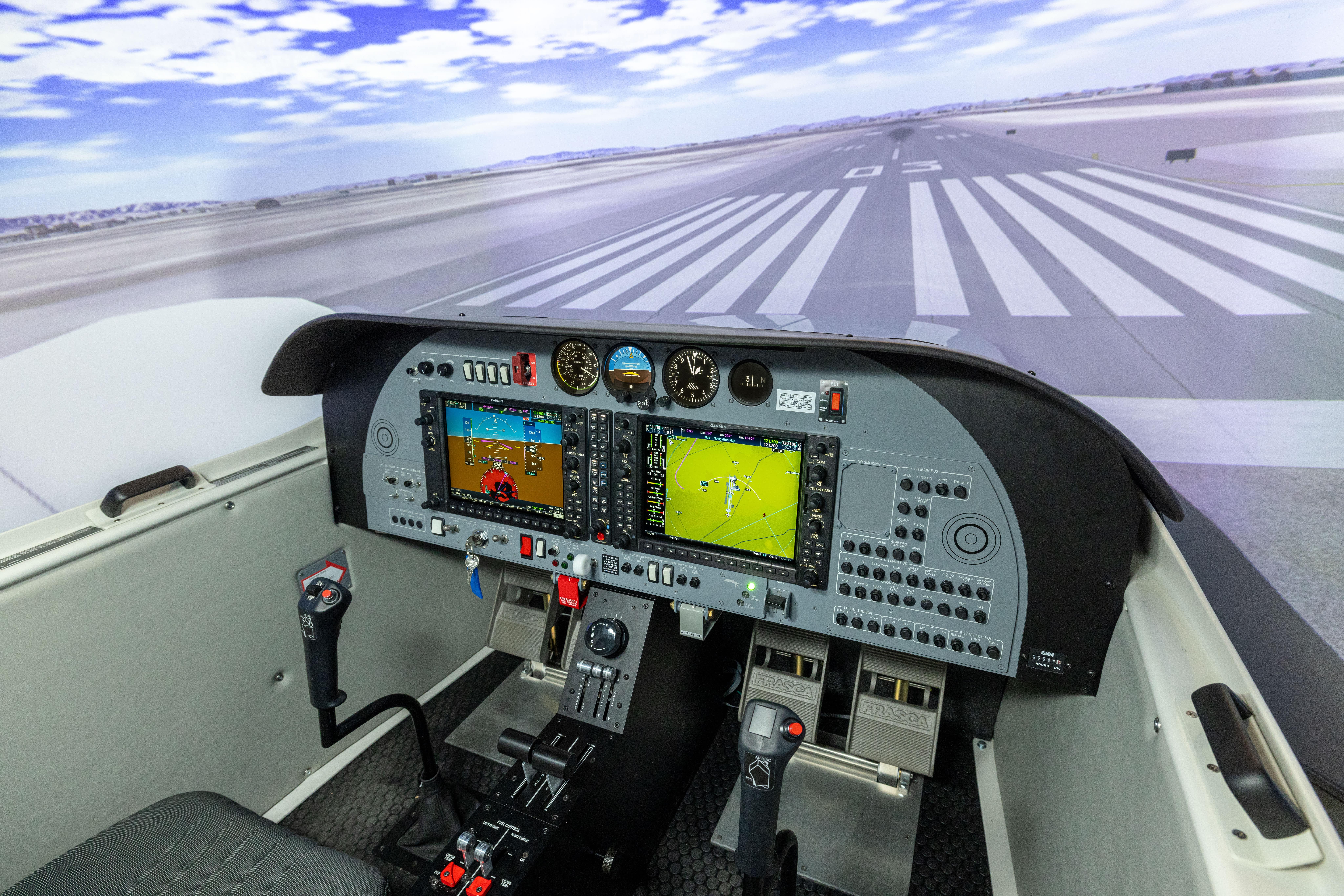 Embry-Riddle Aeronautical University and Frasca International signed an agreement at EAA Air Venture Oshkosh this week, which detailed the $5 million purchase of new flight-training simulators to be housed at Embry-Riddle's Prescott Campus, in Arizona.
"This (agreement) ensures that Embry-Riddle will continue to offer industry-leading flight education and training at a time when there is a greater need than ever for highly skilled aviation professionals," said Embry-Riddle President P. Barry Butler, Ph.D. "Such cutting-edge simulation training positions our students for rapid career progression and higher leadership roles in the workforce, government, and the military."
Reinforcing the university's longstanding relationship with Frasca — the first collaboration between the two organizations occurred in 1987 — the agreement was signed on July 26, in the Embry-Riddle tent at the Oshkosh, Wisconsin-based airshow. Included in the purchase are a total of eight new simulators, including seven Cessna 172 machines and one Diamond DA42. Portions of the new fleet will also feature high-fidelity motion-cueing systems which, when combined with realistic replicas of an aircraft's flight deck, offer students a fully immersive learning system.
"The skills students learn in these simulators transfer directly to real aircraft, but at a much lower cost," said Flight Department Chair Parker Northrup. "That higher level of accessibility to in-flight emergency scenarios increases overall pilot proficiency and safety preparedness, readying our students for long, safe and successful careers in the aviation industry."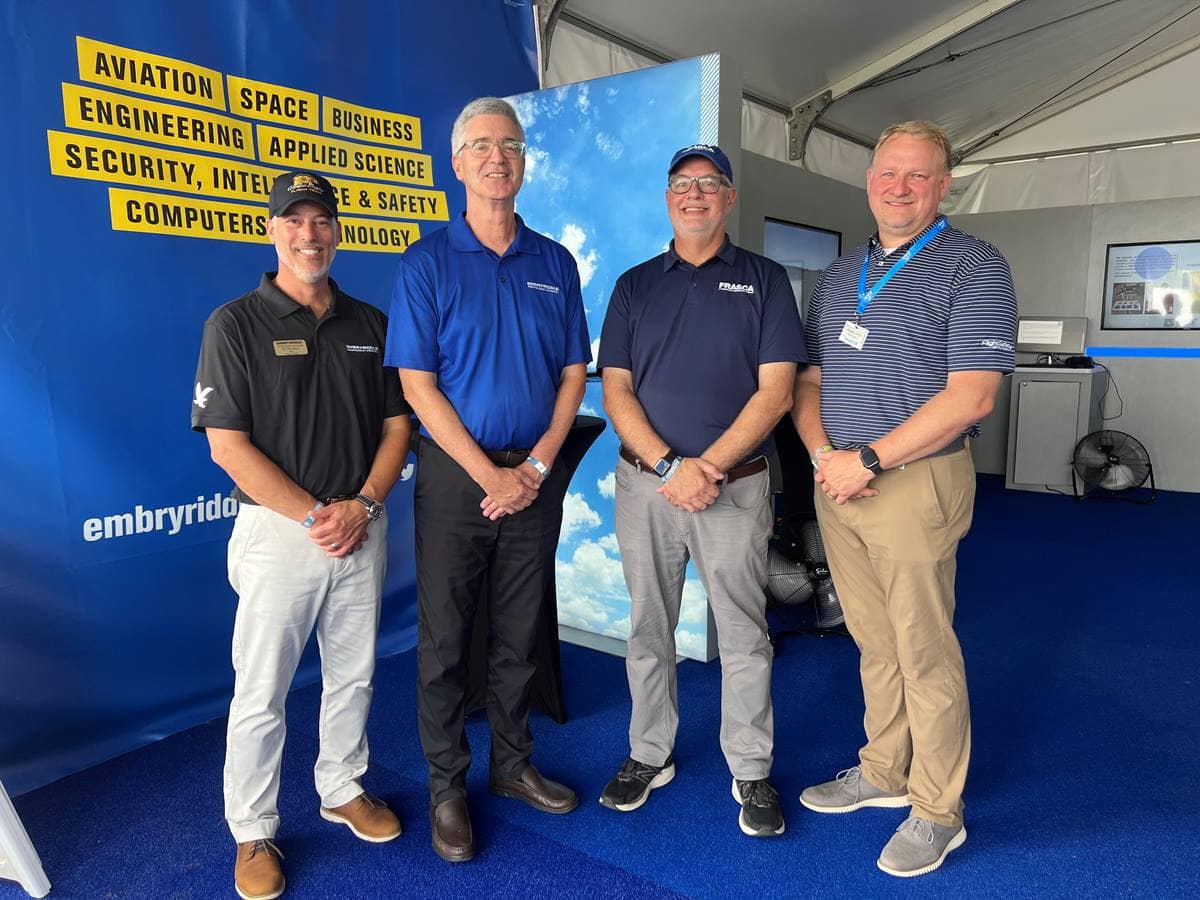 Embry-Riddle College of Aviation Dean Tim Holt and President P. Barry Butler, Ph.D., attended a ceremony at EAA AirVenture Oshkosh this week, with Frasca International President John Frasca and Richard Lofton, director of commercial sales operations for FlightSafety International, to celebrate a new $5 million agreement to bring new flight-training equipment to the Prescott Campus. (Photo: Embry-Riddle/Kati Callahan)
Additionally, extensive upgrades and updates will also be made to the three existing Frasca simulators on campus as part of the agreement.
"This partnership helps maintain the rigor and top-tier training that is anticipated from our college," said College of Aviation Dean Tim Holt. "The integration and utilization of Frasca simulations in our curriculum not only helps build greater student success, but helps us provide industry with career-ready professional pilots."
The first equipment delivery from Frasca is scheduled to take place toward the end of 2023, with upgrades to existing devices expected by mid-2024, and then a second and final delivery of simulation devices by late 2024.
"Embry-Riddle selecting Frasca validates the quality and capabilities of our simulators," said Frasca International President John Frasca, who also serves on the Industry Advisory Board for Embry-Riddle's Daytona Beach Campus College of Aviation, as well as has collaborated with the Aerospace Advisory Board for the College of Aviation at the Prescott Campus. "We look forward to seeing the results of how our new simulation technologies enhance pilot training at Embry-Riddle."
Frasca International is a world leader in the design and manufacture of flight simulators, flight training devices and simulation components. Frasca, a FlightSafety International company, has a proven reputation for delivering high-quality simulation equipment and leads the industry in simulation technology. Since its founding in 1958, over 3,000 Frasca simulators have been delivered worldwide. Frasca is ISO: 9001 certified.
Embry-Riddle Creates Zipline Career Pathway for Students
Students interested in pursuing flight operations careers in the fast-growing Uncrewed Aerial Systems (UAS, or "drones") industry will now have an additional route to employment, thanks to a newly established pathway program between Embry-Riddle and Zipline, which was signed Wednesday, July 26, at EAA AirVenture Oshkosh.
The pathway program aims to place students from Embry-Riddle's Daytona Beach Campus in professional UAS careers at Zipline, the world's largest autonomous delivery service — from positions in flight operations to maintenance and engineering — within the first year of the program.
To be eligible, students must be on track to earn a bachelor's degree in a UAS-related field, with a minimum GPA of 3.5, and provide a written letter of recommendation from a faculty member. To become a drone operator, an FAA Remote Pilot Certification is also required, in addition to a first- or second-class medical certificate and at least one year of experience working with UAS in the collegiate or professional space. Additional requirements exist to be eligible for lead positions.
"Zipline and Embry-Riddle have established baseline qualification criteria for providing students with an opportunity to interview for future or current flight ops and leadership roles," said Joseph Marshall, director of UAS flight operations at Zipline. "We are optimistic the partnership will yield amazing candidates and help facilitate the evolution of the UAS industry."
Marshall was present at the memorandum of understanding signing ceremony, along with Lauren Haertlein, aviation regulatory counsel at Zipline, and Embry-Riddle's College of Aviation Dean Alan Stolzer with Dr. John Robbins, department chair and professor of Aeronautical Science.
"We're excited to add this pathway agreement to our growing relationship with Zipline," Stolzer said. "We were early fans of theirs and we continue to be encouraged by their values and mission, as well as the progress they are making. Our students will benefit greatly from the opportunities afforded by the Zipline pathway program."
Embry-Riddle currently offers pilot pathway programs through 15 different companies, including Zipline, at its Daytona Beach Campus. These programs serve a total of 703 students and flight instructors, preparing them to make immediate impacts on the industry immediately out of graduation.
Posted In: Aviation | Institutional News