Agility is the Key to a Rewarding Career, Say Leaders of Humanitarian Flight Missions

Aviation executives Dent Thompson and William Lovett ('91) were never interested in the status quo.
Instead, they sought a career with global impact — one that relies on innovation and where each day is different. They found meaning and excitement by working for Phoenix Air, which oversees a variety of government-contracted flights. Their work has included emergency evacuation missions from American embassies under attack abroad, medical supplies transport during the start of the Covid-19 pandemic and other high-stakes operations, some in dangerous regions of military conflict or disease outbreak.
"Somebody had to provide air service to save people's lives (at the start of the pandemic), and that's what we fell into," Thompson told the crowd at a recent Presidential Speaker Series event at Embry-Riddle Aeronautical University. "It's nothing that we planned for. It just happened."
But they were ready when the opportunity presented itself, he added, citing a wealth of experience managing corporate operations all over the globe.
"We are not averse to risk," he said. "We will take calculated risks … because a lot of what we do, quite frankly, is lifesaving-type work."
The company has flown covertly into North Korea, for example, and extracted Americans from Wuhan, China, at the start of the pandemic, as well as provided infectious disease biocontainment air transport services during the 2014 Ebola Virus epidemic in West Africa.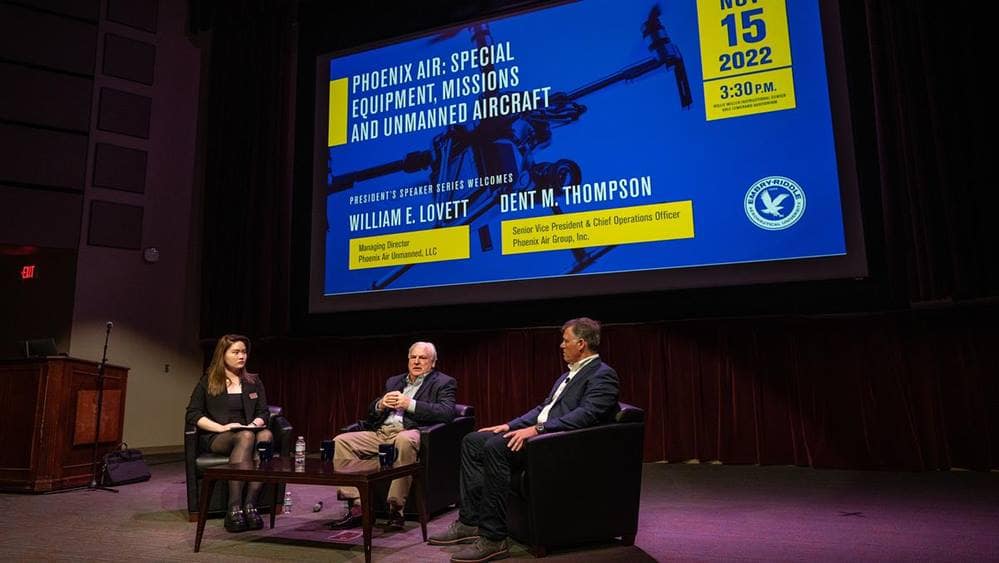 Embry-Riddle master's student Cici Chen interviewed Phoenix Air executives Dent Thompson, senior vice president and chief operations officer, and William Lovett, managing director of Phoenix Air Unmanned, at the latest Presidential Speaker Series Event on the Daytona Beach Campus. (Photo: Embry-Riddle/Bernard Wilchusky)
Managing emergency flight operations takes flexibility and a thirst for adventure, Thompson added, but those things would be meaningless without strong core values.
"Safety is literally paramount … (as well as) a can-do attitude and getting employees who want more than the status quo," he said, adding that many of Phoenix Air's employees are Embry-Riddle graduates — including Lovett ('91).
"We have hired up to 12 interns from Embry-Riddle in the past four years, and four became full-time employees," Lovett said.
Flying emergency missions like these takes "seasoning," however, according to Thompson, which means that pilots fresh out of college are generally not the type of worker the company seeks out — but there are plenty of other avenues of opportunity. Lovett, for instance, leads Phoenix Air's uncrewed systems division.
"There are tremendous uses for these systems … and everyone that we have hired has had a diverse level of experience," Lovett said, citing stick and rotor skills for uncrewed systems operators, in addition to maintenance capabilities, knowledge of geographic information systems and a general desire to learn. "We don't just hire an operator to be an operator. We want them to be a problem-solver."
"Our dispatchers are the heart of the company, the absolute heart," Dent added, explaining that dispatchers create business plans for every service call that comes in, outlining costs and logistics and then presenting them to clients. "Then they manage the trip from when it takes off to when it returns."
Addressing the students in the crowd, Dent said that the secret to seizing future opportunities in their own careers will be a diversity of experience, an openness to change and high-level industry training.
"Nowhere are there better-trained folks than right here at Embry-Riddle," Dent said.
Dent serves as senior vice president and chief operations officer of Phoenix Air. He was awarded Embry-Riddle's "Eagle of Aviation" Award in 2015.
This conversation was moderated by Chuan "Cici" Chen, a student from the David B. O'Maley College of Business who will start on her second master's degree, this one in Aviation Finance, next term.
Posted In: Aviation | Institutional News