Acting FAA Administrator: Industry Boom Creating New Career Paths, Safety Standards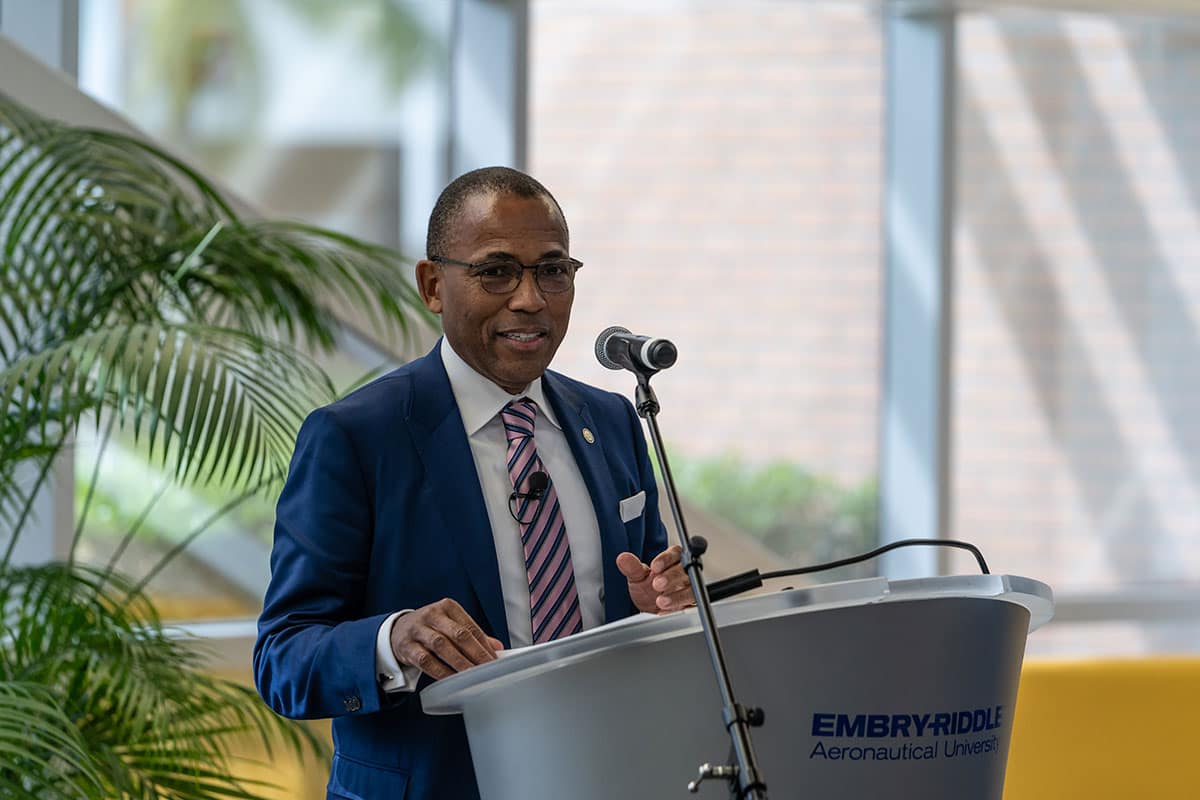 From working as a military and commercial airline pilot to heading up safety programs at airlines in Australia and Canada, Billy Nolen ('07) has had a varied and eventful career in aviation.
"Everything I learned as an Eagle served me in good stead," said the Embry-Riddle Aeronautical University alumnus, who most recently was appointed Acting Administrator of the Federal Aviation Administration (FAA).
Nolen shared his experiences and answered questions from students, faculty and staff about the current state and future outlook of the aerospace industry at an April 14 presentation held at Embry-Riddle's College of Aviation as part of Aviation Week 2022 on the Daytona Beach Campus.
"It's really exciting to see the work being done here," Nolen said. "I'm honored to be a part of a university that does so much for the aviation industry."
Aviation Innovation and Safety
Emerging technologies have given rise to an increased demand for skilled workers in aviation and aerospace, Nolen said, pointing to the FAA's Women in Aviation Advisory Board and Youth Access to American Jobs in Aviation Task Force as efforts to reach and recruit more young people.
"We're looking to inspire today and tomorrow's generation," he said. "We need a talented, diverse workforce from all backgrounds."
From the commercial space travel boom to the continued development of urban air mobility vehicles and other "drone" innovations, the industry is evolving at a rapid rate, he added.
"There is no more exciting time to be in aviation than we face today," Nolen said. "We are seeing a great deal of innovation all at once."
However, safety remains the key, he said, with the FAA focused on running the safest, most effective aerospace system in the world.
"Everything is looked at through the lens of safety," he said. "We want to make sure we have good controls in place."
Nolen has more than 33 years of experience in aviation safety. Starting as a pilot, he served in the U.S. Army, where he flew both airplanes and helicopters while working as a safety officer. In 1989, he started his career as a pilot with American Airlines, where he moved into holding safety leadership positions. After American Airlines, he served as senior vice president of safety, security and operations with Airlines for America. He later moved to Australia, where he served as executive manager of Group Safety & Health for the Qantas Group. Then he worked as Vice President of Safety, Security and Quality at WestJet in Calgary, Alberta, before coming to the FAA.
As air traffic bounces back from the pandemic and space launches continue to increase, Nolen said he is delighted to see how many students are pursuing aviation careers at Embry-Riddle.
"We know it's not just a degree," he said. "It's membership in a big family."
Posted In: Aviation