Accomplished Scholar Anette M. Karlsson Named Chancellor of Embry-Riddle Aeronautical University's Prescott, Ariz., Campus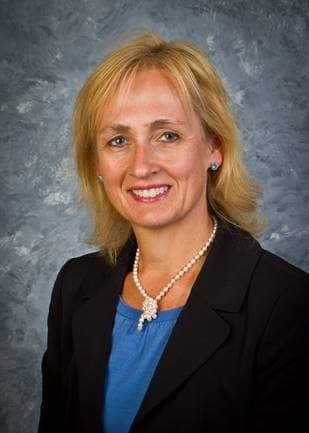 Dr. Anette M. Karlsson, a mechanical and aerospace engineer and a highly accomplished academic leader, has been named Chancellor of Embry-Riddle Aeronautical University's campus in Prescott, Arizona.
Dr. Karlsson, who has served as a professor and dean of the Washkewicz College of Engineering at Cleveland State University since 2012, will assume her new role with Embry-Riddle on Aug. 1.
In making today's announcement, Embry-Riddle President P. Barry Butler noted that Dr. Karlsson was selected from a pool of highly accomplished candidates in a national search. "Dr. Karlsson brings stellar academic credentials, superb executive experience, a passion for both engineering and aviation and a team-oriented approach to her new position as Chancellor," he said. "I have complete confidence in her ability to lead our Prescott Campus. I was impressed by her vision, her humility and her proven commitment to faculty, students and staff."
Dr. Karlsson said, "I'm honored to join the dynamic Prescott Campus of the world's leading aviation and aerospace university. I look forward to working collaboratively with faculty and staff to achieve ambitious strategic goals in support of the Embry-Riddle mission of service to students."
A Fellow of the American Society of Mechanical Engineering, Dr. Karlsson earned her Ph.D. in mechanical and aerospace engineering at Rutgers University, within the area of applied mechanics. She completed her bachelor's and master's degrees at Linkoping University in Sweden.
Dr. Karlsson conducted postdoctoral research at Princeton University before joining the University of Delaware, where she later became chair of the Department of Mechanical Engineering. Earlier in her career, she worked as a research/design engineer for Saab Missiles and Saab Aerospace, and as a technical attaché of material science for Sweden's Embassy in the United States.
Her research interests focus on the thermo-mechanical properties of advanced materials with an emphasis on the durability of materials used in clean energy production. Dr. Karlsson has published more than 80 peer-reviewed international journal articles and she has been the primary adviser for more than 15 doctoral and master's degree students.
Dr. Karlsson's many honors and awards have included the U.S. Office of Naval Research Young Investigator Award, the University of Delaware's E.A. Trabant Award for Women's Equity as well as the Young Scholars Award of the Francis Alison Society and membership in the engineering honor society, Tau Beta Pi.
"My leadership style is highly collaborative," Dr. Karlsson said. "As Embry-Riddle's new Chancellor on the Prescott Campus, listening, learning and gaining trust will be important first steps for me. That will be an essential foundation for us as we work together to elevate Embry-Riddle's Prescott Campus."
She will become Chancellor of Embry-Riddle's Prescott Campus, succeeding Dr. Frank Ayers. In making the announcement, Dr. Butler commended Vice Chancellor for Academic Affairs, Dr. Rhonda Capron, who has capably served as Interim Chancellor during the transition.
Dr. Karlsson will relocate to Prescott with her husband Rick and their cat Molly.
Posted In: Institutional News