A Legacy of Learning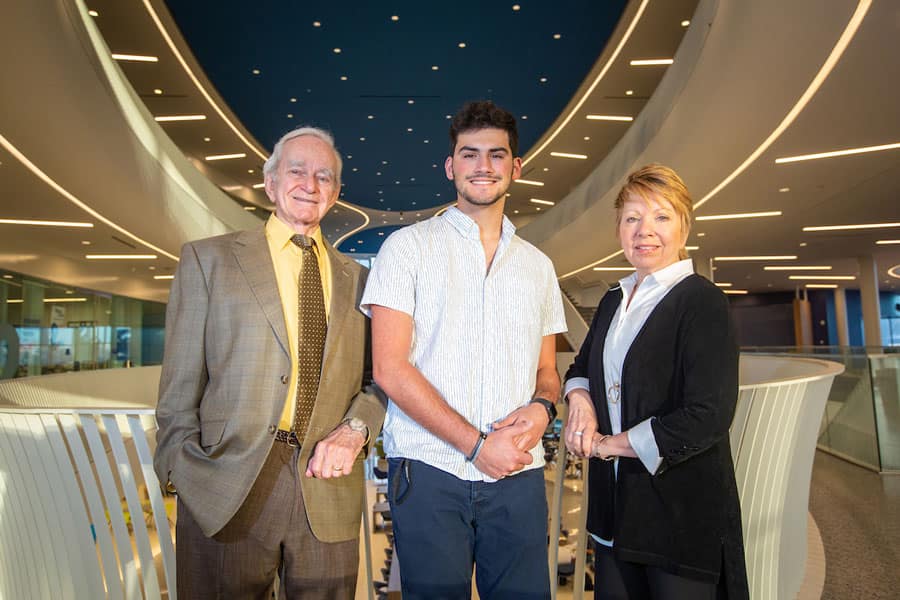 Professor Emeritus Charles Otis retired from Embry-Riddle as an aviation maintenance science (AMS) instructor more than 20 years ago, but the students he taught are still fresh on his mind.
Take for example John, a student who at age 43 moved to Daytona Beach, Florida, from Azerbaijan, to earn an AMS degree. Otis said John's language skills needed improving and his life savings, which he had brought with him from Azerbaijan, were quickly depleted. He helped connect John with English classes and hired him as a lab assistant, which gave him a small but steady income. John ended up graduating and landing a job for a commercial airline in Texas.
"He still calls me every year," Otis said. "He was just appreciative that he came here and was helped."
Helping the Next Generation
Otis is still helping Embry-Riddle students succeed, thanks to an endowed scholarship created in his honor by his daughter Christine Ison ('82, '89). The Charles E. Otis Endowed Scholarship supports a second year aviation maintenance technology student enrolled at the Daytona Beach Campus.
Current scholarship recipient Samson Del Torto said the scholarship has allowed him to better focus on his studies. An AMS student, plus chief engineer at WIKD, the on-campus radio station, Del Torto ultimately plans to work in the space industry.
"Their generosity and encouragement will greatly aid me in achieving my goals, and will always be appreciated," he said of the scholarship.
Del Torto grew up building motorcycles with his dad, making model rockets and later, he even taught himself to construct computers. He discovered Embry-Riddle, after enrolling in the university's Gaetz Academy at his high school in southwest Florida. He had a Gaetz professor who was a pilot and encouraged Del Torto to apply to Embry-Riddle.
"He was like a second dad to me," Del Torto said. "It was so foreign to have a teacher who really believed in me."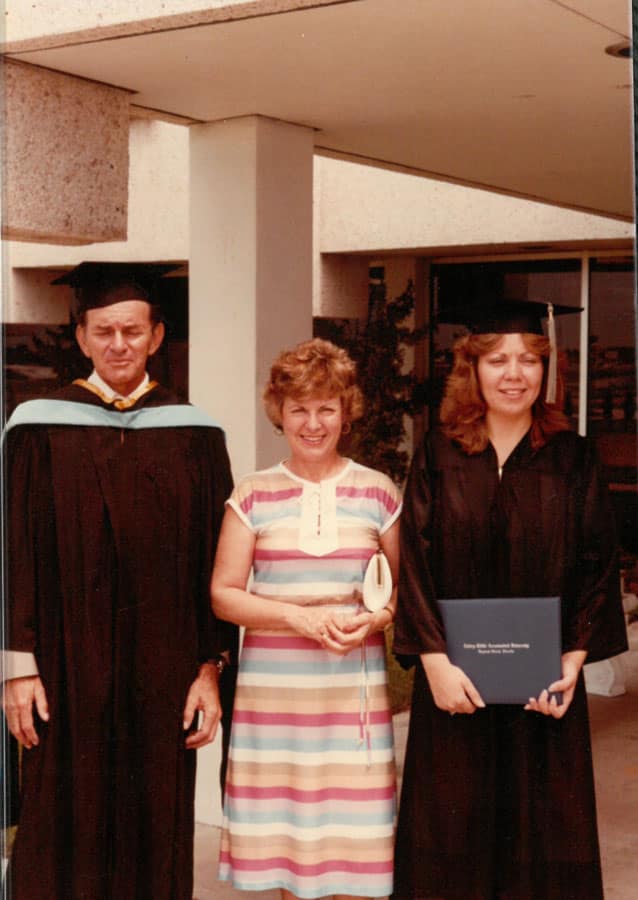 Professor Emeritus Charles Otis and his late wife, Nora Otis, at the Embry-Riddle graduation of their daughter Christine Ison ('82, '89).
Teaching Legacy
Otis became a teacher, upon retiring after a 21-year career in the U.S. Air Force as an aircraft mechanic. He spent 25 years teaching Embry-Riddle AMS students and set the standard for gas turbine aircraft engine maintenance procedures with his definitive textbook, Aircraft Gas Turbine Powerplants, which is still used today.
"ERAU students then, and probably now, too, are goal-oriented," he said. "So it was easy to teach focused students."
Ison created the scholarship to be a legacy for her father, as well as to give back to her alma mater, where she earned her undergraduate and graduate degrees. Her husband, Garrett Ison ('87), who is also a Daytona Beach Campus graduate and works at Delta Air Lines, and her brothers, Chuck and Scott, have supported the scholarship fund as well.
"I owe a lot to Embry-Riddle for my education and I wanted a way to give back," said Ison, who is vice president of project management at OGARAJETS in Atlanta, Georgia.
Her father started working at Embry-Riddle when she was in the seventh grade and she recalled how his students impacted her family's life. She remembered one student, in particular: Sang Van Tran ('77). Van Tran who served in the South Vietnamese Army and fled Vietnam with his family, after the fall of Saigon. A refugee, he settled in Florida with his family with the help of Catholic Relief Services.
"My father kept in contact with Sang throughout his life and continues to keep in touch with his family," Ison said. "Our families were friends. We attended each other's weddings and spent Christmases together."
Sang and his wife Martha are both deceased now, but their son, John Tran ('89), also attended Embry-Riddle's Daytona Beach Campus and now works as an aviation maintenance technician for Delta Airlines in Atlanta, Georgia, she said.
Ison was senior class president at Embry-Riddle. She still remembers her commencement speech.
"One thing I recall telling my class was not to forget that it is important to give back," she said. "So I try to honor that as well, throughout my career."