630 Aerospace Creates Scholarships to Build Aviation Technician Talent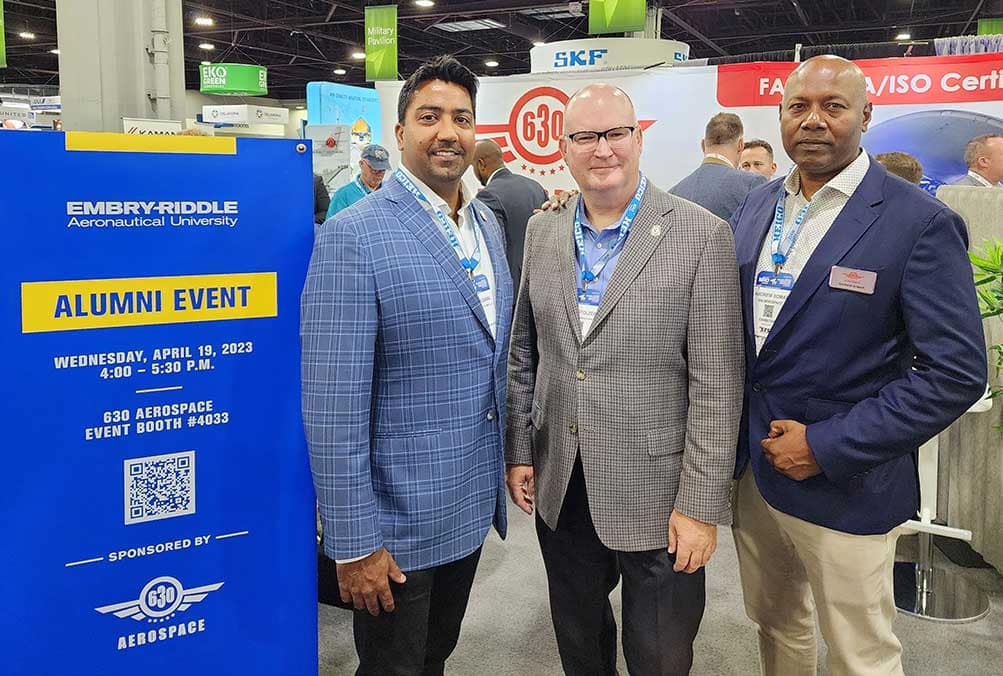 Andrew Somar and Bikram Jaswal ('02) know the importance of keeping an engine at peak performance. Now their generosity will power the skills that keep us flying.
The aviation business leaders based in South Florida have joined forces to meet a critical industry need for highly skilled aircraft technicians. 630 Aerospace, where Somar is president and CEO and Jaswal is a partner, established a $50,000 endowed scholarship and $2,500 term scholarships (over five years) for Aviation Maintenance Science students.
The Boeing Pilot and Technician Outlook 2022-2041 projects a demand for 610,000 aircraft technicians, with a growing need for inspection and maintenance experts to ensure efficiency and airworthiness.
The 630 Aerospace Endowed and Term Scholarships will go to full-time undergraduates with financial need enrolled in the College of Aviation, Aviation Maintenance Science (AMS) program in Daytona Beach. They must be U.S. citizens with a cumulative grade point average of 2.5 or higher. Scholarships cannot be awarded to the same student in successive years.
As a business owner, Somar sees Embry-Riddle graduates as a source of technical expertise, in both hands-on and administrative roles. He says his company's support of Embry-Riddle students today is a way to speed top talent into the marketplace.
"Embry-Riddle is a prominent school, especially in Florida," Somar says. "It represents the highest ideals and standards of anyone getting into the industry. The school's AMS program is well-rounded, so graduates deliver more value compared to those from other programs."
"We are grateful for this recognition for our AMS program and investment in students who will master the skills that ensure operational efficiency, profitability and, most of all, safety," says Alan Stolzer, Dean of the College of Aviation. "As an Embry-Riddle MBA who has worked as a line maintenance engineer, Bikram Jaswal knows firsthand that we focus on critical thinking that prepares technicians to troubleshoot advanced avionics technologies."
Embry-Riddle's AMS program has set a national reputation for excellence through the winning teams sent to the global Aerospace Maintenance Competition, graduates who hold the Charles Taylor Master Mechanic Award from the Federal Aviation Administration and countless Eagles who continue to excel with manufacturers, airlines and maintenance, repair and overhaul companies.
About 630 Aerospace
630 Aerospace Inc. is an FAA/EASA certified maintenance facility that repairs and overhauls airframe and engine components fitted on commercial and regional aircraft. The company is located in South Florida, the global hub for aircraft MRO services and benefits from logistics connectivity across the world via Miami International Airport. For more information, visit https://630aerospace.com.