3D Printed Robotic Fish Earns Alumnus International Recognition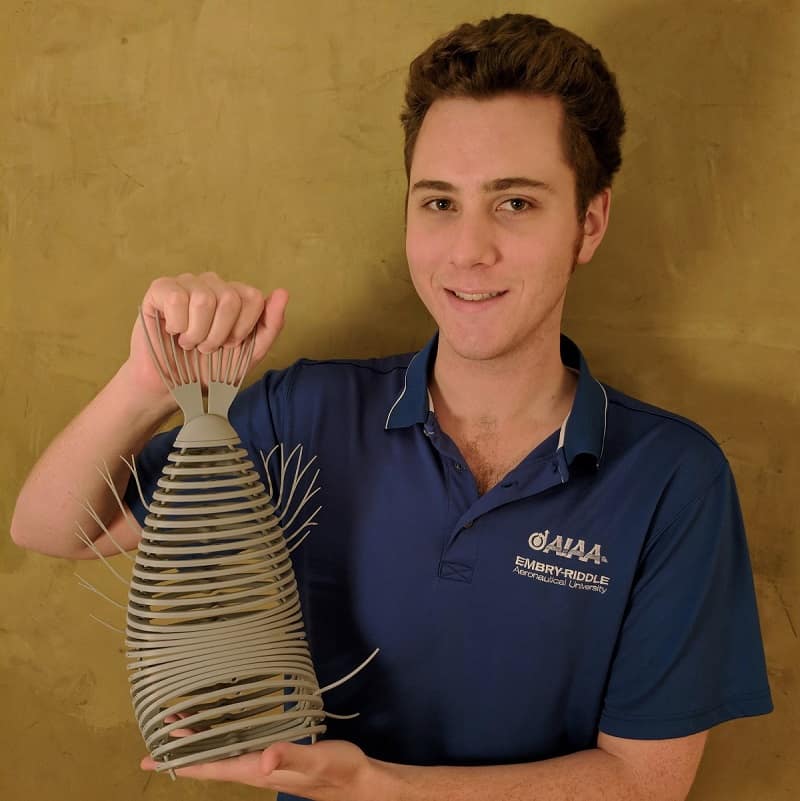 What started out as a doodle drawing in class at Embry-Riddle Aeronautical University, has turned into an autonomous robotic fish created with 3D printing technology that has received international attention. Alumnus Jefferson Talbot hopes his creation can not only be used in the pet fish industry, but for researchers needing a close-up view of underwater ecosystems.
Talbot, who graduated in May with a Bachelor of Science in Aerospace Engineering, first started drawing a skeleton of a fish in 2016 in the margins of his notebook when he said his mind wandered in Calculus 3 class.
It wasn't until last summer that he came up with the idea of a robotic fish partly from watching his roommate "carefully lug" around his fish and bowl whenever leaving the dorm for a few days so the fish would stay healthy. Talbot thought a robotic fish would be a much easier pet to take care of.
Little did Talbot know his idea for the 3D printed autonomous fish would earn him an international competition award this summer.
Talbot won the Jury Prize in the Project of the Year 2018 contest, and was chosen by a panel of professionals in the Global Academia Department of Dassault Systèmes. Known as "The 3DEXPERIENCE Company," Dassault Systèmes, headquartered in France, develops 3D design, 3D digital mock-up, and product lifecycle management software. The projects entered in the competition had to be created with Dassault Systèmes software, such as CATIA, SOLIDSWORKS and SIMULIA. The Jury Prize was based on several criteria, including innovation, originality, technicality and optimal use of Dassault Systèmes solutions.
The Project of the Year 2018 contest included 173 projects from 29 different countries. There was one Jury Prize and 10 additional winners selected from Facebook users and three brand project prizes.
"There is a growing interest around the world in bringing robots and AI (artificial intelligence) into the home," Talbot said. "Given the love of toy robot dogs in the past decades, I thought there might be interest in a fish. I figured that if I wanted a robot fish, there probably are other tech-obsessed people who would be interested in non-humanoid robots for their homes too."
Talbot spent his last year on campus refining his fish, including working on his laptop in between classes in the Embry-Riddle College of Engineering/Lehman Engineering and Technology Center. He worked in the advanced Makerspace Lab and also used his personal 3D printer. Dr. Heidi Steinhauer's 3D-CADD and Engineering Documentation course helped him focus his ideas and he sought her advice on a computer-aided design technique involving the fish.
Talbot, who wants to work in the field of biorobotics, biomedical engineering or bionic prosthetics, is still working on the newest iteration of the fish CAD model, capturing as many life-like features and finalizing the locomotion systems so he can then file for a patent. Once he has a fully autonomous fish capable of swimming without human contact for days or weeks, he will simplify the design into a smaller fish that could fit into an aquarium.
He would like to see his design ideas used towards making other robots which mimic biological processes more realistic and efficient. He notes the U.S. Navy is using a robotic spy fish in the form of an autonomous underwater vehicle for surveillance and exploration in deep seas.
He also sees the product evolving to be used for wildlife researchers and conservationists needing a fish-eye view of underwater ecosystems without frightening other sea life. The system he designed could also be made into a snake that could be useful in disaster relief scenarios, he said, when people are trapped under rubble or as a way to inspect structures unsuitable for humans because of size or dangerous conditions.