2020 State of the University Celebrates Continued Excellence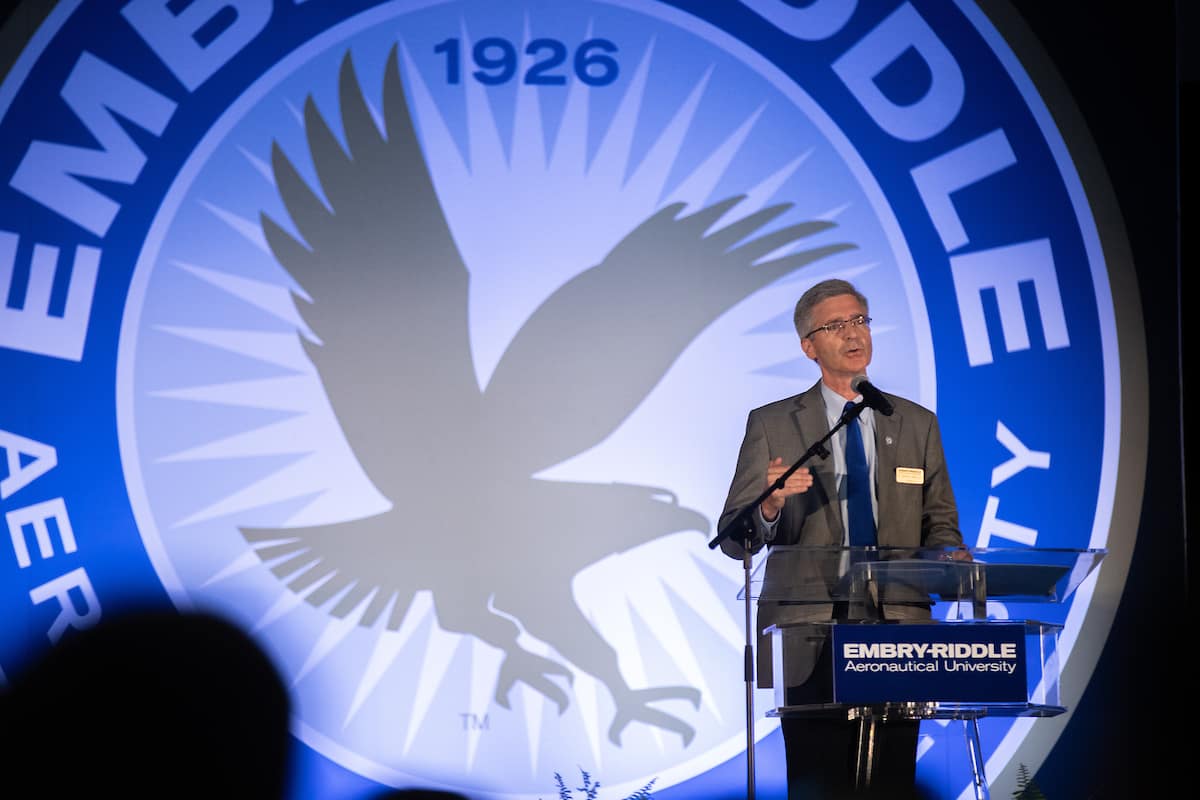 Embry-Riddle President P. Barry Butler emphasized the university's upward trajectory, momentum in achieving its strategic goals, and how students, staff and faculty are "continuing to excel during extraordinary times," in his 2020 State of the University address.
More than 1,000 Zoom viewers watched Dr. Butler deliver his annual address on Aug. 20 to a small, physically distanced audience on the Daytona Beach Campus.
Chairman of the Board of Trustees Mori Hosseini kicked off the State of the University address by expressing his admiration for the hard work behind the university's response to Covid-19. "We have re-invented how our colleges, some with highly specialized resources, serve students, in real time, across multiple locations," Mr. Hosseini said. "And we've gone beyond just preserving health. We have preserved our sense of community by creating or expanding online resources that promote well-being — physically, mentally, emotionally and spiritually. Dr. Butler has the full support and deep appreciation of the entire Board of Trustees."
Dr. Butler acknowledged the disruption caused by the Covid-19 pandemic and the challenges it created for staff, faculty and students. He expressed pride in the university's ability to pivot to online instruction and he praised the collaborative spirit demonstrated by many, including the IT staff, volunteers who staffed wellness stations and the team that extended online college credit courses to more than 100 high school students. He also credited the emergency operations team and Financial Services as tireless and creative problem-solvers.
Over the summer, Dr. Butler reported, 1,300 students enrolled in face-to-face courses in Arizona and Florida and 1,900 enrolled online. He cited the low incidence of infection as a sign of discipline and compliance that "set the stage for the coming fall."
While some campus activities were understandably suspended, improvements continued. The Worldwide Campus opened a new headquarters building in Daytona Beach, and Prescott added a baseball diamond. The fleet also expanded, with four new Diamonds, four Cessnas and three flight simulators. The university will soon introduce Workday, a mobile app that will help employees manage HR tasks.
Enrollment Remains Strong
Embry-Riddle has seen a steady rise in applications over the past three years, with a slight leveling-off of deposits in Daytona Beach and a continued increase at Prescott, Dr. Butler reported. "Those numbers for 2020 exceed our strategic plan goal," he said, making Embry-Riddle's total enrollment an exception to a national trend of dropping enrollments. The trend at Worldwide shows that Embry-Riddle is "effectively yielding more students with fewer opportunities," he explained. Despite increasing competition from online educators, "We are on an upward trajectory."
Creating Inclusion through Partnerships, Scholarships
Dr. Butler pointed to the first two cohorts of Boeing Scholars at Embry-Riddle as an example of supporting industry's goal to promote diversity. The first cohort of 50% women and 85% underrepresented minorities are entering their sophomore year. Their retention rate is 95% and their average GPA was 3.8, he said.
In addition to a university Chief Diversity and Inclusion Officer, who is now being recruited, diversity and inclusion coordinators will be appointed in each college. Embry-Riddle will further be launching a scholarship for underrepresented students in 2021 aimed at developing student leaders.
Moving forward, Embry-Riddle will collaborate with Bethune-Cookman, a historically black university, on a new virtual speaker series and a community-based Covid-19 data science project.
Dr. Butler also cited other outreach programs to promote a more diverse student body, including a massively open online aviation course, or MOOC, developed by Dr. Bettina Mrusek and Roth Britton in collaboration with Women in Aviation International and the Girl Scouts.
A DoD SkillBridge program, developed in partnership with Pratt & Whitney and AAR, is now welcoming its third cohort of students transitioning from the military to careers in aviation maintenance. The placement rate has been 100%.
Developing Market-Ready Graduates
Another aspect of Embry-Riddle's recruiting strategy focuses on skills the aviation and aerospace industry demands, such as business administration, including data science and analytics, cybersecurity and autonomous systems, Dr. Butler noted.
At last year's State of the University address, Dr. Butler stressed that industry values candidates with experience in virtual collaboration. This year, he pointed to a success story. A 35-student team working across three campuses tackled the Martian Environmental and Geological Life Examination, a design project for an Earth-to-Mars launch and associated explorations. In praising the project. Dr. Butler included a challenge, "Why not add Singapore into the mix?"
He praised the College of Aviation's speaker series, Aviation Outlook. These webinars have attracted industry leaders such as the head of the FAA and National Transportation Safety Board and reached 500-800 listeners through Zoom, he said.
Growing Global Influence
Travel restrictions may continue to create challenges in bringing international students to our residential campuses in Arizona and Florida, but Worldwide Campus programs represent an attractive option to engage them.
Dr. Butler pointed to the success of an aviation English program that has reached 1,300 air traffic controllers in Brazil, and an ongoing program with Brazil's civil aviation authority that focuses on regulation and safety management. In Singapore, the hub of aviation in the Pacific Rim, Embry-Riddle is expanding programs to include virtual workshops on restarting airports and airlines, he added.
Putting Ingenuity to Work
The past year has been one of record research and innovation outcomes, according to Dr. Butler, who reported $24 million in research expenditures and $30 million in research awards – record numbers for Embry-Riddle. The university can also claim 11 invention disclosures and five patent applications from the past year.
Dr. Butler singled out the Center for Aerospace Resilience (CAR) program as a promising opportunity to integrate the hardware and software that drives aviation and aerospace data science, cybersecurity and artificial intelligence. CAR aims to protect data flowing between various platforms, such as aircraft and autonomous vehicles. It is a partnership with the University of Florida, funded initially by a $1 million grant from the State of Florida.
Research delivers multiple benefits, he emphasized: "It provides students with opportunities to get funding and experiences. It ties in with our partnerships with industry and government, our reputation, and it provides us with more opportunities for faculty productivity."
Faculty authors will gain attention in new displays in the student unions on the Prescott and Daytona Beach campuses, he said.
Thanks in part to the Research Park in Daytona Beach, Embry-Riddle continues to make a substantial economic impact of more than $2.3 billion, Dr. Butler reported, citing a newly released independent study by the Washington Economics Group. Embry-Riddle Board of Trustees Chairman Mori Hosseini, who kicked off the 2020 State of the University Address, challenged the university to boost that number to $10 million in the coming years.
Philanthropy Moves Forward
While some philanthropic efforts were sidelined due to Covid-19, the university raised $180,000 for the Eagles Care Fund, which was generously supported by trustees, staff and faculty, Dr. Butler reported. Trustee Henderson made a key leadership gift to the fund. Trustee John Amore is donating a challenge gift to fund an ROTC memorial honoring fallen heroes, to be located on the Daytona Beach Campus.
A recent survey asked alumni what activity had the most impact on them as Embry-Riddle students. Dr. Butler said that students' answers included ROTC, The Avion, intramurals, Capstone projects and the Golden Eagles Flight Team. The survey provided valuable insight to guide Embry-Riddle's efforts as it restarts a major philanthropy campaign halted because of the virus, Dr. Butler said.
"I See Us Advancing"
Dr. Butler closed his remarks with a nod to the resilience of the industries Embry-Riddle serves and his faith in economic recovery. He reminded the audience that segments such as cargo, defense and space remain strong, with continuing research and employment opportunities.
Expressing confidence in the responsibility and resilience of Embry-Riddle, he said, "When we look back on this time in history, how you as individuals reacted will say a lot about you as a person, it will go with you throughout life and your career, how you behaved, how flexible you were in adapting to a new situation and the choices you made."
Posted In: Institutional News