May Alumni Spotlight: Curtis Petitt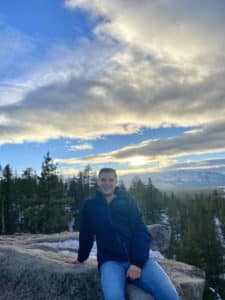 Curtis Petitt graduated from Embry-Riddle Aeronautical University in 2017 with a degree in Air Traffic Management. He currently works at the Ft. Worth Center as an Air Traffic Controller.
What has been your career path since graduation from Embry-Riddle and how did you obtain your position?
I graduated from Embry-Riddle in May of 2017 and began working at Leidos as a System Integration & Test Engineer shortly after. My project scope at Leidos was focused on Terminal Flight Data Manager (TFDM) which brings a surface management solution to the FAA's NextGen operation. Most of my time at Leidos was on the Electronic Flight Strip (EFS) testing team to help air traffic control towers have a more updated and efficient system in place to help with optimization and flow control instead of keeping paper strips on every flight. I was luckily enough to get that position right after college after a good friend I went to Riddle with recommended I send her my resume, and she passed it on for me. If it hadn't been for my fellow classmate and friend from Riddle, I don't know that I would've been hired on so quickly or at all. I stayed with Leidos for about a year before moving to the FAA where I got hired as an en-route air traffic controller. After completing the FAA academy in December of 2018, I was assigned to Ft. Worth Center (ZFW) and have been here since.
What advice do you have for graduating students to be successful in the job search/job market?
My best advice would be to apply to a variety of opportunities and openings to not only get as much interviewing experience as possible, but also to hear about what different positions and companies have to offer, even if it's not the dream job you want. I never thought I would have an engineering title or work for a company that I had never heard of, but my time at Leidos ended up being a great learning experience in systems engineering and created new personal relationships that I still have.
What has been the secret to your success?
There isn't a secret that will work for everyone, but I try to remind myself that everyone moves at their own pace and not to compare who becomes more successful after college. Some classmates will get a dream job right after graduation, some will fly for major airlines right away, and others may get another degree, but everyone does it at their own pace. I wasn't in my dream job right after graduation, and it wasn't always easy seeing social media updates from people that were. However, what I consider being successful is knowing that I'm on my own path and what may be considered successful to me may be different than how someone else sees it.
What are some challenges you encountered in your career and how did you overcome them?
One of the biggest challenges to becoming a controller was, and still is, getting hired. I applied a total of three times over three years and took the Air traffic Skills Assessment (ATSA) twice. The FAA only posts the job for no prior experience people to apply every 10-12 months or so making it vital to apply when it is open and ensuring the ATSA is taken seriously. Additionally, the FAA Academy, where all new, inexperienced controllers go for training, can cause an intense feeling of pressure and stress. A passing grade of 70% is required to be assigned a facility so learning how to manage that pressure and stress is imperative to passing. I found the easiest way to overcome the pressure was to study as much as possible and not have a lack of knowledge allow me to fall behind, and it worked.
How has your Embry-Riddle degree opened doors for you?
My education at ERAU helped me land my first job after college and my internship at Southwest Airlines during college gaining valuable work experience in the aviation industry. It also gave me the knowledge and baseline to be successful at the FAA academy because I wasn't learning the air traffic concepts for the first time while being there. Lastly, it has helped me make adult friendships with other graduates who I didn't know in college but have a common connection with outside of the workplace.