Alumni Spotlight: Nishigandha Kelkar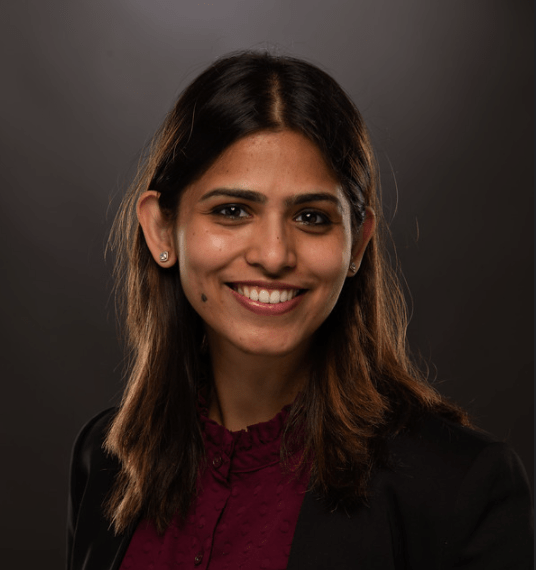 Discuss your career path since graduating from ERAU.
Upon graduating from ERAU, I started working as a Systems Engineer at Collins Aerospace. During my first few months at the company, I worked as a Project Engineer on the Unmanned Platform Systems team, through which I tracked our performance toward schedule commitments, coordinated between various sub-systems, managed the cost burndown and identified risks and opportunities with higher leadership for the avionics suite supporting an unmanned vehicle. My next experience was as the End to End Verification Focal of the Flight Operations and Maintenance Exchanger product on the A320neo aircraft. In this role, I managed all verification efforts for cellular connectivity that were conducted in the United States. I was also responsible for troubleshooting any issues with cellular connectivity that were experienced by the product aboard A320neos in flight. It provided me the opportunity to represent our team in leadership meetings and track our progress towards meeting the milestones. Currently, I am working on the Boeing 777X project as an Integrated-Product Lead and Engine Indication Application focal. Through this project, we are creating the first-ever touch screen cockpit displays in the history of Boeing commercial aircraft– and it has been a very exciting experience! I get to work directly with our customer, lead the integration of the product, and troubleshoot any engine indication issues from flight-test.
How did your campus involvement assist you post-graduation? What did you learn serving in leadership roles while on campus?
While at ERAU, I was heavily involved on campus, and that helped me hone my leadership skills. As the co-founder and treasurer of Engineers Without Borders USA, I learned the skill of acquiring finances and building a venture from scratch. It got me thinking of how we can raise money and be lean through devising innovative solutions. As the President of Tau Beta Pi and NSCS, I developed a network of talented colleagues, and gained an appreciation for giving back by tutoring and mentoring students. While on the executive board of SGA, I was able to understand the inner workings of an organization that strives to serve the needs of the students. The process of funneling ideas into action helped me understand the importance of making good leadership decisions and facilitating a platform for continuous improvement. These experiences helped me step into a leadership role right after graduation. I highly suggest getting involved on-campus and growing your network, while at ERAU.
How has pursuing your master's degree through ERAU Worldwide helped in your current role at Collins Aerospace?
It provided me a perspective of the bigger picture. It was refreshing to participate in case studies to analyze the strategy chosen by the company, read about the key tenets of a successful business while implementing it in a practical environment through business simulations. I learned a lot of the aviation and aerospace industry as my teammates were working as pilots, supply chain analysts, managers at leading firms. It helped me gain perspective of the monetary value behind the efforts we put in. I also learned a lot about the education and the healthcare industry as our projects included performing cross-functional analysis for business development, analytics and product development on projects within these industries.
What motivated you to do your best in school and work?
For me, it comes from a deeper purpose for wanting to be the best version of myself. I also see how these efforts lead to the larger good; we are creating the technology that will help fly the largest and most efficient twin-engine jet in the world and thereby connect millions of people like me who stay in a different country than their loved ones. That's a huge opportunity for which I'm thankful and it motivates me to do my best every day.
What advice do you have for students looking for an internship or full-time job?
While looking for internships, try participating in opportunities that put you out of your comfort zone; it really worked for me. I undertook different roles (Project Engineer, Verification Focal, Integration Lead) across various products we offer (for Airbus and Boeing), and that really helped me gain a holistic perspective of how a product is built. So now I'm able to look at the business case as well as zoom in and troubleshoot through the technical details of an issue. While interviewing, be authentic and think about how you can benefit the employer through your experiences. The diversity of my experience gained from living in three countries helped me gain a unique perspective on topics, through which I was able to add efficiencies to the process and couple a strong theoretical foundation with practical implementation. Find out what makes you unique and embrace it!