Finding Success through a Year of Turmoil: Sada Sey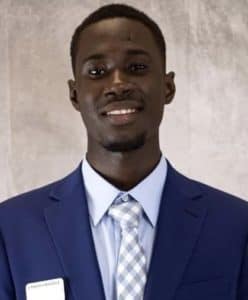 My Name is Sada Sey, a current student at Embry-Riddle Aeronautical University. I am pursuing a Bachelor of Science in Aviation Maintenance Science. I am an international student, from The Gambia. As an international student, it is always difficult to quickly come up with a valuable solution in case a natural scenario arose such as Florida hurricanes. No doubt, one of the most challenging moments in our lives is the pandemic experience. For me, the pandemic had a lot of effect in my life. It was devastated and stressed, as nothing was in my control.
As an individual who lives miles away from home, the only thing I can wish for is to be with my family during the break. However, this was never possible as the government in my home country restricted traveling into the country for a while due to the pandemic. Not being able to see my family and my home country was not a very pleasant moment for me, as I had to go through all the pandemic conditions alone, far away from home.
However, I strived extra hard to make sure that the pandemic never set me back from trying to achieve my accomplishments. Although the pandemic has a serious negative effect around the globe, I did achieve a couple of achievements during the period that I would love to share.
During the pandemic I worked on obtaining my Airframe Certification as I had already met the criteria required to go through the process. I stayed productive, and studied well for both my writing and oral exams. It was a very rough process, as the world was going through an unfamiliar situation where everyone has to adjust to cope with the pandemic. The scheduling process for my exams were not favorable with the whole COVID 19 Restrictions set in place. However, I ended up completing the exams and successfully obtained my Airframe certification.
Obtaining the certification boosted my ability to go ahead and pursue my other possible goals. A month after obtaining the Airframe certificate, I was offered a position within the Aviation Maintenance Science faculty as an Aircraft Electrical & Instruments Systems Laboratory Assistant. This was a wonderful opportunity for me as it provides me with a lot of experience, and helps improve my systems understanding skills. I was also able to secure an internship position with Duncan Aviation for Summer 2021 due to the great assistance I obtained from the Embry-Riddle Career Services office, and I am grateful.
The basic advice I would love to share with my colleagues is to stay very productive during the pandemic, and not the use the current situation as an excuse to prevent yourself from obtaining your set goals. Although, it can be very stressful to go through a lot of milestones to achieve your goals during this period, but the greater benefit is the success of the outcome. Students should ask for help from the Career Services office for their career goals as much as they can. The amazing people working at the Career Services office have helped many students including me to obtain their career goals, especially during the pandemic.