Finding Success through a Year of Turmoil Owen Theeck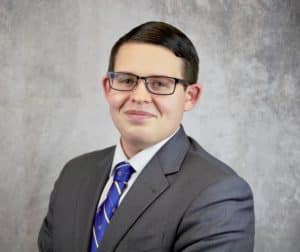 Howdy –
I'm Owen Theeck, a recent graduate of Embry-Riddle's David B. O'Maley College of Business on the Daytona Beach Campus with a B.S. in Aviation Business Administration and a concentration in Air Transportation.
In the last year, many students & alumni, including myself, have faced a multitude of challenges due to COVID-19. Particularly in aviation, which, as we know, was one of the most heavily impacted industries across the globe. In addition to job losses, Internships were canceled, including mine, and graduates in 2020 were met with the challenging task of somehow finding a job. We feared we would never recover.
Thankfully, today that reality is nearly a distant past as we continue to recover from the impact of COVID-19. Travelers are returning to the skies, offices are opening back up, and classes are on the verge of fully being in the actual classroom again.
Personally, this adversity forced me to change everything, as it did to many of us. But in terms of how I overcame this adversity, and how you can, is to have a healthy perception of how to emerge from it. Understand that living in this environment is only temporary, and once we transition into a post-COVID climate, your dreams, goals, and accomplishments are at your fingertips. Now is the time our outside-the-box thinking should become our strategy – dare to do things you've never done before, the past is the past, and only we can change our future.
Despite the significant obstacles throughout the last year, I found ways to achieve the goals I had set for myself and had been working towards since starting at Embry-Riddle in the Fall of 2017. Those goals included starting my career through internships and landing a full-time job, having a role in the O'Maley College of Business, and developing myself as a person, professional, and my knowledge of the aviation industry. While obstacles were still present, I continued to persevere. I've outlined some of the steps I took to succeed below.
Staying involved
As a student in the O'Maley College of Business, staying involved was crucial for me in terms of both academic and career-related goals and success. Academically, staying focused in a new modality was important, and maintaining contact with my Professors was crucial to success in the classroom. Many of my professors also found new ways to keep students engaged in the classroom as well, such as guest speakers in Dr. Abdelghany's Virtual Airline Management Course (which you don't want to miss – it's networking & knowledge in one Zoom!) and Dr. Hinebaugh's evening Zoom sessions that included guest speakers, games, and discussions on the impact of the pandemic on us, and the industry. Lastly, I participated in Dean Gibson's Retention Task Force to assist her from the student perspective on navigating the pandemic and other college events.
You may not think staying involved and that these types of participation will help you achieve your career-related goals, but I promise it does. All of our academic programs are designed around the industry, and becoming more involved only further immerses you in the industry and develops us as candidates. Having the right mindset in academics is a prerequisite for success in terms of your career.
Career Goals & Development
In terms of my career, even though my Internship for the Summer of 2020 was canceled, I continued to network and look for potential opportunities. Leveraging my network became a crucial aspect of this goal. I would routinely seek out chats with individuals from past employers, alumni, and the COB's Industry Advisory Board members. The result was that each meeting leads to valuable advice and new opportunities to connect with different people, which aided both my career & development goals. Most importantly, as I continued my internship and full-time job search, Career Services was a crucial aspect of this process, and in the last year, meeting with my Career Services Advisor become a frequent occurrence, and I could not have done it without her (nearly 15 times in fact, thank you, Sandi!). In addition, the pandemic created an endless amount of time to do more productive tasks to aid these goals, including networking, revising your resume, updating your Handshake & LinkedIn profiles, applying to jobs, practicing interviewing, learning new skills, attending virtual industry events & expos, and more! All of these things will also help you today, and carving out time in your schedule to gradually accomplish some of these tasks I'm confident will lead to accomplishments similar to mine, which included landing an internship after the start of the pandemic for the summer, and receiving several full-time job offers prior to my December 2020 graduation.
As a reminder, Embry-Riddle gives you the resources to succeed, so ensure you take advantage of them. Your dreams are out there waiting for you, and only you can achieve them.
Aviators never give up, and as an Eagle, neither should you.