Employer & Alumni Spotlight: Ingenion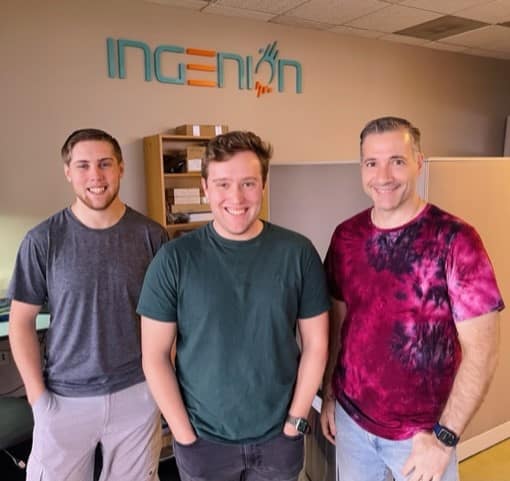 Employer & Alumni Spotlight: Ingenion
Ingenion, LLC is an engineering company located in Daytona Beach, Florida. Ingenion works closely with NASA to design and verify digital systems for a variety of scientific missions. We also build and sell programmable test equipment that can be customized for each mission.
Omar Haddad, Senior Digital Electronics Engineer:
Omar Haddad has spent decades in the space industry, designing PCBs, FPGAs, and test benches. He loves to design digital systems that use innovative technologies to accomplish meaningful, valuable, and impressive feats. He has leveraged his BSEE and MSEE degrees from University of Maryland College Park to advance in his career and start a business, Ingenion, which is dedicated to growing the digital engineering industry in the Daytona Beach, FL area.
Omar has had the pleasure to participate in many NASA missions including JWST, PACE, IceSat2, GPM, MMS, LRO, ExoMars, and many others.
What qualities make a great candidate at Ingenion?
Interested in space, loves to solve problems, quick learner, creative, persistent, and self-motivated. We are very impressed with students that can clearly communicate their involvement in technical projects that they have learned from. Demonstrating retention of relevant knowledge is also more valuable that a high GPA, so don't cram for exams!
What skills does the internship/co-op build?
Programming, soldering and assembly, following procedures, digital design techniques, debugging, documentation.
Why did you choose to recruit at ERAU? Why do you continue to recruit at ERAU?
ERAU-Daytona is close to Ingenion and produces quality engineers. This is an integral part of Ingenion's business model which aims to mentor junior engineers into valuable NASA designers while creating a local industry in electrical engineering. Interns from ERAU are able to work during the school year at Ingenion so that, by the time they graduate, we have a great working relationship with them already.
Why should students consider working for your company?
Ingenion offers two areas of exciting work: NASA consulting and product development. Each area provides a completely different experience. NASA consulting involves working as part of a large team with a broad range of skills/disciplines on a huge design which takes years to complete. Product development involves more of a business-based mindset, researching the market, developing a product offering that is appealing, profitable, and manufacturable.
What advice do you have for graduating students entering the workforce?
Don't expect to use all the information you learned. You will learn many new non-academic skills on the job, so be prepared to be challenged.
Albert DiCroce, Digital Engineer (ERAU Alumni):
My name is Albert DiCroce, and I am an Electrical Engineer with Ingenion, LLC. With 3 years of work experience, I have contributed engineering support to several NASA missions such as PACE, RST, and MSR, as well as product development for the TVS. I graduated from Embry-Riddle Aeronautical University in 2019 with a bachelor's degree in electrical engineering. I am currently pursuing a master's degree in electrical engineering from University of Florida in their EDGE program while working full-time.
What were your internship responsibilities at Ingenion? What projects did you work on?
My internship was primarily focused on project work that evaluated my performance and allowed me to learn engineering skills important for joining the workforce. My focus was developing a hardware and software testbed used to verify our product before shipment to customers. I also aided in the manufacturing of our product line.
Do you think it was important to complete an internship/co-op?
I think an internship or co-op is vital to starting a career right after graduation. School teaches the background information needed for engineering but project work in the field allows students to get ahead when they graduate.
What has been your greatest professional accomplishment?
My greatest professional accomplishment to date has been my effort as lead verification engineer on the Roman Space Telescope Command and Data Handling subsystem. This effort allowed me to learn and exercise many skills as an electrical engineer while working with a large team.
What have been some of your favorite projects to work on throughout your career?
I have been fortunate enough to work on several NASA projects in my career. My first project was PACE, which was very challenging to climb the learning curve of spaceflight electronic design after graduation. I was fortunate enough to travel to Goddard Space Flight Center to assist in the integration and test of the satellite subsystems. The Mars Sample Return project I am working on now has also been a new set of challenges and has really helped me grow as an engineer. I am excited to continue work on this project.
What advice do you have for graduating students to be successful in the job search?
I think it is really important to be open minded with what particular field of engineering to pursue. Embry-Riddle provides a great foundation of engineering knowledge but being in the workforce is a much different challenge that becomes fun when you find an area you are passionate about.
TJ Scherer, Digital Engineer (ERAU Alumni):
My name is TJ Scherer and I'm a Digital Engineer at Ingenion. I started interning for Ingenion in the summer of 2020. I worked as an intern through the following semesters and summer until I graduated from ERAU in May of 2022 with a Bachelor of Science in Computer Engineering. In the few months since graduating, I have become involved in NASA missions such as MSR (Mars Sample Return) and LISA (Laser Interferometer Space Antenna), as well as projects in the early stages like HDL (Hazard Detection Lidar). My role in each case is to provide GSE (ground support equipment) in the form of the TVS (Total Verification System), our company's main product, used for verification.
Did you intern with Ingenion before you worked there?
I was hired as an intern at the end of my sophomore year and started as an intern that summer. I remained an intern until I graduated and was brought on full time.
What was the most beneficial part of the internship/co-op?
The most beneficial part of the internship was the combination of mentoring from Omar and the hands-on experience of the tasks I was given. The tasks allowed me to apply the knowledge I was getting from the mentoring and from my classes as a computer engineer. This did wonders for reinforcing important concepts of digital engineering, accelerating my abilities over a short period.
What does your current role at Ingenion entail?
Currently, I am on multiple NASA projects where I am developing Total Verification System (TVS) designs to test flight hardware for satellites. These TVS designs include some rework to our existing product, as well as the FPGA logic that goes inside to exercise the device-under-test (DUT) interfaces.
What advice do you have for graduating students to be successful in the job search?
Experience is key. Whether it is a club project, a class project, or a personal project. That is by far the most important thing. Potential employers want to see that you are interested and involved in engineering and are dedicated enough to see a project though to the end, climbing the learning curves along the way. A good engineer doesn't need to know everything, a good engineer is capable and motivated to learn.
What type of students would you encourage to apply for opportunities at Ingenion?
Self-motivated students will have the most success at Ingenion. There is a wealth of information available, but it will not immediately present itself. Tasks and resources to complete those tasks will be provided, and it will be up to the student to utilize those resources to the fullest.