Co-op/Intern Spotlight: Matthew O'brien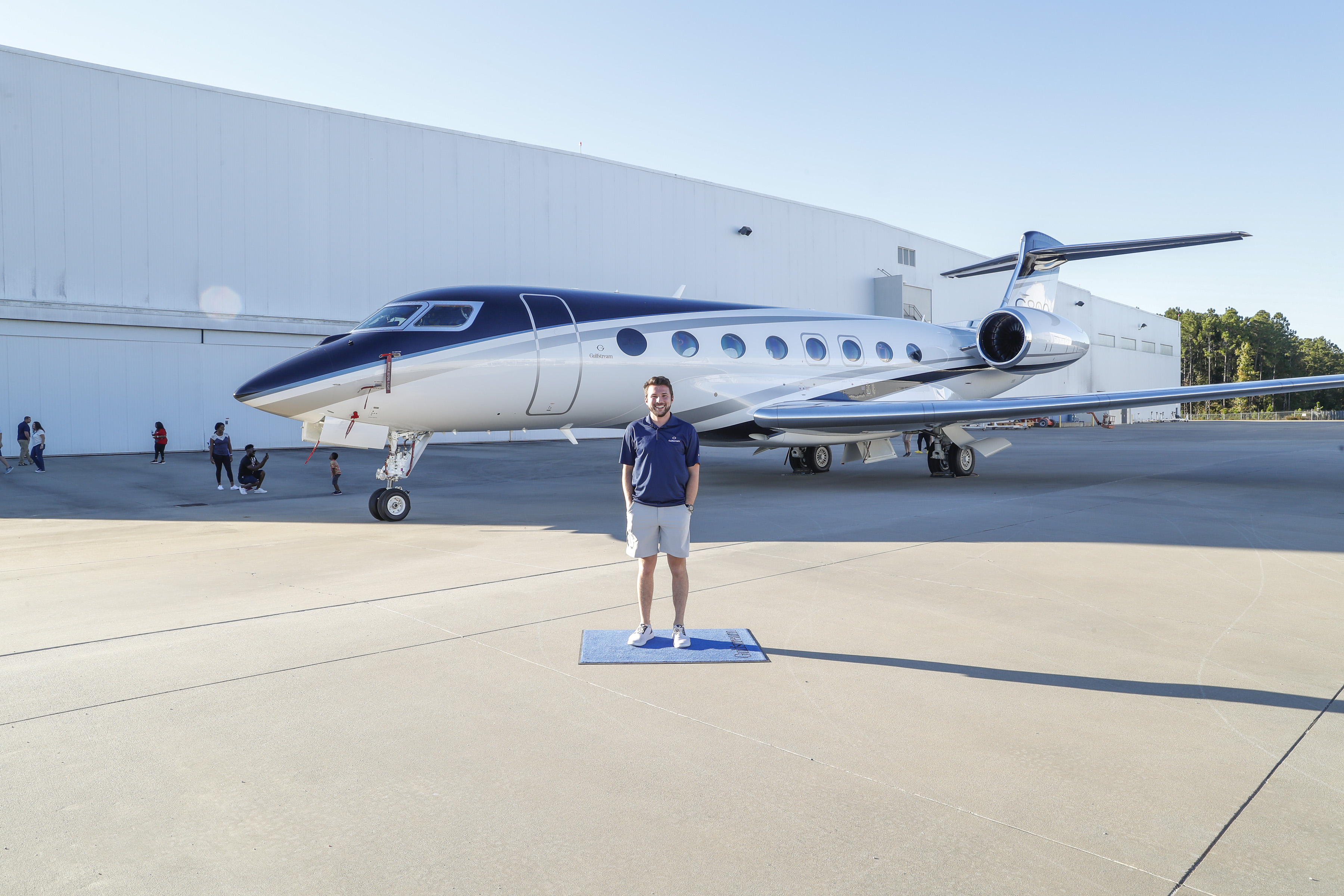 My name is Matt O'Brien, I am a Junior at the Daytona Beach campus of Embry-Riddle Aeronautical University majoring in Aerospace Engineering with a concentration in Aeronautics. I started at ERAU in Fall 2018. I have been fortunate to have had a previous co-op and internship before my current role. In the Spring of 2020, I completed a 17-week Propulsion Engineering co-op at Delta Air Lines in Atlanta, Georgia. This past summer (2021), I completed a 16-week Aerodynamics Engineering internship at Stewart-Haas Racing in Kannapolis, North Carolina. I am currently on my first of four rotations at Gulfstream Aerospace Corporation in Savannah, Georgia. After completing my co-op rotations at Gulfstream, I will graduate in Fall 2023 with a total of 2 years of engineering industry experience, 1.5 of which are aviation specific.
I received my co-op offer from Gulfstream after participating in in the Spring 2021 Virtual Industry/Career expo. I had done an interview with Gulfstream Aerospace during my freshman year for a position in a different division and while I did not receive an offer at that time, the experience interviewing with the company better prepared me for the interview this year.
The offer I received is in the Innovation, Engineering and Flight division. For this rotation I am working in the Airframe Structures group as a Structural Designer. I have been working on various projects involving current fleet aircraft such as the flagship G650 and G700 as well as G500 and G600. My largest project of the semester has involved collecting impacted parts from the full-scale structural fatigue test article for the G650 program. The associated point cloud and parts list will allow the stress group to visually see and reference the location and associated part for each finding from the test article. I have also completed a few smaller projects related to things such as engine pylons and skin panels.
When I started at Embry-Riddle, I was slightly nervous about committing to a multirotational co-op program for the fear of late graduation. Many of my family members originally questioned my desire to delay the completion of my degree to work however, after teaching them the benefits such an experience, I was able to get them on board. While yes it does push the date of graduation out, participating in a co-op does not increase the cost of college and can help decrease it. Participating in a co-op allows you to have more time than a standard Summer internship to experience a company and the surrounding area. While you are working you have the chance to meet other students from different universities expanding both your professional and social networks. You also gain valuable technical skills and knowledge much of which is not picked up in clubs or in the classroom. The experiences allow you to feel out what a specific job position will be like before jumping into a job directly after graduation. Participating in the co-op program at Delta Air Lines helped me to determine that I wanted my concentration to be in Aeronautics instead of Astronautics while also providing the opportunity to travel the world and the country. Another fantastic benefit of participating in a co-op program is that you get paid allowing you to save money or have funding to go have new experiences. You also will learn better time management as you are working 40 hours a week and want to go do and see things. Participating in co-ops and internships has also helped me to improve my communication and social skills in professional settings as well as day to day live. I also found that learning the technical side and seeing things in person allowed me to have a stronger understanding of my course material when I returned to classes. All these benefits have helped me to be more successful in new work experiences as well as in on-campus roles and positions.
As mentioned, I have learned many valuable technical and soft skills through my participation in co-ops and internships at Embry-Riddle as well as had the opportunity to live in and experience new places such as Georgia and North Carolina. As I have completed each of my professional experiences, I am able to provide my next employer and colleagues with a strong skill set and knowledge base to be successful in a new position. For example, after my rotation at Delta Air Lines I had learned data analytics skills which I was able to utilize this Summer when evaluating wind tunnel data for our team's race cars. This Summer I learned instrumentation methodologies and new Microsoft Excel and 3D modeling skills which I have been able to utilize and share with my higher ups at Gulfstream which have helped lead to time and cost savings for the company. At ERAU, my involvement in the Student Government Association and the Low-Speed Wind Tunnel Laboratory have provided me with soft and technical skills to be even more successful. At the wind tunnel lab in my role working with Dr. Leishman and Dr. Zhang, I have gained technical skills related to wind tunnel testing and aerodynamics which have helped me to have a better understanding of aircraft structures and flight conditions which I was able to apply this summer at Stewart-Haas and now at Gulfstream. My participation in SGA has provided me with many soft skills such as communication and leadership which I use every day. After being both an at large and board member of Touch-N-Go Productions, I learned leadership skills and to be extremely detail oriented in things for the prospective audience/or viewers to enjoy. These skills have transferred over to the working world by helping me to complete each assignment with significant detail and precision. Leadership skills gained through working as the Manager of Student Union Media have helped me to be better at ensuring projects are completed in a timely manner as well as interpersonal skills useful in meetings.
For any student wondering if they should participate in a multi-semester co-op, I say DO IT! The experience will be more valuable than you can see just by reading a job description on the requisition. I have had a better experience when back at school from my knowledge gained during my co-ops that I could not have picked up in the classroom. I have also former relationships with coworkers and fellow co-ops which will become extremely valuable as I enter the job market. I have also made some amazing friends at each of my co-ops which allowed me to see around the country and experience things that I would not have had the chance to do during my college career if I were always on-campus.
Anyone with questions about any of the companies I have worked for or who is looking for advice related to co-ops or internships can feel free to reach out on LinkedIn or via email!