Co-op/Intern Spotlight: James Palmer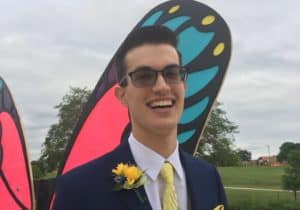 James Palmer is a sophomore majoring in Aerospace Engineering, specifically, the propulsion track, at Embry-Riddle Aeronautical University – Daytona Beach. James participated in a Fall 2020 co-op rotation with Rolls-Royce.
Who was your co-op with, what was your title, and what did you do in this role?
I was considered a design engineer and I was a part of two teams: the AE Defense Design team and the Capability Design team. The AE Design team works on engines such as the ones for the V-22 Osprey, C-130J Hercules, and the Global Hawk. The Capability Design team is a group of engineers who solve the problems that slow down the engineering process of other teams such as difficulty finding information and a plethora of other problems.
What skills have you learned in the classroom that you were able to apply in your position?
The most important skill would be the critical thinking aspect. The classrooms have the problems where they don't tell you how to solve it and so you have to think for yourself. For Rolls-Royce, there were very different types of problems that were all real-world and there really wasn't a specific right answer that you had to achieve. Your task was only complete when the project addressed everything that it was supposed to. The critical thinking part that I could take from the classroom was definitely helpful because if I had to look up something with regards to a dimension then I had to determine which drawing it was on and make sure the other tolerances matched up with that dimension and think about the big picture of a part's place in the engine.
Another skill was also time management since I was on two different teams. The teams were related, but had very different deadline goals so I had to make sure that I was working on every project I had at the same time to make sure that it would be ready for the next meeting.
What was the most surprising aspect of this first rotation of your co-op?
The most surprising thing was the impact that my work had on the real world. As an intern, I didn't know what to expect going into the position, but I was able to implement a small design change within the company to the engine of the V-22 Osprey which was pretty fun for me.
Another aspect was how my team treated me during my rotation. I expected to be treated like "the intern," but they were asking for my input and valued my opinion which I really appreciated. I was able to feel like a real engineer working with a group of other engineers.
What Eagle Elevate competencies did you use or learn in your experience?
Out of the eight competencies, the only one that I didn't use was "leadership" just because my role was more team based instead of managerial. A co-op, by nature, is "career preparation" because it is a long term interview for a full-time position at the company. I definitely used "collaboration" as I was a part of two different teams with six people each, so I had to make sure to communicate effectively. I was working remotely for this rotation, so I was heavily utilizing "digital fluency" with a quarter of my time involving emails and then another quarter participating in teams meetings or phone calls. "Global fluency" was very important for Rolls-Royce since they are an international company. I would sometimes be on the phone with someone from the UK and their English is different than ours so I would have to make sure that I understood what they meant. "Professionalism" was a requirement for Rolls-Royce and when I had a chance to go up to the Indianapolis plant it was mandatory business casual even on the plant floor. Overall, my co-op was a well-rounded experience for these Eagle Elevate competencies and, when I look back at them, I am surprised at how much I touched on them.
What encouragement do you have for any student thinking about doing an internship or co-op?
Overall, it is a great experience and I would definitely encourage anyone who is thinking about doing one to go for it. It is pushing back my graduation a year, but the year that I am at Rolls-Royce is worth it because of the experience that I am going to gain and take back to my classes. The next thing is to not be afraid to put yourself out there. These companies are looking for initiative and it doesn't necessarily matter that you might not have taken the higher level classes as long as you have that drive to learn and grow under the company's guidance.