Co-op/Intern Spotlight: Michaelle (Michy) Ramos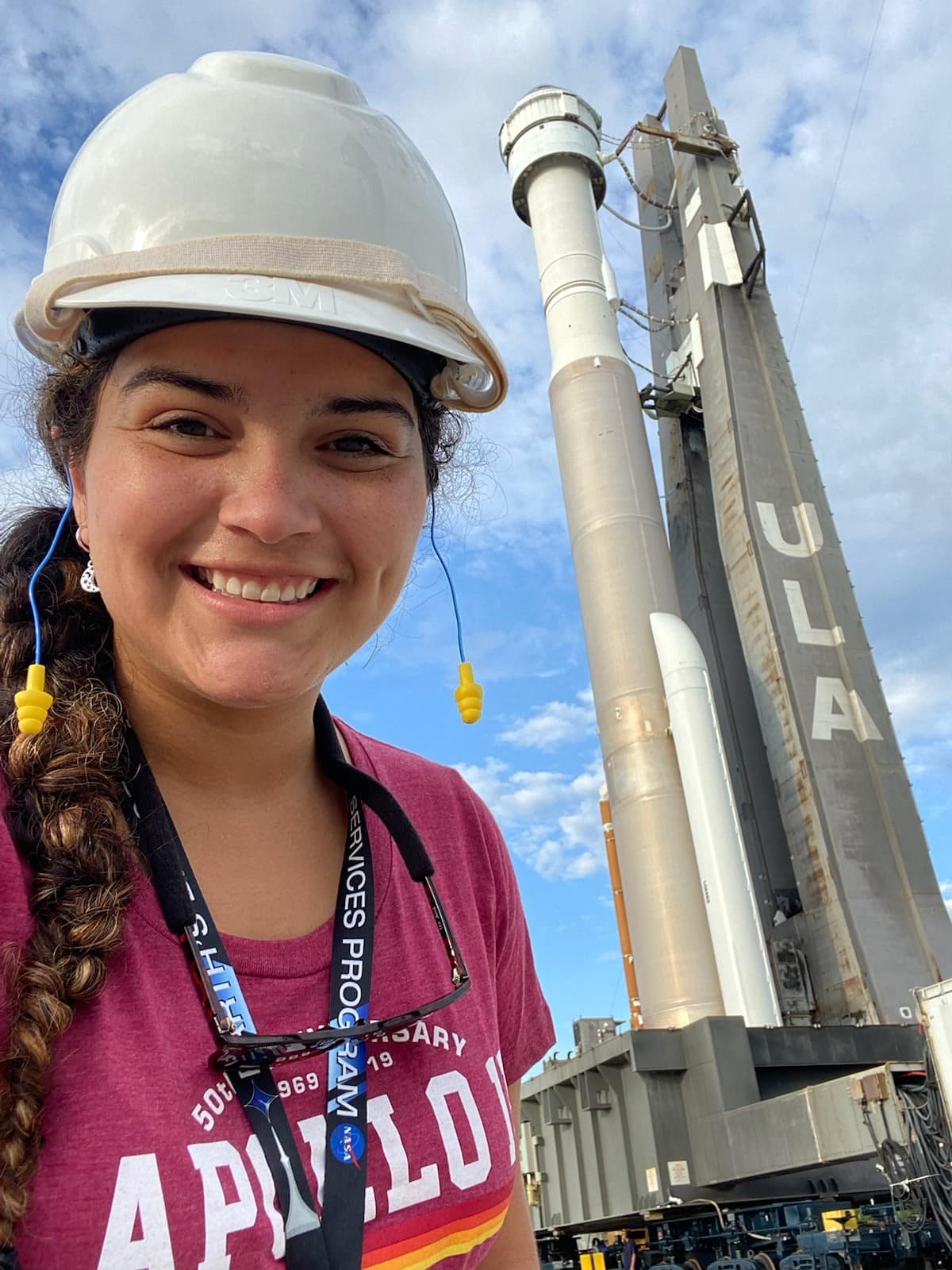 Michaelle (Michy) Ramos is majoring in Aerospace Engineering at Embry-Riddle Aeronautical University - Daytona Beach Campus. She recently interned at NASA and discusses her experience below.
Discuss how you obtained your recent internship at NASA and what were your responsibilities.
I obtained this internship by not giving up! I applied to several other NASA internships since my first year of undergrad. There were many rejection emails before this opportunity finally came up!
Ever since I was a little girl, I've wanted to work in the space industry.
I always dreamed of going to Space Camp, but we didn't have the money. At a young age, my mom taught me to look for opportunities that were cost-effective (free!). So I learned to look for alternative programs that would still fulfill my need for learning. For example in middle school, I applied and was accepted into the very competitive CDC Junior Disease Detective camp. In high school, things got really interesting. I applied and was selected to the Girls Who Code Summer Immersion Program. Then, in my senior year of high school, I was one of four US students selected to travel to Antarctica as part of JASE (Joint Antarctic School Expedition) in a partnership between Dartmouth College, the National Science Foundation (NSF) and INACH (Chilean Antarctic Institute). Another summer internship program for high schoolers I participated in was with Atlanta-based aerospace company SpaceWorks. The CDC, JASE, GWC, and SpaceWorks are just four examples of the successes but to get those I had to apply to many, many programs and receive countless rejections. Those experiences paved the way for me...That's where I started and I never gave up!
My undergrad summer internships before NASA were: Accenture (Digital Summer Analyst) and two summers at Generation Orbit (propulsion engineering intern).
This summer and next summer I am with NASA at KSC and then I plan to graduate Dec. 2022.
Regarding this particular internship: It is a NASA Pathways internship. This internship is for two rotations so I will be back at KSC next summer. You can read more about Pathways here: https://www.nasa.gov/careers/pathways-program
This is a direct quote from their website: "The Pathway Program provides current students and recent graduates with paid work experience and a dynamic development opportunity at the beginning of their careers. Pathways internships are listed on www.usajobs.gov. This program offers the chance for permanent NASA employment"
I applied through USAjobs for an engineering pathways internship and selected several locations for potential work. I was ultimately selected and interviewed for positions at the Johnson Space Center in Houston and at the Kennedy Space Center in Florida.
Responsibilities:
I am a NASA Pathways Intern in the Office of Safety & Mission Assurance as a Safety & Quality Engineer supporting the Launch Services Program. Together, we assign NASA satellites/payloads to a launch vehicle and shepherd the payload and the rocket (primarily Falcon 9, Atlas V) through the development, production, integration, and launch process, including launch countdown. Some of our recent successes include Solar Orbiter, MARS 2020/Perseverance, and Sentinel 6-MF.
My duties included support for several meetings such as Launch Vehicle Readiness Reviews, Mission Safety Reviews, and Safety Watch Item Reviews. I also assisted in Safety Operations for ULA/Boeing's OFT-2 and train on-console for SpaceX's Transporter-2 missions.
How was this internship different from your previous experiences?
It's NASA! It is truly a dream come true and the culmination of all of my hard work and preparation. Every internship I've had was a stepping stone to this one!
I work with an amazing team of professionals who are not only among the best in their particular fields but also extremely supportive of my career ambitions. I am surrounded by co-workers who are generous about sharing their knowledge and experiences with me.
Due to Covid restrictions, a lot of my work was done remotely but I was lucky to be able to also work on-site in support of and as part of my training in different missions.
Working on-site was so much more than I ever imagined! To be at a console during countdown or on the launchpad during rollout, next to a spacecraft as it prepares for launch, or walking into the VAB are experiences I will never forget.
Being nominated to and then being named the 2021 NASA Pathways Intern of the Year was something I never expected. There are so many talented interns at all of the NASA facilities all over the country that it is a true honor just to be part of this select group. I am thankful and humbled.
How has your coursework at ERAU along with your skills help you be successful so far in your career?
I am an Aerospace Engineering major with minors in Applied Mathematics and Computer and Electrical Engineering.
As an AE major at ERAU, the professors prepare you for the real world. The engineering program is not theoretical, it's practical. I was taught from my first engineering class (EGR101) how to go through the engineering process, work with a team, and roll up my sleeves and get to work. And it has continued to progress from there. This school teaches what is used in industry, not settling for what is "easy". There are no shortcuts. Its hard to say which course helped me the most but I can honestly say that learning how to think critically, ask questions, pay attention to detail, are things taught over and over in every class. And that is essential. The AE program at ERAU is highly respected in the industry, and that is why I chose this school. (That and the opportunity to play collegiate softball while pursuing an AE major. I was a student-athlete for my first three years here.)
I met and worked with many people who are ERAU graduates - not just at NASA but at many of the partner companies.My NASA mentor is a female AE ERAU alumni.
I know that my excitement and passion for space travel are not enough! There is still so much I have to learn! I definitely came back to school this semester more determined than ever. I'm so excited about my classes.
Besides space, softball is my other passion and I've been playing since I was 7 years old. Some intangible skills I learned from playing sports that translate well into the workplace are the ability to communicate effectively, how to work as a team and be a good teammate, maintaining a professional work environment even when things are not going your way, integrity, accountability, and balance.
RESEARCH
I think Research definitely helped me get the internship!
DO RESEARCH it's hard to get that first internship without experience and that's where research comes in.
The opportunity to conduct research as an undergraduate student is huge! I believe it is a great way to learn many of those skills I mentioned before. (communication, interpersonal skills, leadership, and work experience)
I encourage my fellow students to seek out opportunities here on campus to either start a research project or join a team.
Here at ERAU, I volunteer as the manager of Wave Lab where my team and I conducted original research last semester. I am also a Peer Mentor in Aerospace Engineering at the Office of Undergraduate Research.
There are opportunities for students of all different majors to participate, not only engineers.
Why should students participate in internships while in school?
Experience! You get to try out a job or a career before being fully committed. After working this past summer at NASA, I know there is nothing in the entire world I'd rather be doing. I love my job! Also, being able to apply what we learn in the classroom to real-world problems puts everything into perspective. An internship makes you appreciate why you study so hard all year and pushes you to do even better and learn even more than before. Internships are great ways to gain real experience and earn money. If you are going to have a summer job anyway, why not look for something in your field of study?
Even just going through the process of looking for internships I learn to find different opportunities that match my interests, I learn about different companies and it helps me learn more about the industry. I learn how to apply for jobs (which sometimes can be a ton of paperwork!), how to build an effective resume, how to communicate in-person and in-writing, and how to interview. I believe those are very important skills to practice while we are still in school so we can be ready for the workforce.