Co-op/Intern Spotlight: Brady Slaughter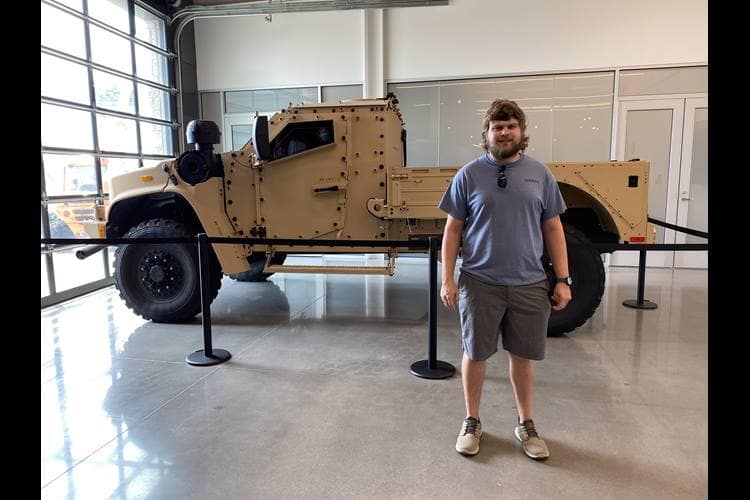 Brady Slaughter is a senior majoring in Mechanical Engineering at Embry-Riddle Aeronautical University - Daytona Beach campus. He recently interned at Oshkosh Defense.
Discuss your previous internships and what lead to your dream position at Oshkosh Defense.
I started late in searching and networking for an internship beginning around September of 2020 by first asking my father if he had anything available at his place of work—General Dynamics Mission Systems. Prior years, I did apply to places, but I never received anything back. I eventually reached out to my old internship place of work to see if they could take me in for several weeks, which they did, and I started working for Boyd Corporation in January 2021. I am a huge car nerd, so I love getting my hands dirty and understanding the engineering behind the moving parts. However, Boyd Corporation mostly consisted of manufacturing engineering which was not my forte. Regardless, I ended up doing more mechanical engineering and less manufacturing engineering in addition to learning that manufacturing engineering was not for me. I developed a modular shelving system for their circular dies at half the cost of other monetary quotes from other engineering companies, and they eventually ordered several prototypes to implement into their workflow. I had fun and learned a lot about the corporate engineering world and the expected level of professionalism in the engineering field both in the office and on the shop floor.
Prior to obtaining the Boyd Corporation internship, I had never heard of Oshkosh Corporation and the sheer size of the company—they own major companies such as Pierce Firetrucks, Pratt Miller Engineering, JLG Lifts, and many more automotive engineering companies. My father reached out to one of his coworkers who contracted with Oshkosh Defense for a project with GDMS years ago. His colleague asked Oshkosh Defense if they had internship positions available for entry level mechanical engineers. Turns out that they had a few open throughout Oshkosh Defense, so I was interviewed by a couple senior level engineers for them to figure out where to place me. I ended up working under the Cab & Armor team for the summer of 2021 in Oshkosh, Wisconsin right next to the Oshkosh airport. I worked alongside technicians on the shop floor putting together JLTVs for various government projects, and developed a prototype armor system for the same truck that will eventually be pushed out to all of their other trucks.
Little did I know that Oshkosh Corporation would end up becoming my dream company to work under as a mechanical engineer. My manager, a professional engineer, is still working for Oshkosh Defense and has been for over 40 years. Many of my colleagues who I worked with were also long-time employees with a minimum of 20 years combined under their belts. Their treatment of their interns in providing group events, paid-for housing, and their desire to eventually hire their interns shows how much they put their employees first at all levels of experience. The innovation of Oshkosh Corporation's engineering has no bounds such as the development of the first 4-wheel-drive vehicles in 1917 and the groundbreaking suspension used in the JLTVs on battlefields across the world. This major innovation in engineering and employee treatment drove me to put Oshkosh at the top of my list for dream companies to work under.
What skills came in handy and what skills did you develop in your various roles?
My time working in Oshkosh Defense as an intern did not come without its normal hiccups of being a beginner in corporate level engineering—specifically in armor systems. It took weeks for me to grasp the engineering behind armor systems across the multiple trucks and their roles on and off the battlefield. I ended up realizing that I was lacking in a couple areas of engineering that armor systems required from me—tolerance stacking and the many point-of-views (manufacturing, supplier, etc.) when it comes to creating these armor systems. Asking questions is a must as an intern to fully understand the scope of a project and learn things that you may have not thought about prior to beginning a project. Just keep in mind that your manager still has their own work to do, so make sure you are independent enough to answer your own questions or seek help from your team and their other project teams' colleagues too.
How did your various internships vary and what experiences at ERAU helped prepare you for all your work experience?
The high-performance vehicles track at Riddle really set me apart from other engineers that were trying to get the same position either for my internship or for my recently acquired engineering position at Oshkosh Corporation. In addition, senior design with EcoCAR portrayed my high-level project experience and the little bit of project management in leading a project in a small team or being solely responsible for a specific project due to lack of available assistance from COVID policies. With my roommates and I being major car guys, we decided to get into the world of drifting by purchasing a 5-series BMW with a welded differential, 5-speed manual gearbox, ripped out interior, and an injured engine. This outside-of-school level hands-on experience and other various engineering style hobbies such as 3D printing showed that I had the hands-on experience and understanding of vehicle dynamics and handling and can incorporate various engineering practices into working solutions. This all, especially having worked for Oshkosh Defense previously, proved to be beneficial to me through my recent acquiring of a career-level engineering job with Oshkosh Corporation in their Mobility Systems division. This group provides engineering support for all their subsidiary companies in various vehicle dynamics projects involving brakes, chassis, steering, and suspension development—a perfect fit for my experience and interests in the automotive world.
What would you say to students who are uncertain to complete an internship/co-op?
Do not be afraid to reach out to friends, family, or acquaintances who may have connections to various companies that you may or may not have heard of prior to connecting. Utilize Handshake, LinkedIn, the career fairs, and company specific fairs to their full potential in obtaining an internship or a career. It worked out perfectly for me to complete 2 internships back-to-back before my final semester in school so that I could have a chance with eventually working for Oshkosh Corporation. Join clubs, create hobbies, or create a new club based on your favorite hobby that portrays your skills as an engineer—mine being joining EcoCAR with senior design, other various engineering minded hobbies, and joining the drifting community in our own drift car.