Co-op/Intern Spotlight: Leah Smith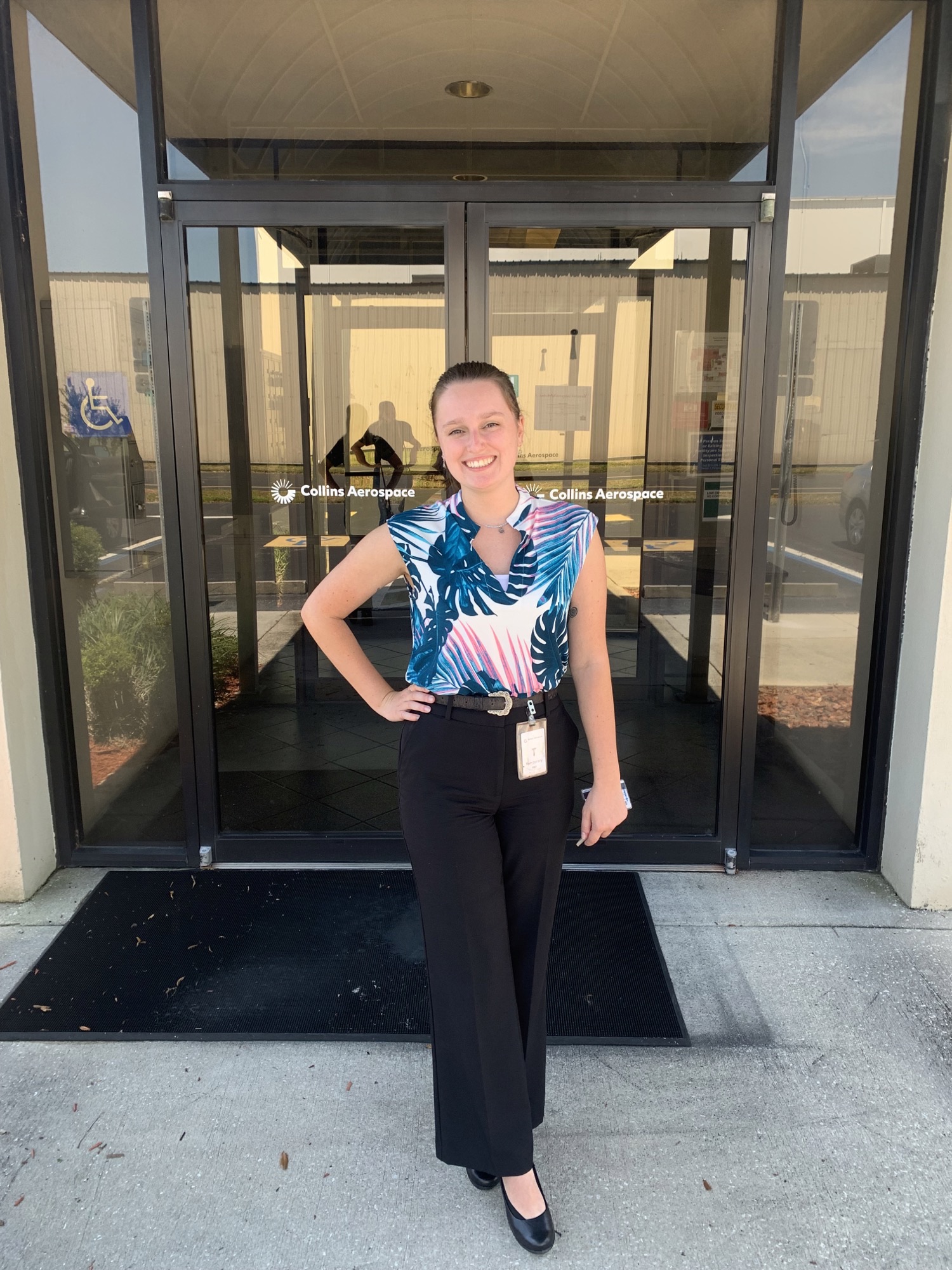 Leah Smith is a Junior majoring in Mechanical Engineering at Embry-Riddle Aeronautical University - Daytona Beach Campus. She had the opportunity to intern with Collins Aerospace.
How did you obtain your co-op/intern with Collins Aerospace?
I was offered my internship with Collins Aerospace after attending the Virtual Industry/Career Expo in Fall 2021. I especially appreciate the virtual expo because it gives me a designated time to meet with the companies I want, and an opportunity to make the most of my time when many of the people attending are Riddle Alum.
What were your responsibilities?
I was responsible for designing and building parts for a project my team recently was selected for. I was given the freedom to pick my shape, materials and build process. I hit a lot of roadblocks and unexpected issues but overall, I am so thankful for the freedom I was given this summer to complete my work.
What advice do you have for students interested in obtaining an internship/co-op?
Apply Apply Apply AND Apply early. Coming out of COVID there are many students out there looking for jobs. In addition, applying early can help secure a job early into the school year so that is one less thing to focus on.
In addition, I will often google "Most Common Interview Questions" or make note of notable questions from past interviews. I will then type out an answer to be able to think through a well-developed answer following the STAR method. While I will not have these answers memorize, or the questions may be phrased slightly differently, I have snippets that I know I can use and piece together to form my answer.
Finally, while in an interview don't be afraid to stop and think for a few seconds before answering. When someone is interviewing you, they like to see you are thinking about some of your answers before you reply to see you are giving the best possible answer you can. Having an immediate response is not always the best.
What are you career aspirations and have they changed since you completed your internship/co-op?
My career aspirations haven't changed much beyond just feeling more excited to be working in the real world after graduation. I hope to plug into work on reusable and sustainable systems regardless of the field. Eventually I'd like to work on reusable space technology to lower the cost of space exploration and lower the strain on Earth's resources, but now while I am still and college and even freshly graduated, I don't want to limit myself to that now as there are a wide variety of jobs out there for Mechanical Engineers that all lead in different directions which are all exciting!
What was the most beneficial part of the internship/co-op?
The freedom I was given by my boss & team. They allowed me to work independently and ask for help when I needed it. It was reassuring to see they were confident in my skills and trusting that I would accomplish the work which I did ahead of the deadline! There were times I did heavily rely on co-workers because they were more familiar with some process than I was, but overall their confidence in me helped reassure me that I have enough under my belt to work as a self-sufficient employee
What skills came in handy and what skills did you develop?
From my experience on my high schools FIRST robotics team I had the chance to learn shop skills that I used all summer long. Most of my work was designing, drawing in Solidworks and then fabricating my final design. Over the summer I learned how to navigate issues out of my control, the most important which were supply chain issues. In addition, I did a lot of back tracking and scraping designs before I settled on the final one. It was with the help of other who looked over my designs that I was able to recognize where there could be issues during assembly, or simplifications to my design.
Do you think it was important to complete an internship/co-op?
It was very important for me to complete this internship. I know personally at the end of my sophomore year I was struggling for motivation and extremely burnt out. This summer even if I was working full-time, it's offered me a chance to recharge, but most importantly become even more excited to work. Even if my work schedule was typically 6:30 am – 4:30 pm which were long days, I was really enjoying the work I did and can't wait to graduate and be able to plug into the work force. In addition, I've met some inspiring co-workers and I enjoying hearing their journey to joining Collins Aerospace. In addition, my internship helped ensure that I know I am heading in the right direction career wise.