Co-op/Intern Spotlight: Emma Rasmussen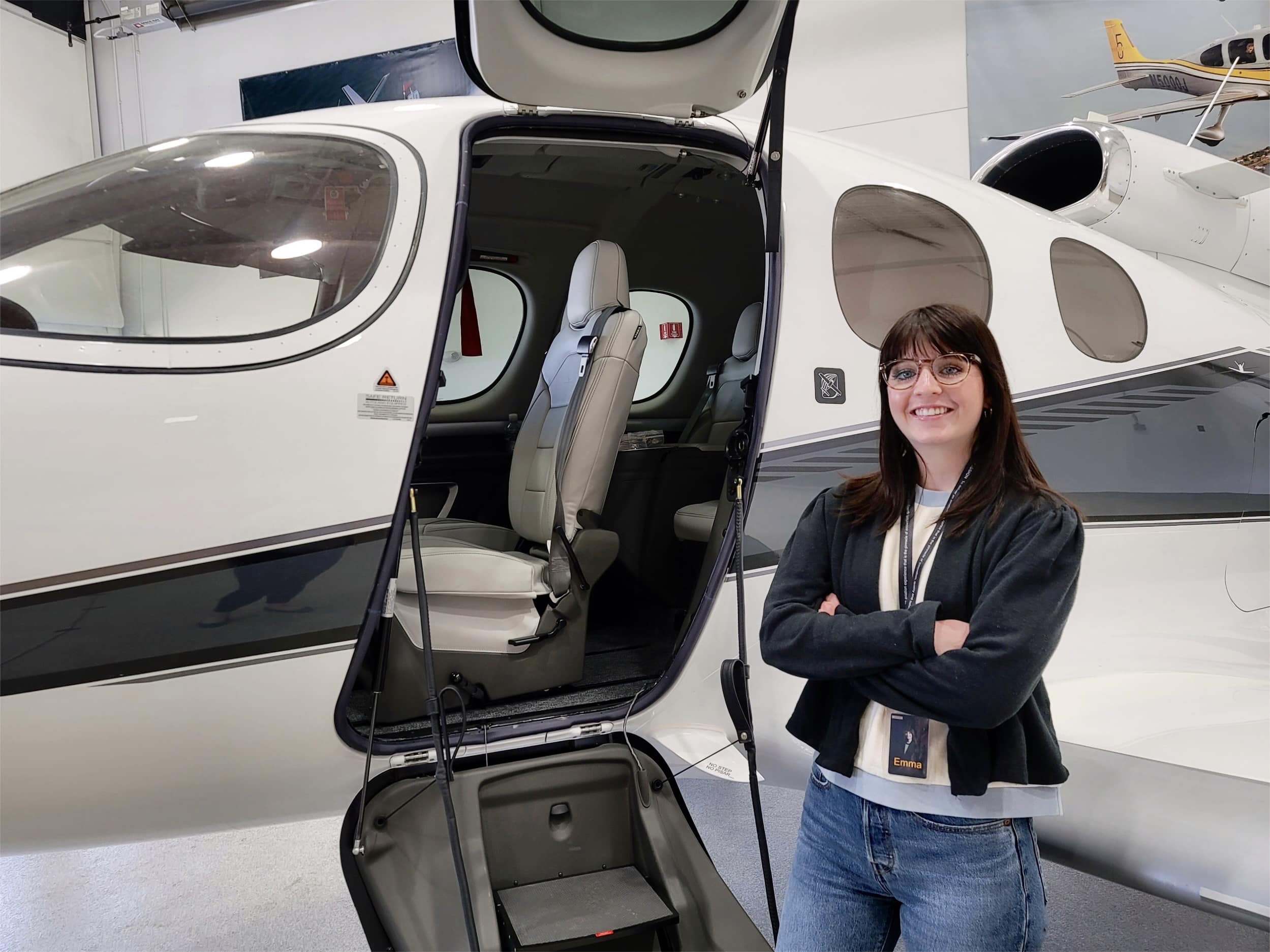 Emma Rasmussen recently graduated from Embry-Riddle Aeronautical University - Prescott Campus with a degree in Aviation Business Administration and a minor in Aviation Safety. She is currently working as an Air Safety Intern at Cirrus Aircraft and will begin her Master of Science in Safety Science in spring 2023 at ERAU - Prescott.
Discuss how you obtained your internship and your responsibilities.

I was personally recruited for this internship opportunity. During my time at Cirrus Aircraft, I will be supporting our air safety team in investigating reported mishaps and assisting our Director of Air Safety with implementing our Safety Management System (SMS).
What are your career aspirations, and have they changed since beginning your experience?
When I first started my aviation career with a high school internship at Boom Supersonic, I was very unsure of where I wanted to take my aviation career. I was working as a business intern and figured that this might be the direction I wanted to take in aviation. During my sophomore year at Embry-Riddle, I picked up a minor in Aviation Safety on top of my degree in Aviation Business Administration and got hired for a safety internship at Republic Airways' LIFT Academy. The pandemic moved our internship online and changed the scope of the work I would be doing, and I found myself working in a business-related capacity yet again. Finally, during junior year, I got into the real meat and potatoes of my minor and was immediately captivated by the content of the courses. I decided I wanted to take my career in the direction of aviation safety, so I followed up my previous experiences with a technical writing internship at Sierra Nevada Corporation to enhance and expand my technical understanding of aviation. Now having completed my degree and embarking on an internship in air safety at Cirrus Aircraft, I'm quite certain that air accident investigation is where I want to be for the foreseeable future. It has also confirmed that my decision to continue my education at Embry-Riddle with a masters in Safety Science (Aviation Safety concentration) was the right one. Cirrus Aircraft is famous for equipping all of its airplanes with whole-airframe parachute systems, so it's hard to imagine a better place to complete an air safety internship. That said, I'm very much looking forward to the next five months of my internship experience.
How do you think this experience will prepare you for beginning your master's degree?
My minor provided me with ample knowledge and exposure to multiple different facets of aviation safety, such as air accident investigation, emergency response, crashworthiness and survivability, human factors, and SMS. Getting to apply what I will learn at Cirrus Aircraft and taking it to a higher level outside of the classroom will give me a whole new set of skills and experiences to take with me into the more advanced graduate-level courses. I think this internship will also provide me with better perspective and valuable insight into the world of air accident investigation and SMS, and I can draw from that when I'm writing a graduate-level paper or completing some kind of project.
What advice do you have for other students interested in completing an internship?
Building, maintaining, and using your network is extremely important when seeking internships and long-term employment. This is one of the most important skills an aviation professional can have, in my experience. Networking has been essential to my success in finding (and in some cases, stumbling into) new opportunities. You would be surprised at the amount of opportunities that can emerge just by leveraging your network.