Co-op/Intern Spotlight: Cody Brazelton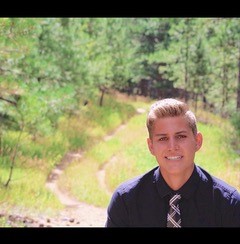 Hello! My name is Cody Brazelton, and I am going to help revolutionize how we fly. I am a senior at the Prescott campus and am graduating with a Bachelor of Science in Global Business and Supply Chain Management, with a self-designated concentration in Production and Operations Management. I transferred from Gonzaga University to pursue my childhood dream of helping design and manufacture the next generation of air and spacecraft. I was blessed to have graduated from the esteemed Embry-Riddle Aeronautical University and I cannot wait to see what products and processes I bring to fruition.
Can you discuss your internship at Collins Aerospace and how you obtained the position?
Being a student at Embry-Riddle Aeronautical University, paired with a solid understanding of who you are and what you want to do, will open possibilities that many kids only dream about. I believe being an enthusiastic and well-spoken individual was the key to obtaining my first position. The first career fair I attended at Embry-Riddle was very successful due to my passion for the industry and ability to clearly ascertain how my skillsets can help a company manufacture top notch products on time. The first month on campus, I frequently worked with my career services liaison, Mr. Darren Hudak, to perfect my resume which helped prepare me for career fairs and interviews. Gaining company insights and elevator pitch ideas, I was fully prepared to make a lasting impression on prospective employers. My preparation did not go unrewarded. Practicing a lively and relatable introduction might just change your life!
The long terminology: I recently finished my second internship at Collins Aerospace as a Program Management Intern for the Business Jet/Supersonic/Urban Air Mobility portfolio under the aerostructures business unit in San Diego, California. Short Terminology: I help jets go vroom. We specialize in manufacturing Jet Engine Nacelles for top air framers around the world. We work hand in hand with our Raytheon Technologies sister company, Pratt and Whitney, to deliver top quality propulsion units to our customer…on time! My first internship was spent understanding a single program under the portfolio and working with the entire scope of operating teams that support the program. While I had many other internship offers for the next summer, such as Boeing and ULA, I resumed work with Collins for many reasons. My second internship was as a 'free-floating' intern for all the programs under the BizJet portfolio. Working for multiple programs increased my knowledge of production timelines from first bid to delivering the last production unit. My supervisor told me something profound my first summer there, "You can stay with the company for fifteen years and still not know everything." I decided to stay because I wanted to learn as much as I could and not spend half the summer getting all my computer logins working, etc. I already knew the backbone of the operating system, built an amazing structure of mentors, and knew full well that transition is available to me if I wanted. I wanted to add to my learning and hit the ground running rather than backtracking just because it would add another company to my resume. This loyalty also did not go unseen as I was given the opportunity to create my own job description, with the team of my choosing, at the time of my choosing. I grew to work with and understand job functions of all the working teams at Collins and fell in love with the Materials Engineering team. I now work full time for this team as it is a perfect intersection of Manufacturing/Bill of Materials Engineering, Supply Chain Procurement Communication, and Shipping/Receiving Logistics.
How has your education and involvement at ERAU helped prepare you as an intern?
It is not just in the ERAU name; it is a fostered mindset. It is not just in the specific classes; it is a fostered mindset. It is not just in the culture; it is the fostered mindset. Embry-Riddle Aeronautical University has confidently prepared me to be a leading candidate in the aerospace and defense industry. They have done this by hiring professors and office personnel who have industry background and who care deeply for the success of their students. Regular business classes have turned into classes such as Air Cargo Management; learning that is fundamental for this targeted industry. Just walking through the halls, you gain information that could help you land your dream job. In the STEM Center and King Engineering building, you are walking down halls filled with the history of aviation. The culture of ERAU is so unique that it imprints on you a knowledge base like the differences between a C-130 and a B-52! I learned nuances and specifics of both aircraft and manufacturing processes that directly attributed to me picking up information and excelling in my internships. ERAU has professors in which I became very close to who helped ascertain useful designs and needed improvements of entrepreneurial ideas. To top it all off, the available capstone business projects are unlike any other University in the nation!
Discuss your position with Avinor in Norway. What did you learn from that experience?
The capstone projects available to ERAU students don't just teach you how to apply the skills you have learned the last four years; they inspire the student to take on an understanding of truly futuristic processes and technologies! I was blessed to be given a point of leadership as co-lead of our Prescott & Daytona joint consulting project for Avinor, Scandinavia's largest airport operator and air navigation service provider. As a team, we were to research the use of Hydrogen as an aviation energy carrier and its coming implications to airport operators. We created an in-depth report on the infrastructure advancements needed to support hydrogen travel. This report took into account the differences in hydrogen fueled engines, emerging US companies and their prospective market timelines, and current airport storage and layout implications. This 42-page paper was the pinnacle of my undergraduate career as it combined nearly every facet of a business education and how to remain a top competitor in the future market. As co-lead, I learned the growing importance of working with people around the globe to produce a top-quality product on time with little or no face-to-face communication. I learned the importance of timing deliverables and schedule management. Being from Norway, the leadership team had to wake up frequently at 4 AM to have meetings with our client, teaching us the importance of being prepared and staying on your toes in an always revolving business climate. Most of all I learned that communication, process logistics, and determination for excellence is what makes a leader better prepared for the challenges of tomorrow.
What advice do you have for a student who is considering an internship?
Be yourself and stay persistent in making connections! Practice an elevator speech and make a unique yet professional resume, but don't be scared to be yourself! Recruiters can see right through your mask. I had multiple internship offers come my way from standing out at a career fair by being extremely personable and just trying to make a lasting connection first. Effort is important but knowing where to put effort is more important. One face to face or zoom call connection at a hiring event or career fair will be 4:1 more beneficial than just submitting random applications. Be persistent! Do not stop after three rejections. Keep trying! Internship interviews are easier than full time interviews and internships get your foot in the door. Internships, if you work hard and prove value, can end with a full time offers as you have already learned the operating systems and have made connections inside the walls. Internships are incredibly important with the difficulty of trying to enter the aerospace industry. The industry is actually quite small and once a person has made the entrance into a respected company then the name, just as an ERAU education, can take you to newfound steps in the interview process for other companies that one previously couldn't reach. This is your life and no one is going to do the hard work for you. Last but not least, ATTEND YOUR CARRER FAIRS! You never know how your life may be changed for the better because of it.