Alumni Spotlight: Ryan Tamm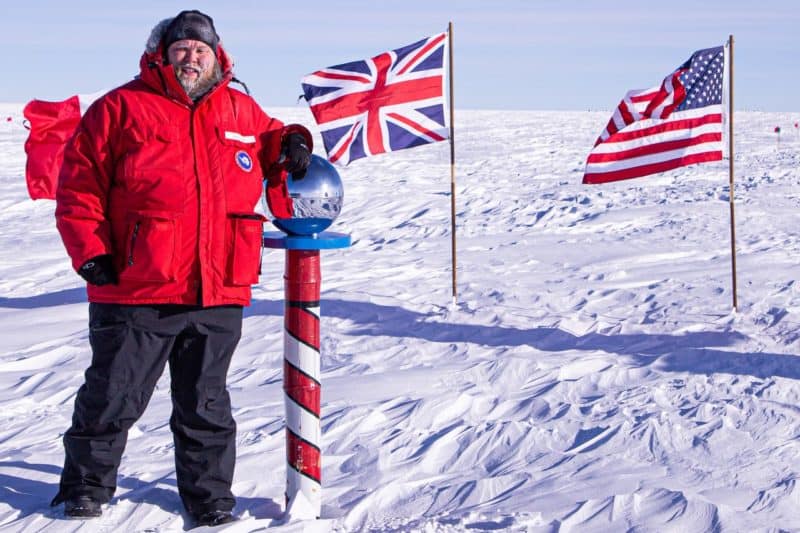 Ryan graduated with a degree in Human Factors Psychology from the Embry-Riddle Aeronautical University – Daytona Beach Campus. He is currently working as an Safety Engineer for Pacific Architects and Engineers in Antarctica.
What has been your career path since graduation from Embry-Riddle?
After graduating with my B.S. in Human Factors Psychology I started a job as a Safety Specialist working for the primary Space Shuttle contractor, United Space Alliance at Kennedy Space Center. After the Shuttle Program I continued my work as a Safety Specialist and went to work for Boeing at the 787 plant in Charleston, SC for two years then I moved to the Seattle area to work in Boeing's fabrication division. In October of 2019 I took a position with Pacific Architects and Engineers on the Antarctic Support Contract as a Safety Engineer. I deployed to McMurdo Station in November where I worked the summer season until February. In February I came to the Amundsen-Scott South Pole Station to winter over. Our station has been in isolation since February 14th and as of this writing we're expected to open the station between November 17-20, 2021
What advice do you have for graduating students to be successful in the job search?
Be open and flexible to opportunities when they arise. It's good to have goals and plans for the future, but don't be too narrow in your search.
How did you obtain your position?
It was mostly a matter of putting in my application, being persistent, and being flexible. Many people apply to work in Antarctic, few are chosen. I put in for this position for several years hearing nothing back. I applied for the job I am in now in January of 2019, interviewed in August, then I was selected as an alternate in October. In mid-October I was told that the primary dropped out and if I passed my medical exams, there was a good chance I was going. The Wednesday in the last week of October my recruiter said I had been approved and asked me how much time I needed to deploy. I told him I'd need about 4 days to pack and he said "Great we're buying your ticket for Saturday." I spent about 9 days in Christchurch, NZ then came down to work the summer in McMurdo.
After summer my original plan was to stay in McMurdo for part of the winter. Then one day during the first week of February, I walked into my office first thing in the morning to find the National Science Foundation Safety Manager there. We got to talking and he casually mentioned that he really wished he could get a Safety Engineer down at South Pole for the winter isolation. I told him I'd do it but I needed to complete the South Pole winter medical exam (which had a lot more to it than McMurdo's). He said no problem, sent out an email to let the doctors know I was coming. I spent the morning and afternoon being poked, prodded, and x-rayed then the evening packing up all my belongings. The next day I flew on a LC-130 to South Pole and have been here since. This has been a great adventure and an opportunity few people get to experience. There have only been 1600 people in history that have wintered over at the South Pole.
What are your future plans?
I'm ready to get back to the real world and continue my career as a Safety Engineer. I'm leaning towards working on the west coast but I have also been pursuing other opportunities abroad. I'm planning to stay in the field of occupational safety. Even with the pandemic raging on, I feel like there are still a lot of great opportunities out there.
How has your Embry-Riddle degree opened doors for you?
Embry Riddle graduates are highly regarded in the industry and I don't think I would have had the same amazing opportunities without my degree. The skills I learned from my undergrad classes have helped me excel in my career.
What does your current role with Pacific Architects and Engineers entail?
I'm the day to day boots on the ground safety engineer for the South Pole station. I'm here to ensure we have proper pre-job planning, look for ways to improve the safety program, find safe solutions to problems, and ensure compliance. In Antarctica there is no room for error or accidents. If something were to happen we are 1000's of miles from the near hospital, and during the winter it extremely difficult, if not impossible to fly out of here.